Maryland has made cheering a varsity sport, but it's unclear whether other schools will follow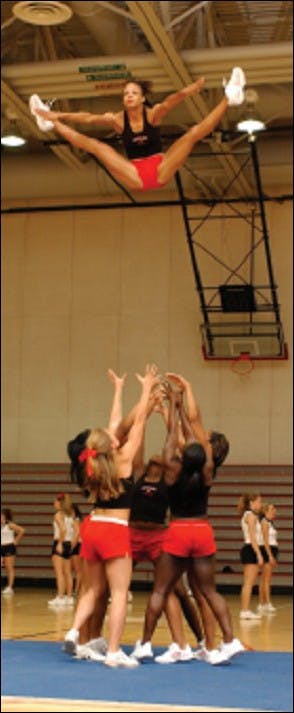 This month, the University of Kentucky will vie for a 13th national championship while trying to avenge a runner-up finish last year to Florida that ended the Wildcats' run of seven consecutive titles dating back to 1995. The sport. Competitive cheerleading.
But is cheerleading really a sport?
University of Maryland athletic council members made the boldest statement in the affirmative this past September, when they voted to grant an all-female competitive cheer squad varsity status and everything - full scholarships, a locker room, a team bus - that goes with it. "Let's put it this way," says Lura Fleece, a former Maryland cheerleader and a cheerleading coach at the school for the past 13 years. "We used to raise 90 percent of the funds when we went to college nationals. Starting this year, the athletic department's paying for all of our competitions. We're treated like any other team, which is a dream for us."
The unprecedented move serves not only to recognize the skills and efforts of current squad members, according to those close to the Maryland program, it also represents the logical next step for cheerleaders graduating from the high school and club levels, where competitive cheer is booming. According to 200203 figures from the National Federation of State High School Associations, competitive cheer ranks ninth among girls' sports in number of participants (111,191), easily topping 10th-place golf (62,159). Fleece estimates that nationwide there are hundreds of thousands of all-star cheer squads for kids ages five and up who compete out of specialized cheerleading gyms, without once setting foot on a sideline.
Not lost in any of this - and Maryland officials make no attempt to hide it - is the positive impact the move has on the athletic department's ongoing quest for Title IX compliance. By 2006, Maryland will award the equivalent of 12 full scholarships to its 30-member competitive cheer squad. Its projected budget of $400,000 for that year tops the 2004 amounts earmarked for women's tennis and golf. Says Dave Haglund, the university's associate athletic director for varsity sports, "We've created a new team, and we've created opportunity."
Creating opportunities led Fleece to institute an all-female cheer squad at Maryland in 1994. At that time, the vast majority of collegiate cheerleading squads were coed, with petite females launched into airborne stunts by their male teammates. "Tryouts would draw 100 girls, and out of those maybe 30 of them would be eligible to be fliers or coed cheerleaders," Fleece says. "The other 70 would be amazing athletes, and we were frustrated that we couldn't take these kids based on their body type."
Maryland's all-female squad complemented the coed cheerleaders at Terrapin football and men's and women's basketball games, and competed for championships in the National Cheerleading Association's all female division, which Fleece says grew in number and quality of teams annually throughout the 1990s. Meanwhile, the entire cheer industry (and that's the word for it) began soaring in the United States, with an ever-greater emphasis on competition.
An all-female squad still performs at Maryland athletic events, but under that school's non-varsity spirit umbrella, which also includes the coed team. Last summer, after female cheerleaders were given a chance to give up the sidelines for the stage, 16 chose competition, 14 preferred the game-day atmosphere. At the same time, Fleece, who now coaches only the varsity competitive team, began actively recruiting cheerleaders (or, in many cases, highly skilled gymnasts) with an eye toward 2004. "They send us a videotape, they fill out a questionnaire. We get their competition schedule and go take a look at them. We're going through the same process as any other sport," says Fleece, who made it clear to athletic administrators throughout the varsity petition process that she would have no trouble finding talent. "I get about 15 e-mails a day from people wanting to be on my team."
"That's a lot of interest," Haglund says. "There are literally hundreds of thousands of young girls across the country involved in this sport. That's something people don't realize."
Casual observers also may not be aware of the rigid separation of Maryland's two all female teams, as dictated by the U.S. Department of Education's Office for Civil Rights. "The OCR indicated the primary purpose of any varsity sport must be competition," Haglund says. "I think there are people out there who just think we made our spirit squad varsity and that we're trying to skirt Title IX. That's just not the case."
Still, Maryland's marriage of competitive cheerleading and Title IX compliance is viewed as slightly unholy by some. Laura Grindstaff, associate professor of sociology at the University of California, Davis, has researched cheerleading since 1998 for a forthcoming book on the subject. "I don't think there's anything wrong with supporting a cheerleading squad with scholarships and resources, just as with other athletes," says Grindstaff, who at 40 is the oldest member of the Sacramento Spirit, a nonprofit charitable cheerleading organization. "But we don't need to have a kind of Title IX affirmative action for cheerleading. We need Title IX to ensure that girls have opportunities to activities that historically they've been denied. Historically, women have not been denied opportunities to be cheerleaders. Historically, women have had only the opportunity to be cheerleaders. So to use cheerleading as Title IX compliance is very much against the grain of the philosophical intent of the law."
Micki King, Kentucky's assistant athletic director and senior woman administrator, admits to toeing the Title IX line by favoring the somewhat vague interest-and-ability prong of compliance. And despite her school's recent dominance of the Universal Cheerleaders Association national championships (one of a handful of so-called national championships awarded by for profit cheerleading groups, including the NCA), she has no intention to grant the Wildcat squad varsity status. "It never occurred to us to split our team and have a women-only competitive squad and a spirit squad that's different. That would dilute our talent; it would break up our gang," King says. "There are always skeptics. But clearly, we're not prepared to change the mission of our cheerleading squad, which is to serve as a significant part of the game atmosphere surrounding Kentucky football and basketball. We are looking at other sports to add, but cheerleading is not a sport."
"There are always skeptics," says Maryland sophomore Lauren Spates, who has been cheerleading since the sixth grade. "But I feel like this is the first step toward cheerleaders finally gaining some respect for all the hard work they've put in their whole lives."
Fleece, who was cheering for Maryland when its squad first began seeking varsity recognition in 1987, counters critics by pointing out how similar the expectations of Terrapin athletes and cheerleaders historically have been. "Cheerleaders here have been drug-tested for the past 20 years. They've had to maintain a 2.0 grade point average. They practice three or four days a week and do weight training. They've had access to tutors and academic support," she says. "But whenever we would ask to be officially recognized, it came down to the one problem that competition was not our primary focus."
M ore than 70 national and regional competitions now exist annually for college, high school and youth spirit teams. Maryland is in the midst of a schedule of 10 competitions (all held on the East Coast) leading up to the NCA championships Mar. 31-Apr. 4 in Daytona, Fla. The availability of such events helped Maryland athletic administrators, including athletic director Deborah Yow, realize that a competition-only squad wasn't that farfetched, Fleece says. Whether athletic administrators elsewhere view competitive cheerleading in the same light remains to be seen. "We're the guinea pigs, and I think athletic directors are waiting to see if this works," says Fleece, adding that it works for Maryland on two levels - adding opportunities for women, and sparing men from losing opportunities. "The end result is that we're able to provide kids with scholarships - men and women." Adds Haglund, "It takes someone to take that first step. We've done that, and we anticipate that others will follow."
If the NCAA were to one day recognize competitive cheer as an emerging women's sport, even Kentucky would take notice, King says. But Grindstaff isn't holding her breath. "I think there's more at stake than just individual cheerleaders and coaches at universities deciding they want sport status," she says. "There's a whole cheerleading infrastructure out there that's got professional associations behind it with a vested interest in this question." When asked if competitive cheer should be considered a sport, Jerry Dilettuso, president of the National Spirit Group, the NCA's parent company, says only, "We consider cheerleading an athletic activity, and a highly strenuous, rigorous athletic activity. We believe that cheerleaders, especially on the college level, are some of the most highly conditioned athletes in any sport."
That, at least, doesn't appear likely to change. Certainly not at Maryland. "I'm training my daughters now," says Fleece. "I have a 7- and a 4-year-old, and they're in gymnastics. It will happen. They will get college scholarships."
For her part, Spates would like to see Maryland's actions set a national trend. "Friends who I cheered with in high school and who cheer at other universities are thrilled because they hope that one day this can happen for them at their universities," she says. "They work just as hard as we do here. It's very positive in the world of cheerleading right now."