California Districts Find Creative Ways to Incorporate Athletics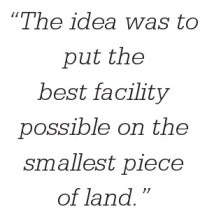 The Santa Ana (Calif.) Unified School District is bursting at the seams, with 58,000 students spread across 24 square miles. Three of the district's four high schools have populations of more than 3,000 students, with long-term estimates calling for another 3,500 district-wide by 2008. As if that's not enough overcrowding, five high schools must share the same downtown football stadium, creating heavy schedule juggling.
So it's no surprise that district officials in recent years have been left with little choice other than to find creative ways to cram more schools into tight spaces. That explains why a new three-story middle school appears virtually appended to a local shopping center, and a planned two-story high school would use 10 acres of a regional park for its athletic facilities. In the middle school's case, a turfed area behind a supermarket - one of the shopping center's anchors - will serve as the site of athletic fields.
"We got into these unusual projects here because Santa Ana is the second-most-populous city in the state, if you look at the number of residents per square mile," says Michael Vail, assistant superintendent of facilities and governmental relations for the district. "We're also one of the fastest-growing school districts in the state and have little vacant land."
The lack of vacant land throughout the state was the impetus behind a now-defunct pilot program approved by state lawmakers in 1989. It called for the state to fully fund a small number of "space-saver" schools - facilities built to demonstrate the creative use of urban areas. Early plans called for perching schools atop bridges or wedging them inside Dodger Stadium. Far-fetched? Perhaps, but nevertheless a reality for many California districts.
"The whole idea was to put the best facility possible on the smallest piece of land," says Duwayne Brooks, director of facilities for the California Department of Education. "I think if school districts aren't specifically building a space-saver school, they are looking at more joint-use projects."
As things have turned out, only one school - Santa Ana's $23.8 million Mendez Fundamental Intermediate School, which sits nestled in the Bristol Market Place shopping center - can officially be classified as a space-saver school. Slated to open this fall with 1,300 students, the school is strategically designed to make it difficult for kids to leave "campus" for a quick shopping trip.
During the course of Mendez School's five-year planning and construction phase, the state's special funding mechanism for space-saver schools was overridden by Proposition 1-A, which provides funding for schools meeting overcrowding and financing requirements. Bonus money is even thrown in for districts building schools on sites smaller than the state-recommended size.
Even though the space-saver program didn't catch on with districts unaccustomed to working with several outside public and private agencies, school officials in a handful of California communities have learned from the original concept and built upon it. Plans for new high schools that call for cooperation with one or two other entities are cropping up around the state.
Officials at the overcrowded Los Angeles Unified School District, for example, are currently negotiating with East Los Angeles Community College in the hopes of obtaining a four-acre parking lot belonging to the college. On it, they would like to build a 1,600-student high school that would use the college's existing athletic and physical education facilities, library, cafeteria and multipurpose rooms. In return, says Lyle Smoot, the district's state building program coordinator, LAUSD would build a parking garage for up to 1,500 cars elsewhere on the college's campus.
"They've got the resources, and we've got the land," says Blair Sillers, assistant to the chancellor of the nine-school Los Angeles Community College District. "But this isn't just limited to athletics. We've pursued educational opportunities with LAUSD on a smaller basis over the years, but that relationship has become more intense in recent years."
Incorporating space for new athletic facilities into the school's plans would have required an extra 30 acres of land and would have significantly added to the project's $50 million price tag, Smoot says. Although the money is not in place yet - the district still needs approval for matching state funds - ground could break in 2003.
But that's just one school. LAUSD officials anticipate the need for about 100 new schools district-wide to accommodate an additional 80,000 students by 2007.
Meanwhile, fresh from their successful space-saver building project, SAUSD officials are in the midst of planning a new high school that would involve two pieces of property, Vail says. One is owned by the school district and leased to the Discovery Museum of Orange County, a nonprofit organization that re-creates historical homes and villages. The 1,900-student school would be built on three "very underdeveloped" acres of a nature center that museum officials created, Vail says.
The other property is 80-acre Centennial Park, regionally operated by Orange County, the city of Santa Ana and the Rancho Santiago Community College District, which runs a satellite campus at one end of the park. At press time, SAUSD officials were negotiating with those parties to amend the park's joint-use agreement and become involved in park operations, because they want to use 10 acres of the park for the new school's athletic facilities.
A road currently separating the three acres of nature-center space from the 10 acres of parkland would become a pedestrian walkway during the day, Vail says. Students would use it as a link between the school and its gymnasium, performing arts center and parking lot. The school district then would look for ways to make those facilities available to the general public whenever they're not being used by the school.
Meanwhile, the Rancho Santiago Community College's landlocked satellite campus could use the high school classrooms for additional night classes, while high school students could take television and radio broadcasting classes inside the college's extensive studios.
A $145 million bond measure, approved by Santa Ana voters in November, will help fund the $45 million high school venture, as well as pay for another more-conventional new high school, 11 new elementary schools and 20 remodeling projects. The state is expected to kick in about $185 million. "If everything went perfectly, we would open the Centennial Park school in the fall of 2003," Vail says. "But things never go perfectly."
Perhaps not, but at least Santa Ana and L.A. district leaders are making the most of a difficult situation. And taking physical education classes or practicing for a big basketball game in a shared-use facility is better than being in no facility at all.
School districts in other states are catching on, as well. In Minneapolis, one small school was built on less than an acre for $11.5 million by sharing the top floors of a downtown parking structure with a satellite campus of the University of St. Thomas. Vail says the space-saver legislation has opened the eyes of school officials near and far to new and creative ways of approaching school construction. "In that sense," he says, "even though only one space-saver school was built, the legislation at least accomplished one of its purposes."