Despite difficulties, more courts line up in support of age-limitation rules.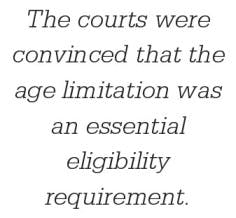 Most high school athletic associations have eligibility rules that prohibit athletics participation by students who fall short of academic requirements or who fail to graduate within a certain period of time. The more common rules prohibit participation by students over 18 years old and those enrolled in grades nine through 12 for more than eight semesters. Age-limitation and eight-semester rules are immensely important to any high school athletic association aiming to provide fair competition among athletes. In a broader sense, these rules ensure an even playing field by limiting the maturity and experience of the participants and stress the importance of education over athletics by encouraging graduation in four years. They also serve to protect younger athletes from injury by older participants and from redshirting abuses by coaches seeking to gain a competitive advantage.
At the same time, these rules have affected the eligibility of student-athletes with learning disabilities. Many have petitioned their high school athletic associations for waivers of eligibility requirements, claiming that their disability caused their ineligibility and that their age and maturity will not give them an unfair competitive advantage over other student-athletes. Some whose waiver requests have been denied have challenged the validity of the requirements in the federal courts under the Americans with Disabilities Act and Section 504 of the Rehabilitation Act of 1973, claiming that since their prior or perhaps newfound learning disability (for example, attention deficit disorder) caused their ineligible status, they should be entitled to a waiver of the eligibility requirements.
A review of recent cases demonstrates the difficulty the courts have had in deciding issues related to age-limitation and eight-semester rules. For example, in Fischbach v. New Mexico Activities Association [10th Cir. Unreported 1994], the court declared the entire issue moot as the student who participated under a court injunction had graduated from high school by the time the court heard the case. This decision let stand the anomalous result that an ineligible student could play an entire season and graduate (or not return to school), and the eligibility rule makers could do nothing about it because of the court's backlog of cases. Two other circuit courts, in Dennin v. Connecticut Interscholastic Athletics League [94 F.3d 96 (2nd Cir. 1996)] and Johnson v. Florida High School Activities Association [102 F.3d 1172 (11th Cir. 1997)], also held eligibility cases moot under similar circumstances, despite regulations in both states that give their high school associations authority to issue sanctions against plaintiffs if it is later found that the waiver should not have been given.
In Pottgen v. Missouri State High School Activities Association [40 F.3d 926 (8th Cir. 1994)], the court considered whether the age-limitation rule was properly applied to prevent a 19-year-old student-athlete from playing baseball his senior year. (After Pottgen repeated two grades in elementary school, it was discovered he had several learning disabilities.) Since MSHSAA rules prohibit participation by students who turn 19 prior to July 1 of their senior year, Pottgen's petition to MSHSAA for an exception was denied. Pottgen succeeded, however, in convincing a federal court to allow him to compete his senior year and preventing MSHSAA from imposing sanctions on his high school for permitting him to compete. By the time the case reached the appeals court, Pottgen had graduated. Since he had finished school, the court determined that a controversy no longer existed between Pottgen and the MSHSAA. The court decided, however, that the issue still existed as to whether MSHSAA could impose sanctions against Pottgen's high school for allowing him to compete.
In a similar case, Sandison v. Michigan High School Activities Association [64 F.3d 1026 (6th Cir. 1995)], two overage seniors who had been diagnosed with learning disabilities well before entering high school and fell behind as a result of their disabilities sued for the right to participate in their senior year and to prevent the MHSAA from penalizing their high schools for allowing them to play. On appeal, the court declared that the case was not moot because MHSAA's Regulation V, Section 4(C) left outstanding issues to be resolved between the athletes, the rule-making authorities and the schools. This regulation prescribes sanctions, described in Section 4(B), such as forfeiture of team victories and the striking of individual and team records, if an ineligible student participates through a court restraining order or injunction and the injunction is subsequently vacated or it is determined by the courts that injunctive relief was not appropriate in the first place.
Both the Pottgen and Sandison courts considered the issue of whether the students' ineligibility was caused by their disability. Although it was undisputed that the plaintiffs were handicapped, in both cases the courts were convinced that the age limitation was an essential eligibility requirement for a high school sports program. As a result, the courts held that the students' ineligibility was caused not by their disability but by their age.
McPherson v. Michigan High School Athletic Association Inc. [77 F.3d 883 (6th Cir. 1996)], a challenge to the applicability of the eight-semester rule, provided high school associations with more guidance. Due to academic ineligibility, it was not until the 1993-94 season, while repeating the eleventh grade, that McPherson first played high school basketball. That year represented his seventh and eighth semesters. In September 1994, he was diagnosed as having a learning disability, and then unsuccessfully petitioned the MHSAA for a waiver so he could play basketball during the 1994-95 season.
In federal court, McPherson claimed that his disability caused him to be enrolled for a ninth and tenth semester, and therefore the ADA and Rehabilitation Act mandated waiver of the rule to allow him to compete. Despite the decision in Sandison, the court held there was nothing for it to decide since the plaintiff had graduated. The court also struck down Regulation V, Section 4(C) because it "was counter to the judiciary's authority to enforce its contempt orders." The MHSAA immediately filed a petition for rehearing en banc, essentially asking the appeals court for another hearing before a full court as opposed to the usual three judge appellate panel. The appeals court acquiesced and reheard the case before a full court.
In its decision, McPherson v. Michigan High School Athletic Association Inc. [119 F.3d 453 (1997)], the court ruled that graduation from high school does not render a case moot in view of Regulation V, Section 4(C). The court found the age-limitation and eight-semester rules to be neutral in that they were not designed to prevent students with learning disabilities from participating in high school athletics. Rather, the rules are necessary to promote education over athletics, protect students from injury and to ensure all athletes a fair opportunity to compete. In addition, the court found no principled distinction between the nature and purpose of these two rules that could lead to the conclusion that one is necessary while the other is not.
The court further noted that requiring a waiver of the eight semester rule under the circumstances presented in McPherson would "impose an immense financial and administrative burden on the MHSAA by forcing it to make 'near impossible determinations' about a particular student's physical and athletic maturity." Indeed, the task of sorting out legitimate requests from those based on a desire to gain an unfair advantage would be nearly impossible.
As these cases show, the courts disagree on whether students claiming disability should be granted a waiver of the age-limitation and eight-semester rules. Some appellate courts have refused to reverse a lower court's decision where the student has competed and graduated. Other appellate courts have decided that neither ADA nor Section 504 of the Rehabilitation Act mandates that an eligibility rule be eliminated as an accommodation to an aspiring student-athlete asserting disability. Those courts view rules such as Regulation V, Section 4(C) as the lynchpin not only of appellate practice jurisdiction, but also as the very essence of a uniform, predictable set of rules governing interscholastic athletics. Despite the McPherson decision, it is likely that these cases will continue to be treated differently, depending on the jurisdiction, until the Supreme Court ultimately decides the issue. However, an en banc decision carries immense weight in the federal and state court systems.