Colleges must set policies for handling athletes' criminal behavior.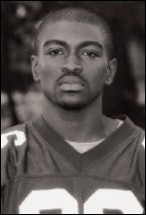 Whether or not there are more criminal cases involving college student-athletes than in the past is debatable, but newspapers do seem to be full of stories of college student-athletes in trouble with the law.
Sports sections of late often read like a police blotter, particularly with regard to football and men's basketball programs. For example, 18 Virginia Tech scholarship football players, nearly one-fifth of the Hokies' team, were charged with a crime in 1996.
Institutions forced to deal with such incidents face a number of important issues: whether to allow a student-athletes charged with a crime to play in games or practice pending a criminal investigation, and whether or not a criminally charged student-athletes should retain his or her scholarship.
NCAA Bylaws allow cancellation or reduction of financial aid to a student-athlete "found to have engaged in misconduct by the university's regular student disciplinary authority," although doing so requires the institution to provide the student-athlete written notice of an opportunity for a hearing on the matter. A hearing is also optional for a student-athlete for the non-renewal of grants-in-aid at the completion of the academic year, but the institution does not have the burden of showing "misconduct," as it must when canceling or reducing a grant-in-aid prior to the end of the academic year.
Once a student-athlete is charged with a crime, the institution must decide whether to allow him or her to continue to participate while criminal proceedings run their course or to suspend the athlete. An institution's decision may be affected by the student-athlete's plea or negotiated plea-bargain agreement, as well as by the location of the alleged criminal incident. If the incident took place on the institution's property or during an institution-sponsored activity, such as an away athletic event, the institution may have the ability to take disciplinary action against the student, in addition to the local government's criminal proceedings, through a student disciplinary committee. If the incident took place off-campus, the institution would likely not be able to take such action.
One unresolved issue in cases where institutions take disciplinary action is the risk of double jeopardy litigation, as a recent case, State of Maine v. Roan Sterling [685 A.2d 432 (Me. 1996)], showed.
On March 22, 1995, Roan Sterling, a scholarship football player at the University of Maine at Orono, allegedly assaulted a teammate during an on-campus altercation. A university disciplinary proceeding ruled that Sterling had violated the university's student conduct code, and he was suspended from May 13 to Sept. 1. Consistent with team policy, the head football coach withdrew the portion of Sterling's scholarship covering room and board during that time, valued at approximately $2,500.
On April 10, subsequent to the university's disciplinary action, Sterling was charged by the state with assault and disorderly conduct. Sterling entered a plea of not guilty and filed a motion to dismiss the charges, arguing that withdrawal of part of his athletic scholarship and the prosecution of the criminal complaints would place him twice in jeopardy for the same offense, in violation of the federal and state constitutions.
The trial court found the university's disciplinary actions to be penal in nature and granted Sterling's motion to dismiss. The state successfully appealed the decision, arguing that the withdrawal of the scholarship did not constitute punishment, but rather achieved the purposes of the student disciplinary code and protected the integrity of the public educational system.
Following the appellate court's decision, Sterling pleaded guilty to the charge of disorderly conduct and was fined and ordered to pay restitution for damages inflicted upon the victim. The charge of assault was dropped.
It appears unlikely, based on the Sterling case, that the threat of double jeopardy litigation will stand in the way of institutions choosing to cancel or not renew athletic scholarships. However, universities still face difficult decisions following criminal allegations against student-athletes. One such decision regards responsibility for disciplinary decisions. Historically, coaches were largely responsible, but a conflict of interest can result when a coach is forced to balance the pressure to win versus the best interest of the student-athlete. (The same is true of athletic directors.) In recent years, campus disciplinary committees comprised of faculty, staff and students have become a more common choice to fill the disciplinary role, and many institutions call for such a committee as part of their student-athlete code of conduct.
Another issue involves the timing of disciplinary action. Administrators must decide whether to initiate immediate action following an arrest or to defer action until criminal proceedings have run their course. The University of Oklahoma, which received national notoriety for disciplinary problems with its football program in the 1980s, later created a policy that calls for the immediate and automatic suspension of student-athletes charged with crimes other than traffic offenses in an attempt to deter student-athletes from committing crimes. Although disciplining a student-athlete immediately following an arrest seems to contradict the "innocent until proven guilty" concept on which the American justice system is based, court decisions have historically ruled that athletic participation is a privilege and not a right.
Other institutions have taken the stance that disciplinary actions must be dealt with on a case-by-case basis, rather than automatically disciplining criminally charged student-athletes. Ohio State University is one such institution; in the words of Athletic Director Andy Geiger, treating all cases the same "becomes mindless and nobody has to make a decision of what's best for the youngster." While this policy allows the administrator more flexibility in taking disciplinary action, it may not send as strong a message to student-athletes as the immediate and automatic suspension policy employed by the University of Oklahoma would. However, a more flexible disciplinary system allows the institution to take into account the seriousness of the alleged criminal action - an alleged rape, for example, might warrant different disciplinary action than an alleged misdemeanor theft.
The likelihood of guilt is also something that can be taken into account in a more flexible system. An administrator may want to try to take the likelihood of guilt into account when rendering a disciplinary decision in order to better fit the punishment to the crime. A consultation with an attorney may allow the administrator to better estimate the likelihood of guilt based on the merits of the case.
It should be noted that many institutions are taking proactive measures in an attempt to reduce the number of criminal cases (and subsequent negative publicity). Measures often include establishing life skills programs, hiring psychiatric counselors and holding seminars on issues such as drugs or domestic abuse. Institutions have also created student conduct codes that can set forth the procedure and potential penalties for student-athletes charged with crimes. These types of programs are recommended as counterpoints to policies developed to handle criminal incidents.