Baseball coaches see universal starting dates as a significant step toward competitive equity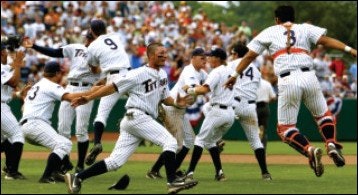 Game seven of the 2004 Shocker Baseball Fall World Series was cancelled Oct. 14 due to rain, and it was not made up due to lack of time. Though only an intrasquad game, the climax of Wichita State University's fall practice season represents the closest thing to a real College World Series final the WSU program has seen since 1993, when the Shockers played runner-up to national champion Louisiana State.
Consider Wichita State fortunate. No other team north of the Oklahoma state line has been among baseball's last two teams standing since 1976, when Eastern Michigan made it to the finals before falling to Arizona at the twilight of an era in which truly regional representatives advanced through tournament brackets. Wichita State, which has finished second three times since then, bucked the odds big time by beating Texas for the 1989 title. Not since 1966, when Ohio State topped Oklahoma State, had a team from a temperate climate accomplished that feat.
"College baseball hasn't been developed in the North like it has in the South for one reason: weather," says former Central Michigan University baseball coach and athletic director Dave Keilitz, the current president of the American Baseball Coaches Association. "If you give the schools in the North better weather, they're going to have better programs."
Skip Bertman, former baseball coach and current athletic director at perennial baseball power LSU (with five CWS championships since 1991), adds that few sports are as weather-dependent as baseball, thus providing fair-weather teams with an unfair recruiting advantage. "The Sunbelt teams win all the World Series because all the good athletes want to play baseball in the South," Bertman says. "That's a problem."
Weather may be out of the NCAA's control, but the association nonetheless has taken recent steps toward fostering competitive equity in baseball. Most notably, the association has allowed the College World Series to be pushed further toward the summer months twice in the past 10 years - first by expanding the championship bracket from 48 to 64 teams (thus adding a weekend of Super Regionals to the postseason), then by adding another week to the regular season to allow Northern teams to play more home games in agreeable weather conditions.
Now, a third legislative proposal has been put before the NCAA, one that would establish college baseball's first-ever universal starting dates for practice (Feb. 1) and competition (Mar. 1), as well as push the start of the CWS back yet another week - to the point that some future title games would be played in early July.
The proposal also would require schools to declare any 45 continuous days during the fall as their window in which to accommodate however many practice dates they have set aside. Currently, teams are allotted 132 days within the academic year to conduct practice and complete a 56game schedule. "Let's say you're in the North, you don't have an indoor practice facility and you can't practice outdoors Feb. 1. Maybe the days of fall are more valuable to you than the days of February," explains Keilitz.
Schools are allowed to play actual games in the fall, but none do, choosing instead to build continuity by scheduling their entire season during the spring. However, spring means different things to different teams. Southern schools often begin competing in January, whereas Northern teams rarely host games before March. Consequently, one or more Southern trips must be taken if Northern teams are to play any early spring games at all.
The University of Minnesota, for example, opened its 2004 season Feb. 27 in Boca Raton, Fla., losing 4-2 to Florida Atlantic University. FAU entered the game having already amassed a 10-0 record. Minnesota met three more opponents in the Sunshine State, played four home games in Minneapolis's Metrodome, then flew to California for seven games between March 12 and 20. The Gophers, who went a combined 4-7 during their Southern road swings, didn't host a game outdoors until April 14.
"When it comes down to the RPI [Ratings Power Index], and you're trying to get a regional berth, it's tough for a Northern school that opts to go down to these warm climates to open their season, because more than likely they don't get off to the kind of start that they'd like to," says Ed Servais, second-year coach at Creighton University, which hosts the CWS each year in Omaha, Neb.
Staying home isn't seen as much of an option either. According to Servais, nearly as many of his Bluejays' early-season games are called due to wind chill as rain. "The wind is what's really tough in the early part of the year," he says. "If it's 38 degrees and quiet, it can be a decent day. But if it's 44 and windy, it just goes right through you. That's when you worry about injuries."
Players aren't the only ones feeling hamstrung by the current scheduling scenario. Northern coaches are left to pack a full schedule into relatively few weeks, which usually means playing games every day but Monday and Thursday. Such a pace can easily tax a team's pitching rotation and often requires Northern coaches to overload their rosters with able arms. Servais, for one, carries at least a dozen pitchers among the 25 players he's allowed to dress for Missouri Valley Conference games.
By contrast, most Southern teams can stretch their schedules to include mostly weekend dates, allowing ample rest for a select few aces and several more starts for each of them over the course of a season. "We all have our top-line pitchers we'd like run out there as much as possible," Servais says. "We can't do that because our season is so condensed."
Northern athletic directors, meanwhile, are confronted with the expense of extended spring travel. According to Keilitz, this is money that Southern schools can channel directly into coaches' salaries, facilities and recruiting. ADs everywhere have expressed concern over the additional costs associated with housing and feeding student-athletes on campus for weeks beyond the conclusion of the academic year, says Big West Conference commissioner Dennis Farrell, who chairs the NCAA's nine-member Baseball Issues Committee. "You have to try to balance those costs against the competitive-equity issue," Farrell says. "To be honest, probably the only way to bring competitive equity to baseball would be to move the entire season into the summer months. But that's not going to happen."
Keeping college baseball as closely tied to the academic year as possible allows players to seek employment in the summer or further develop their skills in summer leagues. It also facilitates a greater connection between the team and the general student body, Farrell says.
Bertman, a Baseball Issues Committee member, contends that most schools aren't at all interested in making the investment necessary to compete at the sport's highest level. "Out of 285 baseball teams, there are probably 90 good teams that want to get to Omaha," Bertman says. "The reason the others don't care is because it's expensive, especially the more you win. And you don't get any money for going to Omaha. It's not like a football bowl game."
The latest equity proposal now heads into the NCAA's 2005-06 legislative cycle, with earliest adoption coming in April 2006 and earliest implementation by the 2006-07 academic year - assuming the proposal passes muster with the NCAA's Division I Management Council and ultimately its board of directors. (The ABCA had requested that the proposal be expedited into the current legislative cycle, but the Management Council determined in October that the proposal was neither an emergency nor non-controversial - the two-pronged test for such requests.)
Keilitz realizes universal starting dates, if adopted, will shatter the status quo enjoyed by Southern teams to date. But he hopes all coaches will encourage their athletic directors and presidents to get behind the proposal for the good of college baseball nationwide. "We are trying to create more good programs," he says. "Without a doubt, more teams will have an opportunity to be good and join the national elite if this passes."
"It hurts no one in basketball or football to be a Northern school, but in baseball it does," Servais says. "By making these dates more equitable, I think you're going to see better baseball across the board, and you're going to give the kids who are at Northern schools a better opportunity to play post-season baseball. That's what they're all shooting for."
Bertman, for one, doesn't share such optimism. "I think this proposal is a great thing, don't get me wrong," he says. "But one week is not the key to schools like Creighton becoming competitive on an annual basis. The reason is that the good athletes who are recruited early for scholarships want to go to the Southern schools, which go to Omaha more often than the Northern teams. The system feeds itself."
"The teams in the North should still feel very happy that this compromise is possible, but it won't solve the equity issue," says Farrell, whose conference includes all fair-weather teams, including defending national champion Cal State Fullerton. "March 1 won't level the playing field completely for the programs in the North, but at least now they won't be a month and a half behind the other programs."