Officials with Arizona Prep Academy aim to help former high school basketball standouts improve their academic and athletic skills before they head to college.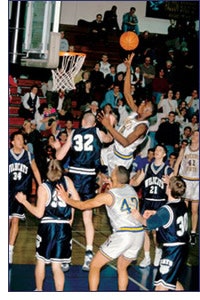 Don't get him wrong; Jim Keen isn't claiming to have come up with the idea from scratch. But he is surprised that no one before him has established an elite prep school for student-athletes in the western United States.
"I'm baffled by it myself, since they have existed for so long in the East," says Keen, managing director of the Arizona Prep Academy, which opens its doors in Phoenix this coming fall. "It's not as if the concept has been a secret. I think it's just a case of no one having done it."
Starting a prep school is certainly something that Keen has never done, although by association (his teenage son has been playing organized basketball in and outside of school for years) Keen is well aware of the difficulties faced by many high school hopefuls. "My background is in banking. Quite frankly, I'm just a dad who has been involved in basketball for a while," says Keen. "The combination of my son playing and me going to games, being a chauffeur and all of that sort of stuff has gotten me to wondering, 'Well, what's next for kids who want to play and don't have a place to play?' "
Instead of watching those kids, his son's peers, hang up their gym shoes at the close of their high school careers, Keen decided to approach his friend and neighbor Gary Trousdale-a current club and former college basketball coach whose career spans 22 years and includes stints at the Universities of Tulsa, San Francisco and Portland-about his idea of creating an institution for student-athletes not quite prepared for the rigors of college. "It could be that they're not ready athletically, or in some cases they're not ready academically," says Keen. "Maybe they have the right GPA, but they don't have the right test scores." (The APA differs from other prep schools in that it will only accommodate post-graduate student-athletes, whereas many Eastern institutions offer such opportunities in addition to day and boarding programs for students in grades 9 through 12.)
To that end, Keen and Trousdale have enlisted the services of the Horizon Community Learning Center, an honors-focused public charter school for students in grades K through 12. The Horizon Community Learning Center will serve as the home of the Arizona Prep Academy, sharing with the prep school its campus facilities, including gym space. (It's expected that APA student-athletes will practice in the mornings, while Horizon basketball teams will use the gym in the afternoons and early evenings.) Horizon will also provide all of the Academy's educational resources and support. "Much of the curriculum at our high school is college courses, in partnership with South Mountain Community College," says Larry Pieratt, Horizon's executive director. "We can offer those courses with our current teachers and give Prep Academy students the credits that they're looking for to get them a step ahead when they finally enter college."
APA student-athletes, by taking less than a full courseload of credits, will avoid jeopardizing their NCAA eligibility. "The definition of a part-time student is defined not by the NCAA but by the school" that a student-athlete will attend, says Keen. "Generally speaking, 12 hours is the criteria for a full-time student. Now, it's conceivable a given school could say that 11 or 10 hours is full-time. If a full-time student is defined as someone taking 10 hours, then we need to make sure that we stay straight with that kid and keep him at nine hours or below."
Academy student-athletes will have available to them a dedicated "academic coach," a teacher that Pieratt says will provide remedial study assistance and administer the bulk of the student-athletes' instruction, either through online classes or one-on-one instruction. This certified teacher will travel with APA teams on road trips. In its first season, the Academy's competitive schedule will likely be limited to games against junior college teams and participation in tournaments within the region, but Keen anticipates that by its second year the APA will be flying out to the East Coast to compete against some of the preeminent prep programs in the country.
Travel costs are expected to eat up much of the $18,000 annual tuition that will be collected from each APA enrollee, with the rest of that money going to administrative and educational costs. There is no on-campus housing, so APA student-athletes will have to choose between staying in an apartment complex located near the Horizon campus (such rooming costs would be in addition to tuition fees) or bunking with local families that have expressed interest in hosting APA student-athletes. So the question is: Will graduates-to-be from California, Colorado and other Western states pay $18,000 or more a year to attend an as-yet-unproven basketball-focused prep academy? Keen says yes, pointing to the fact that the APA has already signed most of its first-year class. By early May, the APA had received "interest of varying degrees" from 37 student-athletes, says Keen, who expected to have signed the Academy's first-year maximum enrollment of 24 (for two teams of 12 players) by or shortly after the close of the Spring National Letter of Intent signing period for basketball, which ended May 18.
Though Keen says that he has been "surprised by the number of calls we've had from the East," most of the APA's signees come from Western states. "Kids who may want to go to a prep school-and I'm going to exaggerate here a little bit-are the kids who aren't ready to go to UCLA," Keen says, emphasizing the fact his program's overriding goal is to provide more student-athletes an opportunity to realize academic and athletic success in college. "We don't want to overwhelm them, but we also want to get them ready for what it's going to be like if they get to the next level."