A new breed of mascot emerges as more than just a sideline figurehead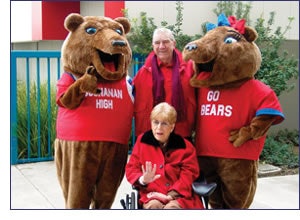 When Dave Dooley took over as activities director last August at Buchanan High School in Clovis, Calif., he inherited two ratty-looking bear costumes, their fur matted down from at least a half-dozen years of wear as the school's mascots.
One of his first goals was to find a new, more attractive look for the mascot. "There is a real lack of good bear costumes out there," Dooley says. "Some of them are cartoonish and some look like stuffed animals. We wanted to find a bear that could represent the school well as both a sports mascot and a public-relations tool. We didn't want kids running away from it screaming, but we also didn't want it to be too childish, since it was representing our athletic programs."
Dooley finally settled on two friendly looking bears, one male and one female, naming them after Dr. Floyd B. Buchanan (the school's namesake and Clovis Unified School District's retired first superintendent) and his high-profile wife, Molly. Worn by students from the school's leadership-program classes, the mascot costumes debuted in January, and Doc and Molly have regularly been making both individual and joint appearances at school and community events ever since.
"They help students understand the history of their school, and they bring Dr. Buchanan's spirit back into the school," Dooley says. "Plus, they look great, especially compared to other schools' mascots."
These days, great-looking mascots are making headlines in communities large and small for reasons other than being politically incorrect. They have become part of a quiet nationwide movement initiated by athletic directors, activities directors and principals to, in Dooley's words, "step spirit up a notch."
"I've been in the marketing and communications business for 15 years and done work for blue-chip clients. Everything we talk about revolves around a brand," says Mario Amantea, managing director of Mascots.com, a Calgary-based company formed last year to create customized high school mascots from a vast library of template characters. "Schools don't get a lot of opportunities to do brand building, so the mascot is a bigger contributor to brand building than anything else in the school. If mascots are good enough for NCAA Division I colleges and universities, they're good enough for high schools."
Plenty of effort goes into choosing and naming a school's mascot, and the unveiling of a new one usually generates local press. In fact, mascots now seem to be taken more seriously than ever.
How serious? The school board in Howell, Mich., approved four official mascot figures-two males and two females-to represent the Patriots of new Parker High School, slated to open in fall 2007; The Journal Times of Racine, Wis., includes a "best mascot" category in its reader-chosen "Best of Racine County" section; and officials at Hillsboro, Ore.'s Tobias Elementary School-yes, elementary school-hired a cartoonist to draw its Toby the Tiger mascot in 10 different poses for use on the school's web site and line of memorabilia.
Despite mascots' marketing potential, more high schools than not probably still store a crusty old mascot costume stained with years of perspiration in a gymnasium closet, airing it out only for major pep rallies or playoff games. "A lot of high school mascots were sewn together by some dedicated mom, and they really look pathetic," says Lee Bowen, owner of Omaha, Neb.-based Signs & Shapes International Inc., which makes air-inflated mascots for organizations, businesses, colleges and, more recently, high schools. "I think a lot of people are turned off by high school mascots because they often look so bad."
But they don't have to. More impressive-looking air-inflated costumes like those made by Signs & Shapes are powered by battery-operated blowers that can make mascots stand 10 feet or taller. Mascots.com manufactures its costumes using closed-cell foam bodies and Styrofoam™-covered hockey helmets as head shells to give each mascot a larger-than-life appearance.
Many professionally manufactured costumes carry price tags in the $2,000 to $5,000 range. Although some schools pay for mascots through sponsorship deals-a local bank's logo on the back of a cougar's jersey, for example-administrators (not to mention sponsors) want to make sure they get a decent return on their investment. Hence, a mascot's presence at sporting events has almost become secondary to its appearances around the community.
The Bel Air (Md.) High School Bobcat recently shared the spotlight with fellow mascots from the NFL's Baltimore Ravens, Towson University and the Cal Ripken Jr.-owned minor league Aberdeen IronBirds at a local American Heart Association "Hoops for Heart" fundraiser. Meanwhile "Buzz," the mascot for Thomas Jefferson High School's Yellow Jackets in Council Bluffs, Iowa, often accompanies varsity football players to district elementary schools as part of the team's mentoring program.
Other mascots participate in parades, grand openings and other events, while some schools also rent their characters to local businesses, generating revenue for booster clubs or pep squads. When used wisely, mascots can become an integral part of the community at large-all the while boosting school spirit and creating excitement among students.
At a combined middle and high school in Tekamah, Neb., the tiger mascot was even used as an incentive for at least one behavior-challenged student, who was allowed to work a shift in the costume if he kept his behavior in check for one-week periods. School officials report that the boy's conduct improved dramatically as a result of his involvement.
For school districts that have had to regularly lay off teachers, eliminate classes and charge student-athletes hundreds of dollars to play sports, spending $2,000 or more on a mascot might not represent a high-priority use of funds. After all, some high schools have gone decades without a mascot, and administrators at other schools are content with traditional mascot costumes, regardless of how they look.
On the other hand, for a school like Buchanan-which is part of an academically and athletically dominant district that prides itself on state-of-the-art buildings and athletic facilities-it ranks as a vital investment. "There's sort of an expectation in Clovis that schools are always going to attempt to do things bigger and better than others," Dooley says, adding that none of the other three high schools in the district can boast a mascot similar to Doc and Molly-at least not yet. "Now that we've got nice mascots, I can guarantee there's going to be some pressure on the other schools to get nice ones, too."