Boys & Girls Clubs are becoming a philanthropic focus of a variety of sports, fitness and recreation entities.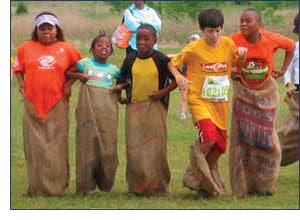 The residents of Waterville, Maine, can't complain. Though it is a community of only 15,000 people, Waterville boasts an abundance of sports, fitness and recreation opportunities, and is home to four privately owned health clubs, a YMCA and a Boys & Girls Club -- not to mention an outdoor pool, an indoor recreation center and 80 acres of parks, athletic fields and greenspace operated by the city's parks and recreation department.
For as long as anyone in Waterville could remember, they had been disparate entities with disparate missions. But that all changed in 1997, when a local philanthropist offered to build for the Y and the Boys & Girls Club -- each of which had long occupied aging, cramped buildings -- a new $7 million, 60,000-square-foot shared facility. As proposed, the facility would feature an 8,000-square-foot fitness center.
Rather than devolve into the public bickering and litigation that has become commonplace among nonprofit and for-profit sports, fitness and recreation providers, Waterville's facility operators chose the high road. Six of the seven entities (the exception was the recreation department) formed the Waterville Fitness Community Collaborative.
In essence, each organization agreed to continue doing what it did best. The Y and the Boys & Girls Club pledged to forego the fitness center originally planned for their new facility. In exchange, the health club operators agreed to offer to low-income Y members a limited number of free, three-month trial memberships, if individuals could show financial hardship according to criteria established by a local social services agency. In addition, Charles Giguere, owner of Champions Fitness Center, one of the collaborative's four health clubs, agreed to occasionally open his doors to host youth fitness clinics.
Meanwhile, the Boys & Girls Club, thanks in large part to its new and much improved facilities, was allowed to expand its operations, the bulk of which had focused on providing free licensed child care and after-school programming for underprivileged youths age 6 to 18. From the Alfond Youth Center, which opened in 1999 and is reserved exclusively for youth programming from 2 to 8 p.m. daily, the Boys & Girls Club now also offers an assortment of sports and recreation programs, including basketball, martial arts and dance.
Local business leaders understand that for those reasons alone, the Boys & Girls Club serves as the glue of Waterville's sports, fitness and recreation collaborative. In return for the Boys & Girls Club's investment in the lives of Waterville youths (and potential future customers), business leaders like Giguere, who has served as chairman of the board of directors for the Y and the Boys & Girls Club, willingly volunteer their time and expertise in fundraising efforts. Among the board's most recent coups: a $1 million challenge grant from athletic footwear manufacturer New Balance, as part of a $2.5 million capital campaign. In an effort to encourage local youths to take up jogging, the company also provided new shoes for all of Waterville's Boys & Girls Club members. Giguere and others hope that before long, those youths will have the opportunity to run wild at a day camp that, using the capital-campaign funds, will be renovated into a year-round hiking/walking trail complex. "This is all targeted under our youth anti-obesity program," says Giguere, who reiterates why for-profit club owners such as himself, as well as individual and corporate donors, have been so willing to support local youth programs. "Nobody ever hears `Boys & Girls Club' and thinks negative thoughts."
Based in Atlanta, Ga., the Boys & Girls Clubs of America has 3,400 clubhouses in all 50 states, Puerto Rico, the Virgin Islands and on U.S. military installations at home and abroad. According to its web site (bgca.org), for nearly a century the nonprofit youth organization has sought to "promote and enhance the development of boys and girls by instilling a sense of competence, usefulness, belonging and influence."
Collectively, sports, fitness and recreation programs serve as just one facet of that mission. Boys & Girls Clubs' programming focuses just as much on the development of character and leadership, education and career skills, health and life skills training, and the arts.
It might surprise some, then, to learn that partnerships between Boys & Girls Clubs and for-profit fitness agencies, such as that which exists in Waterville, are rare. In recent years, Boys & Girls Clubs have drawn the greatest amount of attention and generosity from professional sports organizations, the NFL in particular.
In fact, many of the league's players are former members. Star players Ahman Green, Junior Seau, Rod Smith and Michael Vick spent their formative years hanging out at Boys & Girls Clubs, and publicly credit the organization for much of their success on and off the field. And though millions of adult Americans at one time or another roamed the hallways of their local clubs, few are in a position to give as generously to the Boys & Girls Clubs of America as are NFL players and their teams.
Take, for example, Smith's Denver Broncos. In August 2003, the football team agreed to pledge $240,000 annually for five years to fund the operating budget of the newly minted Denver Broncos Boys & Girls Club. Occupying a former municipal recreation center in Montbello, a low-income north-Denver neighborhood, the club boasts 1,000 members and receives 175 visits from those members daily.
The Broncos' commitment to its namesake Boys & Girls clubhouse isn't just financial. "The organization's staff volunteers there, players come by now and then to volunteer or to just hang out with the kids for an afternoon," says Amy Robinson, annual fund and marketing director for the Boys & Girls Clubs of Metro Denver, which oversees the Denver Broncos branch, along with five others.
One day last summer, Smith and middle linebacker Al Wilson brought their sons to the Denver Broncos Boys & Girls clubhouse. After hanging out and shooting hoops, Smith and Wilson ordered pizza for about 150 people and made a run to a neighborhood convenience store for soda. "Typical Rod," Denver Boys & Girls Club branch director Rich Barrows told the Denver Post in November. "He just pops in, unannounced and incognito. Then he plays with the kids, for hours at a time, then orders them pizza. He says it's no big deal, but I can tell you it's a very big deal around here."
These days, the Boys & Girls Clubs of America are as big a deal as any charitable cause within the pro sports community. Golfers and baseball, basketball and soccer players have lent considerable attention and support in recent years. Some notable partnerships have emerged.
In 1999, the NBA and WNBA created a national youth basketball initiative called the Jr. NBA/Jr. WNBA. The program -- which is supported by an advisory board featuring all-star players, coaches and Hall of Famers from both leagues, as well as representatives from the Boys & Girls Clubs of America and other prominent youth sports and recreation organizations -- teaches basketball skills and sportsmanship, but also benefits youth sports coaches by sharing with them ideas for creating positive and fun learning environments.
More recently, in December, MLS teen phenom Freddy Adu signed on as a national Boys & Girls Clubs spokesman, joining PGA member Notah Begay III and MLB all-star Alex Rodriguez, both of whom spearhead initiatives targeting minority communities. Begay, a former Boys & Girls Clubs member and the only Native American player on the PGA Tour, is the face of "Walk With Me," a Boys & Girls Clubs campaign that encourages Native American youths to develop healthier lifestyles and avoid health problems common among their population. "Anytime we have a figure willing to give back to the community -- whether it's A-Rod with the Hispanic community in Florida, where he grew up, or Ahman Green in Nebraska -- it does absolutely nothing but strengthen our programs," says Lorraine Jackson, senior director of sports, fitness and recreation for the Boys & Girls Clubs of America.
Individual clubs are free to develop programs on their own, but according to John Bailey, director of youth sports and fitness for Lackland Air Force Base Youth Programs, an affiliate of the Boys & Girls Clubs, they are strongly encouraged to take advantage of the national headquarters' resources. "They flood us with program ideas, from Triple Play to the Nike Play Daily programs," says Bailey, referring to two popular physical fitness programs. "In fact, we're required to log on to their web site at least once a month to find out if there's anything new out there."
As might be expected, officials at the Denver Broncos Boys & Girls Club have worked to expose youths to the game of football through programs such as Gatorade Junior Training Camps, which consist of a variety of football-related games and activities. But receiving just as much emphasis as sports and recreation are programs designed to teach Montbello's underprivileged children life skills that club officials hope will help provide them an avenue out of poverty.
This past summer, members of all of the Denver Boys & Girls Clubs benefited from programs like Read Like A Pro, which was co-sponsored by U.S. Bank. Boys & Girls Club members enjoyed story hours at their local clubs and were encouraged to read on their own throughout the summer. Youths earned points for each book they read or group reading activity in which they participated, with the top 10 point-earners at each club receiving an invitation to a special end-of-summer party. Also last summer, local phone book publisher Verizon Super Pages emerged as a community partner, committing $50,000 for each of the next four years to fund the clubhouse's technology center. In December, the Charles Schwab Foundation held a "Money Matters: Make It Count" summit at the Denver Broncos clubhouse, with 100 Boys & Girls Club members of that facility and Denver's five other clubhouses in attendance. Designed to promote financial literacy among teens, the daylong seminar focused on five sessions: understanding money, spending wisely and using credit, saving and investing, paying for college, and entrepreneurship.
"The Broncos, by underwriting the costs of our Denver Broncos Boys & Girls Club, are contributing in a lot of different areas," says Robinson. "It's a much more holistic approach to youth development than just sports."
Contributions like those of Smith and the Broncos are greatly appreciated by Boys & Girls Clubs officials, especially considering that many clubs -- which, financially speaking, operate independently of the national organization -- obtain anywhere from 50 to 90 percent of their funding through donations. "We are a large federation," says Boys & Girls Clubs of Metro Denver president and CEO John Arigoni of the national organization. "Each Boys & Girls Club corporation stands on its own, separate from the national organization. Consequently, when we're trying to build relationships, we are technically a grassroots organization, and in some communities, we have very deep roots. For instance, the funds that we raise locally stay local. The board of directors is chosen from the local community, and the board of directors hires the local executive director. These are separate businesses, one from another."
The Boys & Girls Clubs of Metro Denver, thanks to its location in a major metropolitan area with residents whom Arigoni refers to as "very philanthropic," receives roughly 90 percent of its funding from donations and the remainder from memberships and program fees. (Annual youth memberships are only $2 each.) By comparison, the operating budget of the Donald W. Reynolds Boys & Girls Club of Fayetteville, Ark., is about 50 percent reliant on donations and gifts-in-kind, with the remainder of its funding coming from program fees and annual memberships, which cost $50 for youths and $200 for families. (As in Denver, scholarships are available for individuals and families who cannot afford regular membership fees.)
Adam Arroyos, director of operations for the Reynolds Boys & Girls Club, admits that it's a challenge to offer both affordable programs for low-income families and maintain a solvent fiscal policy. "We can no longer think just like a charity," he says. "But we've figured out a way to be successful without losing sight of the reason we're here."
Arroyos says that maintaining a business mind-set is particularly essential with respect to hiring practices. "We rely a lot on the capacity of our infrastructure, the people who offer and deliver our programs," he says. "We realized that we need to remain competitive within the recreation industry, and to do so we need to hire professionals. That goes right into the quality of our programs."
Arroyos and three other senior staff members at the Reynolds Boys & Girls Club boast post-secondary degrees in disciplines ranging from sports management to recreation to public policy. "We make sure we have people in here who know what they're doing," says Arroyos. Take, for example, the exhaustive review process undertaken by the facility's staff of potential additions to the Reynolds club's slate of sports and recreation programs. "First, we do research and consult literature reviews and studies. We want to keep up with the latest trends, find out what has worked, what hasn't worked and why," says Arroyos. "Second, we benchmark facilities similar to ours, and third, we do an impact evaluation of each program. We don't look at theoretical articles. We're more interested in empirical evidence."
Given the propensity of some Boys & Girls Clubs to pump extensive financial resources into its staff and sports and recreation program development, some observers have drawn comparisons between the organization and the YMCA. However, Boys & Girls Clubs officials respectfully maintain their distance from the Y, and are quick to clarify any potential confusion regarding the organi- zations' similar yet distinct missions. "When you're in the business of providing preschool care and elder care and adult programs, it's hard to have focus," says Arigoni, referring to the Y's philosophy. "The Boys & Girls Club is a group of people who are working hard to enable young people to become engaged and to be direct and deliberate in how they approach their lives." Adds Arroyos: "We're in the business of kids."
So how can other entities involved in sports, fitness and recreation incorporate that "business" into their own? Arigoni, Arroyos and Jackson all recommend that those interested in partnering with or supporting their local Boys & Girls Club do one of two things. For starters, one can visit the organization's web site to read about examples of partnerships between Boys & Girls Clubs and high schools, colleges and universities, parks and recreation departments, for-profit fitness centers and other orga- nizations. The web site features a city-search function that allows visitors to identify clubs in their area. Arigoni also recommends simply looking up local Boys & Girls Clubs in the phone book. "Contact the executive director and/or the branch director of that local club and simply say, `How can I be of service? What are the things that you need in order to fulfill your mission and help save kids' lives?' " he says. "In some cases, it will be money, in other cases it will be volunteering, in other cases it will be donations of goods and other services."
In many communities, facility space is at a premium. Partnerships between Boys & Girls Clubs and municipal recreation agencies, for example, have often been mutually beneficial. "Communities have come together where the public has paid for the building of a rec center that shares space with Boys & Girls Clubs," Arigoni continues. "Boys & Girls Clubs provide the youth programming, and the parks and rec department might provide just sports and fitness."
In 2000, the International Health, Racquet & Sportsclub Association selected the Boys & Girls Clubs of America as its official charity. In the five years since that announcement, IHRSA has donated nearly $90,000 to the national organization, in addition to providing equipment and tennis and fitness instruction. IHRSA has also encouraged its 5,000 members nationwide to collaborate with Boys & Girls clubhouses in their areas. The existence of the Waterville Fitness Community Collaborative, though its members have yet to fully explore the potential benefits of that partnership, gives one the notion that the possibility for collaboration between private, for-profit health clubs and Boys & Girls Clubs is just now becoming known.
"In a year and a half, more than 300 people have participated in the scholarship program. But it's still in its infancy, and the for-profit fitness centers are looking at it very cautiously," admits Ken Walsh, chief executive officer of the Boys & Girls Club and YMCA at the Alfond Youth Center. However, Walsh believes that the local health clubs' efforts to expose Waterville youths to fitness at an early age won't go unrewarded. "They will be more open to signing up for health club memberships as young adults," he says.
As for the Waterville Boys & Girls Club, it wouldn't be what it is today without the health clubs' help. "It's really rare to have business leaders in the community working with an agency like ours to provide opportunities for underprivileged kids," says Walsh. "We're already busting at the seams. Our membership went from 1,200 to 7,000. For us, it's been fantastic. It can't get any better than this."