Penn's recreation department opens the nation's first campus-based, full-serive Pilates studio.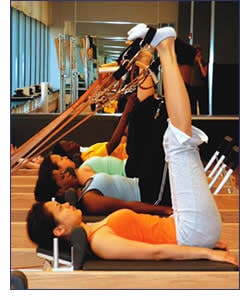 When the David Pottruck Health and Fitness Center opened on the University of Pennsylvania campus three years ago, it gave recreation administrators 115,000 square feet in which to stretch their program offerings. But in all that space -- five floors housing the typical cardio and strength-training equipment, basketball and racquet courts, and a pool -- there was little room for facility users to actually stretch out their bodies. There were small mats in a cardio area, but not enough to handle demand during the center's peak evening hours.
From a desire to facilitate simple stretching opportunities came the suggestion among staff that Pilates could offer flexibility in more ways than one. "Most of our program space is really built to give it the most flexible use possible," says Christine Clay, Penn's associate recreation director. "We want our building to be able to grow, even as the trends might change."
While a Pilates studio, per se, was never part of the Pottruck Center's original plans, Penn -- like many campuses across the country -- "had been offering something along the lines of Pilates mat work," Clay says, "but we hadn't really explored the idea of bringing in any of the equipment."
In September, Penn opened what it believes to be the nation's first campus-based, full-service Pilates studio -- a 1,500-square-foot room where Reformers and Low Chairs have replaced elliptical trainers and stationary bikes. So much equipment was introduced to the space, in fact, that it has become the envy of the local Pilates private sector. "There are not many studios that compare," says Carol Beringer, owner of Pilates & More in Wayne, Pa., about 13 miles from the Penn campus in Philadelphia. "For-profit studios may have the variety of equipment, but they don't have as many pieces."
The Penn studio contains eight Reformers (a system of tension-mounted bars, springs and a sliding carriage that incorporates the exerciser's own body weight in resistance training), one Classic Cadillac (a system of trapeze-mounted hand- and foot-holds), six Low Chairs (a box- like platform offering springloaded resistance) and 12 Pilates mats. While difficult to compare a typical private studio with the one at Penn, there's also little direct competition between the two. "We're near a residential area, but people who live down the street can't just come in and take Pilates," Clay says. "Our space is for our students, faculty and staff who just want to integrate a little bit more flexibility into their strength-training workout."
Before Penn could introduce its inner circle to the full health benefits of Pilates, a few kinks needed to be worked out during the planning stages. Recreation administrators admittedly didn't know a lot about Pilates equipment, much less how to teach proper Pilates technique. They consulted the Pottruck Center's exclusive cardio equipment provider, Life Fitness, a distributor of Peak Pilates equipment. Peak, which would ultimately equip the new studio, put Penn in touch with Beringer, who offered to help lay out the studio and staff it once it was up and running. In the meantime, she guided Clay and two other Penn recreation officials through what might be described as a Cadillac crash course -- five private two-hour Pilates sessions on her own studio equipment. "We wanted to learn about it and be able to discuss it with people intelligently," Clay says. "If somebody came up and said, 'So, you're doing Pilates now,' we could actually tell him or her what it is."
Instilled with only this functional knowledge, however, Penn administrators felt the credibility of their studio hinged on retaining the services of Beringer, who now oversees day-to-day operations with help from four full-time Pilates & More employees -- all Level Five instructors. "I give Penn the most experienced and the best," Beringer says.
Both the university and its students have been willing to pay for that kind of quality. Like the group cycling, yoga and aerobics classes offered at the Pottruck Center, Pilates comes with a price tag beyond students' recreation fees. And because of the equipment investment and the restrictions that a limited number of equipment pieces places on class size, Pilates costs comparatively more than those other activities. For example, full-time students pay $60 for five weekly Pilates sessions, but only $40 for 12 weeks of yoga. Still, according to Beringer, Penn's group Pilates classes cost roughly half the going rate of private studios. Students also pay roughly 10 percent less for one-on-one instruction, which costs between $45 and $50 per session, depending on the number of sessions purchased.
Penn even chose to incorporate Beringer's certification program into its campus offerings, allowing students, faculty and staff to seek instructor status up to Level Three. Certification is offered in both mat-based and equipment-based Pilates for $900 and $2,800, respectively. "It's not cheap," admits the soon-to-be-certified Clay, adding again that the studio's credibility would not be compromised. "One of the things that we were concerned about was being viewed in the Pilates community as a discount certification. We didn't want people to think that we were taking this lightly and that in one weekend, for $200, we can teach you everything there is to know about Pilates. We want people to feel that the Pilates that's going on at Penn is quality, educated practice."
The cost of certification has so far proven prohibitive for students, but the popularity of Pilates at Penn is nonetheless evidenced by the fact that 27 classes were filled during the fall semester, as were another 30 this spring (with the addition of Friday classes). "It's very typical the first day that classes go on sale to have folks in line outside, ready to sign up for Pilates," Clay says. "A lot of classes sell out on the first day or within the first week they go on sale. In fact, we've had to restructure the way classes are offered to accommodate demand."
Penn administrators have stretched class sizes from eight participants to 12, offering those who would otherwise be relegated to a waiting list the opportunity to train on a Low Chair or mat if all eight Reformers are occupied during a given session. Beringer feels the group sessions are pretty well maxed out, considering that holding more than one class in the studio simultaneously becomes distracting for participants. However, she does see growth potential in the delivery of one-on-one instruction. "One way that this business could really be built up is if they had multiple private sessions going on at a time," Beringer says.
And make no mistake, the Penn recreation department treats its studio as an important contributor to the Pottruck Center's bottom line. Equipment costs have already been recouped, according to Clay, who anticipates Pilates will provide a steady revenue stream for years to come.
Beringer believes that much of the studio's initial popularity can be chalked up to the fact that Pilates is hot right now. But she envisions a day -- perhaps within the next two years -- when campus-based Pilates instruction will be a nationwide phenomenon, even incorporated into schools' physical-education curricula. "I really think that it needs to be structured quite differently for a university, so it matches students' schedules, so they think of it as another class they're taking," she says. "It could be something that students want to train in professionally. They could be getting their degree and getting a Pilates certificate at the same time."
For 23-year-old Penn senior Emily Burnett, who studied ballet as a child, just taking care of her body is enough motivation for now. "When I started the classes, I really loved the way Pilates made me feel," says Burnett, an avid runner who benefits from the muscle stretching and lengthening emphasized during her Pilates workouts.
"I feel like I'm getting stronger in a way that's going to help me as I age. It's not like vanity lifting. I feel healthier. I feel energized."
"I think students like Pilates because it is de-stressing," Beringer adds. "There's such a consciousness now for mind-body connections, and those connections just make everything else you do better."