Utah Valley State makes the unprecedented jump from junior college to NCAA Division I.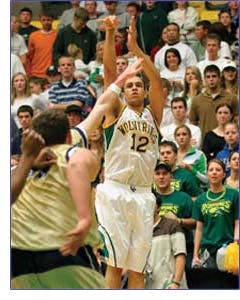 Wolverine Richard TroyerWhen the Sacramento Bee reported Aug. 3 that the NBA's Kings had signed point guard Ronnie Price by stating, "Price entered the draft as a mystery man because he hails from the Timbuktu of NCAA basketball, provisional Division I college Utah Valley State," Wolverines head men's basketball coach Dick Hunsaker took it as a compliment. At least his program was now on somebody's map.
Three and a half miles to the east of Provo, in the shadow of Brigham Young University, sits one of the best-kept secrets in collegiate sports. But word of Utah Valley State College's unprecedented jump from junior-college status directly to the NCAA's Division I is getting out. The Price story notwithstanding, local media coverage of Wolverine athletics is up 50 percent since UVSC stopped competing against two-year schools two years ago, estimates Derek Hall, the college's associate vice president for marketing and communications. "Having our name in the same headline with a Boise State or an Arizona State has been huge," Hall says. "People are starting to realize the level of competition is that high."
On a campus of 25,000 students, athletes facing their first Division I schedule in 2004-05 proved to be the quickest studies. They had little choice. "My players were just being introduced to Division I basketball, and they really didn't understand how high that level of competition is - how more unified the teams are and how better prepared the coaches are," says Hunsaker, who led Ball State University to the Sweet 16 in 1990 and was named Mountain West Conference coach of the year in 2001 while with the University of Utah. After enduring a 1-6 start, his Wolverines finished last season 16-12, joining only a handful of teams to post that many wins during their debut Division I season. "I consider it the finest year in my coaching career," Hunsaker says. "I got the most satisfaction out of those achievements."
Founded in 1941 as a vocational training school, Utah Valley State likewise has achieved a great deal recently. "Ten years ago we had 19 students receive baccalaureate degrees," says UVSC president Bill Sederburg. "This past year, we graduated 1,200."
Throughout much of the college's rapid evolution, athletics has been seen as an important means to promote the school's academic programs. In the five years since UVSC administrators decided to seek Division I status, the school's athletics budget has increased fourfold, to nearly $4 million. The number of non-coach athletics staff has more than tripled, from seven to 24.
On-campus facilities are already on par with those of many peer institutions. In 1996, the school's signature men's and women's basketball programs moved into the 8,500-seat McKay Events Center. The UVSC baseball program looks forward to playing its second season in a $3.4 million stadium. In January, college administrators hope to break ground on a track and field facility.
UVSC survey data shows that statewide awareness of the college's mere existence has increased from 79 percent to 94 percent over the past two years, with its Division I-bound athletics department credited for much of that increase. "Athletics is the front porch of a college. That's what people see," says Mike Jacobsen, UVSC's athletic director for the past 22 years. "We need to be doing things athletically that let the community know that we're offering four-year degrees. That's done by playing other four-year schools." Adds Sederburg, "We're now part of those cocktail discussions that so often revolve around athletics. It just sort of opens the doors and presents the school to a different constituency."
Arriving in Orem only two years ago, Sederburg inherited the Division I dreams of his predecessors. But he brought his own perspective on intercollegiate athletics from Ferris State University, which competes at the Division II level in every sport but ice hockey (Division I). "I was familiar with both worlds, and I was very impressed with the overall spirit out here. The move to Division I was just part of that can-do attitude," he says. "I had been a little bit cynical about Division II, because so many of the costs and regulations at the Division I level are there at Division II. You might as well make the full jump."
While Utah Valley State's growth spurt continues unabated (enrollment surpassing 30,000 and full university status is anticipated), Wolverine sports programs have experienced their share of Division I growing pains. Within five days in May, the baseball team upset No. 17 Arizona State, then lost three straight games to No. 8 Arizona by a combined score of 35-3. The women's basketball team, which had compiled a 190-73 junior-college record under head coach Cathy Nixon, went 4-22. Even Price, whose 24.3 points-per-game average would have ranked third nationally in Division I if not for his team's provisional status, played before a top McKay Center crowd of only 3,403 - a fact made even more surprising considering students are afforded free admission with a valid ID.
According to student-body president Jared Sumsion, a senior who grew up just outside of Provo, the collective fan mind-set requires its own transitional period. "Being a BYU Cougar fan first and now a Wolverine fan, I realize that it's hard to make that transition," Sumsion says. "The message we want to convey most to the students is, 'Hey, we're Wolverines. Let's go to our games and support our school.' "
Coaches face similar concerns when competing with Utah's four Division I schools for recruits. "Utah Valley State has to be their school," says Hunsaker. "They can't have their eye on what they could have, would have or should have done. They have to have a heart-and-soul commitment. That's what I've been looking for. It is a leap of faith."
While Utah Valley State officials see their faith-based initiative as the right choice, perhaps even the only choice, the NCAA, which has tightened up its membership requirements to slow the pace of reclassification at all levels, would not comment on whether it views UVSC's pioneering jump as positive. However, Kent Barrett, the NCAA's associate director of public and media relations, says this much: "We don't see this as the sign of a trend and in fact aren't aware of any other schools contemplating this type of move from two-year school to Division I."
The University of Arkansas at Fort Smith, for one, is mulling just such a move, according to athletic director and baseball coach Dale Harpenau, who says he has visited separately with NCAA officials and UVSC's Jacobsen in a fact-finding capacity. "It's difficult to get your arms around it and get a feel for what you want to do," says Harpenau, adding that every level of four-year competition is on the table, along with the prospect of remaining a junior college athletically. "My goal is to make sure we don't go into this naïvely."
Ultimately, any school ascending the NCAA's competitive ladder will have to meet minimum requirements involving the number of sports it sponsors, the number of contests it schedules, the number of participants it accommodates, and the amount of financial aid it awards. In addition, one or more independent consultants may be hired to consider such other factors as enrollment, facilities, public support and conference membership before giving thumbs up or down to a proposed move. "The NCAA has spent a lot of time over the past five years examining the process, and the process is very detailed," says former NCAA enforcement coordinator Chuck Smrt, president of The Compliance Group, which presented the details (but no specific recommendations) to Utah Valley State five years ago. "Whatever route a school wants to take is fairly laid out, so it's incumbent upon the school to undertake due diligence to determine whether it can meet these requirements. If administrators believe they can do it, then off they go."
Having received its third-year stamp of approval from the NCAA on Aug. 12, Utah Valley State is well on its way. It now finds itself in the fourth year of a unique seven-year provisional period in which it is ineligible to compete in NCAA-sponsored postseason events. (The typical provisional period for Division I wannabes is five years.) Conference membership likely would shave a year or two off UVSC's competitive purgatory, and Jacobsen spends at least part of every day working on that and other Division I priorities.
"The whole process has been very exciting," he says, adding that there is still much to do. "We need to get through this provisional period. We need to get into a conference. Getting into a conference is a huge step for us. If we can get into a conference that's a good fit competitively, I think we can say, 'Yeah, we've done well.' "