Administrators strive to keep alcohol sales out of shared-use facilities.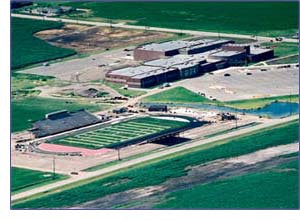 Officials and fans at Northern State University spent the better part of a year pondering life without tailgate parties before Wolves home football games. A cherished tradition on the Aberdeen, S.D., campus, tailgating became an endangered activity when the new Clark Swisher Activities Complex - a joint-use venture between the university, the city and the Aberdeen Public School District 6-1 - was built at Central High School.
Plans called for NCAA Division II NSU to play its home games at the recently completed $3.2 million, 6,000-seat facility, but school district policy forbids the use of alcohol on school property. As expected, the prospect of beer-free tailgate parties didn't go over well with the NSU faithful, who previously tailgated in a city-owned parking lot near the Wolves' old home field.
That's why, in late July, the Aberdeen School Board donated approximately three acres of complex land to the university's alumni organization - ensuring that the district's no-alcohol policy would not be violated. The agreement allows for the consumption of beer and other malt beverages only on land located south of the football field and track and only on NSU home-game days. NSU officials will also be responsible for providing security in the area, which is large enough to park about 80 vehicles. The deal permits district use of the land at any other time.
There was no option but to cede the property, according to Aberdeen Central athletic director Gene Brownell. "Our community's population is about 25,000," he says. "We cannot afford three or four different stadiums. Otherwise, we'd have three or four ugly facilities. We wanted to have one place we all could be proud to call home. The university would not enter into the agreement without us guaranteeing the tailgating option."
Alcohol - already a concern for athletics administrators charged with ensuring the safety of student-athletes - has become a particularly dicey issue for those who share sports facilities with other entities. An estimated 7,000 kids under the age of 16 take up drinking every day, according to the Center on Alcohol Marketing and Youth at Georgetown University, and high schools certainly don't want to be perceived as part of the problem.
"Kids today get a lot of mixed messages about the acceptability of alcohol use, and in situations like this, those messages get even blurrier," says Stephen Wallace, national chairman and chief executive officer of Students Against Destructive Decisions, a Marlborough, Mass.-based organization that provides students with prevention and intervention tools to combat underage drinking and drug use. "Oftentimes, young people get the message that adults are drinking to improve their enjoyment of a sporting event, so it should be OK for them to do so, as well. We need to send the message to young people that they can have a good time without alcohol." Brownell, who expected "some friction" this fall from NSU tailgaters displeased with the district's alcohol restrictions at the new stadium, isn't alone in his efforts to keep alcohol as far removed as possible from the high school athletics experience.
In Rochester, N.Y., for example, many area athletic directors have requested that four private hockey rinks heavily used by high school teams refrain from serving alcohol during interscholastic competition. Facility operators, who came under fire earlier this year, cite financial reasons for their decision to keep taps open, but they've also taken steps to limit the exposure of student-athletes and underage fans to alcohol by limiting signage, and at least one facility with a bar lowers that area's shades and doesn't allow patrons to leave the bar with drinks.
"It's a matter of accommodating someone as a businessman and also playing by the rules at the high school level," Joe Giordano, food service director for a firm that manages one of the rinks, told the Rochester Democrat and Chronicle earlier this year. "To me, education about responsible drinking when they come of age is much more important than trying to shut the kids out. But if that's the rule of choice at this point, we won't buck the system. At the same time, if there are some parents who'd like to have a beverage of their choice while watching their kid play, we provide it. They can do it with younger kids; why not the high schoolers?"
State and regional tournaments, typically held in large, privately operated college or professional facilities, often present the greatest alcohol-related challenges. Take the Tacoma Dome, longtime home to the Washington Interscholastic Activities Association's state basketball, football and wrestling championships. For years, the facility has served alcohol during high school events at McKinley's Grill, a public restaurant and pub located on the second level of the facility's west end, overlooking the action.
"Would we rather not have alcohol sold? Sure," says Mike Colbrese, executive director of the WIAA. "We ask them every year to quit selling alcohol during our athletic events, but that doesn't work. And we need the Dome for our events."
That said, one of the two annual basketball tournaments the Tacoma Dome hosts will move to Seattle's KeyArena in 2007, according to Colbrese, a venue the WIAA has used in the past. But there, drinking is permitted in suites. "We can't stop that, either, even though we've tried," he says. "There are signs in the suites that remind people they are at a high school event and that management would appreciate them not imbibing. That seems to work pretty well."
Tacoma Dome officials say that the choice to offer adult beverages during high school games is a "business decision." Security personnel are positioned at each of the restaurant's doors, patrons are given a designated length of time they are allowed to stay in the restaurant, workers wearing shirts with "alcohol enforcement" printed on them patrol the area, and alcohol is not permitted outside of the restaurant, nor is it for sale at the concessions stands. As an extra measure, all lighted alcohol-related signage throughout the facility is turned off.
"The WIAA realizes that it's our decision to make, and they want us to be successful in business, just as we want them to be successful," says Beth Sylves, the dome's marketing manager. "We've promised to evaluate the situation every year, but I think patrons are pleased that they can come in and have an alcoholic beverage if they want to."
Regardless of the messages the Tacoma Dome and other venues may be sending student-athletes and young fans, Colbrese admits he has received few complaints regarding the dome's practices. "I don't want to diminish the importance of this issue, but if we think kids aren't exposed to alcohol in other places, we're kidding ourselves," he says. "I'd guess that if you were to walk around the Tacoma Dome, you'd find very few kids who even realize alcohol is being sold there."
Despite the best efforts of venue officials to keep alcohol out of underage hands, Wallace contends that the mere presence of alcohol at events increases the likelihood that minors will be served. "This is a decision that communities need to make based on a whole set of social and economic factors," he says. "As a general rule, we suggest that those decision makers think long and hard about the ramifications of having alcohol at events at which young people are present."
Wallace frequently cites a 2003 report from the National Research Council and Institute of Medicine of the National Academies that offers a comprehensive strategy to curb underage drinking. Titled "Reducing Underage Drinking: A Collective Responsibility," the report calls for a shared commitment to the cause from many institutions and individuals -- including brewing companies and distilleries, retail businesses, the entertainment industry, and parents and other adults in local communities. One component recommends that government step up its efforts to educate adults about the consequences of underage drinking.
Until then, we may continue to see incidents like what happened last fall in one New Jersey community. Despite the increased presence of plainclothes police officers at football games in the Middletown Township Public School District - plus stern warnings to parents that imbibing during sporting events would not be tolerated - three men were caught consuming mixed beverages in a parking lot during halftime of a September 2004 game and charged with possession of alcohol on school property.
"We are potentially at a tipping point in this country with respect to addressing underage drinking," Wallace contends. "But it's not until everybody takes it seriously and sends young people the right message that we're going to make inroads into solving this significant health and social problem among teenagers."