A court rules that the privileges of club membership extend to domestic partners.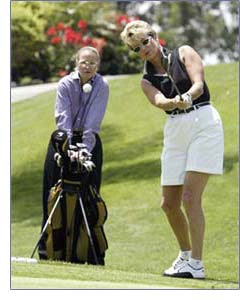 With more states recognizing that gay and lesbian couples deserve the same rights and legal protections as married heterosexuals, it is vital that health and athletic clubs make sure their membership rules conform to current state laws. A good example of the changing legal times is Koebke v. Bernardo Heights Country Club [2005 Cal. LEXIS 8359]. In 1987, B. Birgit Koebke purchased a regular membership in San Diego's Bernardo Heights Country Club (BHCC) for $18,000. As a regular member, Koebke was entitled to unlimited access to the golf course, with no additional fees. Each member's spouse and unmarried minor children under 22 years old were also entitled to play on an unlimited basis without any additional membership or usage fees.
Eight years later, in 1995, after being in a relationship with Kendall French for two years, Koebke asked the BHCC Board of Directors to permit her to designate French as her "significant other" so they could golf together on the same basis as married couples. The board rejected the request, however, and continued its policy of limiting spousal privileges at the club to married couples.
In 1998, Koebke and French executed a written Statement of Domestic Partnership, in which each stated that she considered the other to be "her primary life companion and spouse, sharing with one another the joys and difficulties encountered during their life together." Koebke and French also registered as domestic partners with the city of San Diego and the state of California. Armed with these legal documents formalizing their relationship, Koebke petitioned the board in both 1998 and 2000, requesting that it adopt a "significant other" policy and extend spousal benefit rights to French. The board rejected both requests, and suggested that French apply for her own membership.
Adding insult to injury, the BHCC, though it refused to extend spousal benefits to French, on several occasions ignored its own policy and extended the privilege to some non-married heterosexuals. As a result, Koebke sued the club, alleging sex, sexual-orientation and marital-status discrimination in violation of Civil Code section 51 (commonly known as the Unruh Civil Rights Act).
In reviewing the issue, the Supreme Court of California began by examining the state's current domestic-partnership laws. Under section 297.5 of the California Domestic Partner Rights and Responsibilities Act of 2003, domestic partners have the same rights, protections, benefits, responsibilities, obligations and duties under law -- whether they derive from statutes, administrative regulations, court rules, government policies, common law or any other provisions or sources of law -- as are granted to and imposed upon spouses.
In looking at the legislative history behind the law, the court found that the purpose of the Domestic Partner Act is to help California move closer to fulfilling the promises of inalienable rights, liberty and equality contained in the California Constitution. In addition, the court found that the Domestic Partner Act furthered the state's interests in promoting stable and lasting family relationships by helping to reduce discrimination.
Having found that it was clear from both the language and legislative history of the Domestic Partner Act that its chief goal is to equalize the status of registered domestic partners and married couples, the court next examined whether the Unruh Act precludes BHCC from granting married couples benefits it denies to persons registered as domestic partners under the Domestic Partner Act.
The Unruh Act states that "[A]ll persons within the jurisdiction of this state are free and equal, and no matter what their sex, race, color, religion, ancestry, national origin, disability, or medical condition, are entitled to the full and equal accommodations, advantages, facilities, privileges, or services in all business establishments of every kind whatsoever." Through subsequent decisions, however, the Supreme Court of California has expanded the scope of the Act, and has ruled that its protections are not confined to only those categories identified in the statute.
To determine whether a category not enumerated in the statute should be protected under the Unruh Act, the Supreme Court of California in Harris v. Capital Growth Investors XIV [52 Cal.3d 1142, 278 Cal. Rptr. 614, 805 P.2d 873 (1991)] created a three-part test. The first prong of the test examines whether the claim of discrimination is based on a classification that involves personal characteristics or economic status. The second prong examines whether there is a legitimate business interest to justify the discriminatory policy. Under the third prong, the court examines the potential consequences of allowing the claim under the Unruh Act.
BHCC argued that Koebke failed to satisfy the first prong of the Harris test on two grounds. First, the club claimed that marriage was an economic characteristic, not a personal one, and therefore outside the scope of the Unruh Act. Second, BHCC argued that because of California's strong public-policy interest favoring marriage for the purpose of determining entitlement to rights and benefits, policies treating married and non-married couples differently were justified.
In rejecting these arguments, the court ruled that those characteristics already enumerated in the Unruh Act or added by judicial construction all represent traits, conditions, decisions or choices fundamental to a person's identity, beliefs and self-definition, and that marriage was also a fundamental personal choice. As for BHCC's public-policy argument, the court held that under the Domestic Partner Act, domestic partners, like formally married couples, have been granted significant rights and bear important responsibilities toward one another that are not shared by couples who cohabit or who have not registered as domestic partners. As a result, the court held that any practical considerations served by the policy favoring marriage are now also promoted by the Domestic Partner Act, and that the state's public policy favoring marriage would not be served by denying registered domestic partners protection from discrimination under the Unruh Act.
The court, therefore, concluded that Koebke satisfied the first prong of the Harris analysis and that discrimination against registered domestic partners in favor of married couples is a type of discrimination covered under the Unruh Act. Moving to the second prong of the Harris test, BHCC claimed that its policy of extending spousal benefits only to married couples was justified by legitimate business interests. In particular, BHCC argued that extending benefits to "members' friends" would lead to overuse of its facilities, create a disincentive for such friends to apply for membership and would discourage the club's legitimate goal of creating a family-friendly environment.
In rejecting this argument, the court found that French was more than simply Koebke's friend. French was Koebke's registered domestic partner. As such, she possessed all the rights and responsibilities similar to that of a spouse. Additionally, the court held that since in order to receive the benefits of the Domestic Partner Act, domestic partners like Koebke and French must file a Declaration of Domestic Partnership, BHCC and other clubs have a readily verifiable method of determining eligibility for services and benefits. Such legal declarations should reduce all the club's fears in extending spousal benefits to French and other registered domestic partners.
As for BHCC's goal of creating a family-friendly environment, the court held that while it may be a legitimate business interest, that interest is not furthered by excluding families formed through domestic partnership. In fact, the court found that by discriminating against the domestic partner of one of its members, BHCC was creating an environment that was discriminatory to certain families, nontraditional though they may be.
Having satisfied the first two prongs of the Harris test, the court moved on to examine the potential consequences of allowing Koebke's claim to proceed. BHCC argued that if Koebke's claim were allowed under the Unruh Act, the club would be flooded with unmarried couples seeking the same rights and benefits. In rejecting this argument, the court found that BHCC and other clubs would suffer little if any adverse consequence, since the ruling would only affect registered domestic partners, not all unmarried couples.
While it is important to note that this decision does not apply to any state besides California, Koebke v. Bernardo Heights Country Club is important nationally for a number of reasons. First, every national health and athletic club doing business in California may need to rewrite its membership policy to extend domestic partners the same benefits it provides spouses. Second, since California is not the only state with strong domestic partnership laws, the decision in Koebke should carry a lot of weight in other cases involving the spousal benefits and rights of domestic partners. Finally, fitness and recreation facility managers should look at the court's decision as a wakeup call. With more states recognizing the rights of gay and lesbian couples, it would pay for club managers to be proactive and accommodate an important membership demographic, while at the same time recognizing a changing society.