With cheerleading stunts more elaborate than ever, attention turns to instructor certification.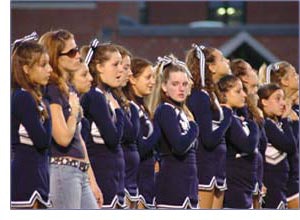 When 14-year-old cheerleader Ashley Burns landed in the arms of her squad mates on her stomach instead of her back coming out of a routine airborne stunt on Aug. 9, she knew she was in trouble. The freshman at Medford (Mass.) Vocational-Technical High School, who was practicing with her team at the East Elite Cheer Gym in Tewksbury, soon began complaining of abdominal pain and breathing difficulties. She was taken to an area hospital, where she later died from a lacerated spleen caused by blunt abdominal trauma.
There have been reports that Burns may have suffered from preexisting stomach problems, but the incident has nevertheless focused renewed attention on what can perhaps best be described as extreme cheerleading -- an activity in which participants execute bold gymnastics-style moves and increasingly difficult stunts.
"We have more skilled athletes in cheerleading than we've ever had before, and they are capable -- with supervision by knowledgeable, well-educated coaches -- of safely doing stunts they were not capable of 10 years ago," says Susan Loomis, spirit director for the National Federation of State High School Associations and a former interscholastic cheer coach. Many cheerleaders often mistakenly land on their stomach but emerge unharmed doing the same type of stunt Burns attempted, she adds. "We are in a time of great change."
That may explain why the National Federation relaxed its rules for the 2005-06 school year to allow cheerleaders to perform more sophisticated stunts within certain guidelines. "We have found, as our kids get better, that there are a number of stunts they can do in which they lose momentary contact with each other but remain quite safe," Loomis says, stressing that the rules revision is still probably too conservative for most cheer coaches. "We should not block our athletes from doing these stunts. We have to tread that fine line between safety, which is our number-one priority, and allowing our kids to show their stuff."
The Minnesota State High School League began treading that line this fall by requiring all cheer coaches directly responsible for the supervision of a stunting squad to receive safety certification from the American Association of Cheerleading Coaches and Advisors and to complete the Universal Cheerleaders Association's Partner Stunt Progressions course. Both are offered individually or as part of the optional NFHS Spirit Coaches Education Program.
"We know, just from looking at the catastrophic injury information, that we should be concerned," says Jody Redman, an associate director of the MSHSL. "There's a lot of data that says cheerleading can be a dangerous activity, just as football can be a dangerous activity. But we're not putting helmets on these girls before they get thrown in the air."
Of the 70 catastrophic injuries -- defined as a fatality or a severe injury that may or may not cause permanent disability -- suffered by high school female athletes as a direct result of participation in an activity between 1982 and 2004, exactly half were related to cheerleading, according to the National Center for Catastrophic Sport Injury Research at the University of North Carolina. Four high school cheerleaders died from catastrophic injuries during the 2003-04 school year, the center reports, including one who fell and hit her head and another who was not caught by her teammates during an aerial stunt. Another girl died after a teammate's shoulder hit her in the back during a stunt and damaged her spinal cord.
"Are accidents going to happen? Absolutely," Redman says. "But let's make sure that we have a trained person out there who is able to provide a safe environment."
Concerns of the MSHSL's Cheer Advisory Committee members, who also belong to the Minnesota Cheer Coaches Association, prompted league officials to create the new requirements. Several certification sessions have been offered throughout Minnesota since the league made its announcement last spring -- well before Burns' tragic death half a continent away. Cheer squads with coaches who choose not to become certified will not be allowed to perform stunting routines.
"We are not trying to get rid of cheerleading in Minnesota," Redman says, adding that at least two cheer coaches have accused the league of doing just that. "My response is that schools are still allowed to have a sideline cheer program. They're just not allowed to do any stunting. Some of the advisory committee members were seeing things that frightened them, and in their opinion, kids were being put in unsafe situations."
The five-hour AACCA certification course, which costs $75 and includes a safety manual, focuses on performance readiness, skill progressions, and medical and legal responsibilities in cheerleading. The stunt progressions course, meanwhile, runs for three hours and costs $50. It teaches intermediate to advanced stunts via lead-up skills, stunt biomechanics and spotting specifics in classroom and hands-on settings.
"I've told many cheer coaches, `If, God forbid, something should happen and you don't have this certification, you're putting yourself in a tough place. I wouldn't want to be you,' " Redman says.
Loomis claims that many cheer coaches -- from a cheerleader's mom or new teachers with limited cheering experience to veterans who've worked with teams for years and possess an understanding of the emotional, health and safety issues teenage girls face -- don't know how to actually coach.
"The great challenge we have in cheerleading is that most of our coaches don't even understand the definition of a coach," Loomis says. "They still think of themselves as advisors. It is a common misperception in cheerleading and dance that if you have a pulse, you can get out there and coach. We have to get away from that."
The key to such progress is education -- even if the curriculum is as basic as coaching principles and first-aid classes. In South Dakota, cheer coaches are required to take the AACCA certification course (but not UCA's stunt progressions course), and the Virginia High School League mandates that all of its member-school cheer coaches participate in the NFHS Coaches Education Program, which offers general courses in conjunction with the American Sport Education Program. Approximately 15 state associations "really and truly govern cheerleading like any other sport," Loomis says -- even if the activity is not considered a sport in some of those states. The rest essentially leave that task up to individual schools.
"We are at a big crossroads in cheerleading safety training right now," says Jim Lord, AACCA's executive director, who thinks other states will follow Minnesota's recent lead. "I hope that they would require at least the two courses required in Minnesota, because one is a risk-management program and one teaches techniques and safety. Coaches could then have two or three years to complete those courses. We don't want to make this a barrier to coaches, but we want to make things better than they were before."
In addition to the NFHS and AACCA, the National Council for Spirit Safety and Education is an organization of cheerleading companies that provides safety training and certification programs.
"My hope is that our requirement will bring more credibility to cheer coaches and give them a better grip on their programs," says Sandi Hoffman, the MSHSL's head rules clinician for cheer and an AACCA instructor. "I think they are going to feel more empowered."