High-profile partnerships help a Phoenix-area teen rec program gain its first-year footing.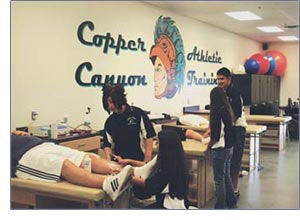 Up until five years ago, nothing much existed along Glendale, Ariz.'s 91st Avenue corridor, save cotton and sugar beet fields as far as the eye could see. Today, that same strip of land is among the hottest real estate in the Valley of the Sun.
Much of the farmland has been replaced by master-planned residential communities and Westgate City Center, a 400-acre sports and entertainment complex currently under development that features the new Glendale Arena (home of the NHL's Phoenix Coyotes and the National Lacrosse League's Arizona Sting) and a stadium for the NFL's Arizona Cardinals, slated to open in time for next season.
With such well-connected neighbors moving into the neighborhood, no one can blame officials with Glendale Parks and Recreation and the Tolleson Unified School District -- which last year opened Copper Canyon High School just down the street from Westgate -- for jumping at the opportunity to partner with the complex's anchor tenants.
While preliminary talks with the Cardinals are just under way, already the Coyotes, the Sting and the Glendale Arena event management staff have volunteered their resources and expertise to the rec department and the school, helping create the Copper Canyon Youth Development Program. As much an endeavor to provide Copper Canyon students with life-skills training and constructive social outlets as it is an effort to offer them career guidance, the pilot program has several main components -- after-school programming in media broadcasting and performing arts, and curricula in sports medicine and culinary arts. The program will also have a community service/civic responsibility element, thanks in part to the assistance of Glendale's fire and police departments.
City officials have good reason to pump so much of their energy into this program, says recreation manager Raul Daniels. He believes that too often youth recreation programmers focus exclusively on kids in their preteens and younger years. "Research tells us that there's a significant need for teen programming throughout the entire country," says Daniels, citing a 1990s study of about 17,000 youth-service organizations -- including churches, parks and rec departments, Ys and Boys & Girls Clubs -- that found that kids, once they hit 13, weren't as well served as younger children.
It's obvious that the Copper Canyon Youth Development Program is an ambitious effort to address that need. "We've tried to raise the bar with teen after-school programming by giving kids life skills that they'll actually use," says senior recreation coordinator Christine Gonzales, whose office is now located at the high school. "They're not just having fun and games and playing sports. They're actually learning things that will help them develop into healthy, balanced adults."
Still, the fun and games play an important role. The classroom at Copper Canyon that has been turned into an after-school student lounge is open until 9 p.m. daily and features a pool table, a foosball table, a TV and a Playstation 2. "It's a place for kids to come, sit around in beanbag chairs and hang out for a bit," says Shirley Medler, Glendale's deputy director of recreation.
It's also an ideal setting in which Glendale's Copper Canyon recreation staff -- Gonzales is assisted at the high school by five part-time rec department employees -- can introduce students to a variety of programs that Gonzales believes will draw and sustain their interest.
First, there is the after-school performing arts component, which offers students opportunities to participate in hip-hop dance, step and cheer clubs, which have permission from school officials to use the dance room and the gymnasium. But Gonzales believes the biggest draw after school will be the media production program, a result of Glendale Parks and Recreation's collaboration with the city's marketing department and a local radio station, Latino Vibe 95.1 FM. The Glendale marketing department will train Copper Canyon students in basic television broadcasting and then allow them to produce several episodes of a weekly public-access TV program. Meanwhile, Latino Vibe has offered to show students not only how to produce a radio program, but also how to DJ. "Each week, they're going to bring down all their equipment to teach the kids," says Gonzales. "The long-term goal is for the kids to have their own 30-minute radio show, where they can show off the skills they've learned."
Collectively, it's these programs and the lounge's laid-back atmosphere that serve as the hook to get kids in the door. And once that door is open, Daniels says the real work of youth development can begin. "You take the trendy, hip things that kids like right now and it's through those classes that you incorporate a teen council curriculum, which includes community service work, addressing issues that are pertinent to them and bringing in speakers to address those various issues."
Among those speakers are youth counselors from a local Girl Scout troop and a behavioral health center. While Gonzales says that specialists might come by on occasion to talk with Copper Canyon students about "peer pressure, drugs, gangs, anything that's facing them in their everyday lives," all adults involved in the after-school program are expected to serve as role models. Their presence can make a big difference to youths who don't have such examples to look to at home, says Gonzales. "On an everyday basis, kids will see and develop relationships with collaborators who are successful adults."
Included in that extended family are professional athletic trainers from the Coyotes and the Sting. (Also pitching in beginning next summer will be student interns from Northern Arizona University, whose sports medicine staff helped design Copper Canyon's state-of-the-art athletic training suite.)
Copper Canyon's sports medicine curriculum (which is directed by a high school teacher) will be enhanced by regular opportunities for students to visit the Glendale Arena's sports medicine facility, with tours and seminars conducted by Coyotes and Sting staff. "The high school is literally a quarter-mile south of the Coyotes' and Cardinals' stadiums," says Daniels. "Obviously, there aren't too many high schools that are built within such close proximity to the NHL and NFL."
Though sports medicine classes began with the start of the school year, a number of program details have yet to be ironed out. For example, this fall Daniels expects the Sting to facilitate most field trips to Glendale Arena because Coyotes officials, citing their league's yearlong layoff, said they wouldn't be ready to help until at least next spring. In the meantime, Copper Canyon students can take full advantage of the culinary arts program, which teams the school with Aramark Sports & Entertainment, the company contracted by Glendale Arena to provide its dining and concessions services. Much like sports medicine, culinary arts is an elective program at Copper Canyon that will be bolstered by hands-on learning opportunities.
"We're having the kids take tours with the chefs over at Aramark during an event so they get a feel for what it's like to be in that kind of setting," says Gonzales, who looks forward to opportunities to simultaneously showcase students involved in daytime and after-school programs. "When we do a special event, say, a teacher-appreciation function, we can have the kids in the marketing program learn how to put on a special event, but also have the culinary arts kids get involved by cooking the food for the teachers. We're trying to bring all aspects together, so that the experience is well-rounded."
Given the fact that the high school only has a population of 900 students (junior and senior classes have yet to be admitted), the Copper Canyon Youth Development Program's participation numbers at this point are impressive. The culinary arts and sports medicine programs have each attracted 30 students, and at an open house held the first month of school, Daniels says that 100 students expressed interest in the after-school programs, which kicked off Oct. 17.
There is, however, one significant caveat: This is a pilot program being funded for one school year only. Glendale recreation officials expect to hire for a one-year term a program coordinator whose primary purpose will be to secure long-term support for the youth development program.
Daniels is optimistic, although it's hard for him to ignore the pressure to succeed now. "We really think this program has the opportunity to be a state model, if not a national model," he says, adding, "We have one year to make this work."