Waves of student-athlete transfers in the wake of Katrina created unprecedented challenges.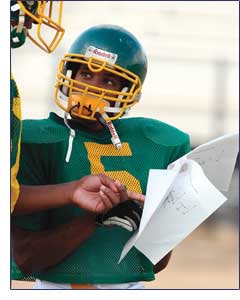 They came from a relatively narrow swath of land along the Gulf of Mexico's U.S. coastline, but they ended up scattered to all corners of the country -- high school student-athletes without a team.
There was Scott Ward, a senior defensive tackle from St. Paul's High School in Covington, La., who transferred to Lexington, Ky.'s Henry Clay High because he has relatives in the area. When Blue Devils head football coach Sam Simpson introduced Ward to his new teammates, he said Ward would not replace anybody on the team, but advised other student-athletes to be sympathetic to his plight.
There was also A.J. Liddell, another Louisiana football player, who registered five tackles and a sack in the second half of a September game for perennial Illinois powerhouse Naperville North High School. The school held a fundraiser for the Liddell family the following weekend.
And then there was Lauren Roberts, whose senior year at Gulfport High School in Mississippi was cut short. She's now on the cheer squad at Arizona's Fountain Hills High School, where principal Pat Sweeney says "she really fits in."
In the wake of Hurricane Katrina's landfall in late August, Ward, Liddell and Roberts were among at least 372,000 students displaced from their homes, schools and teams in Louisiana and Mississippi. They joined at least 1.3 million other evacuees in seeking and receiving shelter in every state in the country. Because they were considered "homeless," most of the eligibility requirements for high school student-athletes were waived by state high school athletic associations -- granting them quick access, sometimes immediately and certainly within days or weeks, to teams at the school of their choice.
(By contrast, the NCAA was allowing post-Katrina transfers on a case-by-case basis. The association planned to retain its rule requiring Division I basketball, football and hockey players to sit for one year if they transfer to another Division I school. To do otherwise would be, in the words of NCAA president Myles Brand, "athletic looting." Division I athletes in non-revenue sports, however, were granted immediate eligibility if they received releases from their original college or university.)
"We've not faced anything quite like this in our lifetime," says Bob Gardner, chief operating officer of the National Federation of State High School Associations. "Our schools are now having to operate on a whole different level."
Of course, back on Sept. 1, high school sports were last on the minds of athletic administrators like Tommy Henry, commissioner of the Louisiana High School Athletic Association. "I think this is the most important conference call we've had since I've been commissioner," Henry told reporters three days after Katrina stuck. "We need to show support, compassion, empathy and respect for our schools. This has caused all of us to realize just how small high school sports are in the overall scheme of things."
In the ensuing weeks, as relocated families settled in at relatives' homes or massive shelters like Houston's Astrodome and Lafayette, La.'s Cajundome, state high school associations from Arizona to Maine struggled with the logistics created by a sudden influx of new players for the fall sports season. Allegations of high school football coaches illegally recruiting football players from Louisiana, long a hotbed of talent, surfaced in several states, and athletic administrators cited concerns about transfer players upsetting the competitive balance and relegating local players to the bench.
In Texas -- among the first states to welcome Katrina evacuees on interscholastic teams, only to suffer its own displacement dilemmas after getting socked by Hurricane Rita four weeks later -- Louisiana high school standout Joshua Joseph scored four touchdowns on five receptions in his first game for his new team at Austin's Lake Travis High. Like other displaced student-athletes playing in Texas, Joseph served the Texas University Interscholastic League's mandatory 15-day transfer waiting period before suiting up. But even then, Dallas Madison High School's football team was expecting to dress as many as 22 Katrina evacuees before season's end, no doubt stirring up more local controversy. "Eyebrows were raised," UIL athletic director Charles Breithaupt says about Joseph's debut performance. "We knew there would be a point in time when the period of benevolence for kids in this situation would end -- and it ended when the competition began."
Although official figures were not available as of this writing, UIL administrators estimate that between 60,000 and 70,000 elementary, middle and high school students enrolled at Texas schools following Katrina's wrath -- nearly equaling the state school system's annual growth rate. The number of student-athletes who applied for transfer eligibility waivers was not yet known, either, but the UIL tried to make the process as easy as possible for its schools and their students by waiving all related fees. "We didn't want the paperwork and the bureaucracy to hold kids up," Breithaupt says. "But there are always people who take advantage of these situations, and we were fearful that there might be some people who showed up at schools who are 24, 25 years old trying to play football again."
To avoid such an embarrassment, UIL staff members contacted the LHSAA to verify the ages and dates of entry into the ninth grade for more than 400 varsity football, volleyball and cross-country participants. That process was expected to continue at least throughout this calendar year for non-varsity players and student-athletes in winter sports.
Adding to the confusion is the fact that the UIL is in the process of classification realignment, meaning that many schools will have to report enrollment figures that may drastically change by the time the 2006-07 school year begins. Plus, Rita knocked approximately 50 Texas schools out of commission, further skewing official enrollments. "We don't know what's going to happen," Breithaupt admits.
Perhaps no interscholastic athletic programs suffered more than those in Louisiana and Mississippi, where games were canceled and seasons (and facilities) were left in shambles. Even schools not affected by Katrina were impacted by its aftermath.
In Mississippi, at least 10 days' worth of contests throughout the state were canceled or rescheduled, and the state football championships were delayed by one week, pushing them deeper into December. Meanwhile, in Louisiana, Katrina washed away some schools' entire fall seasons. Even though schools in most parishes were reopened by early October, those in hardest-hit Orleans, St. Bernard and Plaquemines parishes remained closed indefinitely. (The fate of Louisiana schools hit by Rita was not yet known in early October.)
In an effort to help schools in Louisiana, Mississippi and Texas rebuild their athletic programs and facilities, the NFHS announced the Mascot Adoption Program in October. Schools around the country were encouraged to initiate fund-raising efforts or donate a portion of gate receipts to the cause. Stemming from discussions between NFHS and LHSAA officials, the program was expected to run indefinitely, encouraging participating schools to choose a school with a similar nickname to their own from a list of at least 130 in the affected states. Complete information is available at nfhs.org.
If financial help doesn't arrive and sports programs can't be salvaged, families with children at some Texas schools have threatened to relocate, Breithaupt reports. And parents and players all along the Gulf Coast also are concerned about how hurricane displacement could affect college scholarship opportunities.
One private organization (the National Scouting Report) and one nonprofit organization (the American Coaches Federation) have teamed up to donate free recruiting services to all student-athletes impacted by the disasters. "Colleges can't get the proper information on where these kids are or what they are doing without a lot of help," says Rusty Rigney, president of the Alabama-based National Scouting Report. Details of the program are available at americancoachesfederation.org.
Looking ahead, high school athletic administrators from around the country hope to find out more about the disaster-relief responses of their peers at the National Federation's winter meeting in January. What, exactly, can they learn from this tragedy, one that forever altered the lives of countless high school student-athletes? "It's a real good question, but until we get a little further down the road, I don't think we'll have an answer," Gardner says.
"The big issue is wondering what bases we haven't covered," adds Breithaupt, who clearly was still overwhelmed more than a month after Katrina and almost one week after Rita. "We don't have all of the answers because we don't even know all of the questions."