Skateboarding claims Eric Costello, a popular professional, reigniting the debate over helmet laws in skate parks.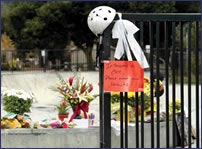 Admirers of Eric Costello found it ironic - and remarkably sad - that the full-time professional skateboarder and part-time safety evangelist died as a result of an accident at his Oct. 22 youth clinic at a Scotts Valley, Calif., skate park. What's even more disturbing is the fact that the 34-year-old was wearing a helmet at the time of his accident.
But Costello's helmet flew off when he lost his balance during his patented "Costello Gap" - a big frontside maneuver in which he would roll into the bowl from atop an 8 1/2- to 9-foot ledge, launch off a smaller 2- to 3-foot lip, shoot a gap and land on the downslope of another 3-foot section. Costello, having built up enough momentum, tripped before shooting the gap and awkwardly fell headfirst, his skull smashing onto the concrete bowl several feet below.
Log in to view the full article