The Marcus Vick saga shines new light on the role of athletic departments as builders of character.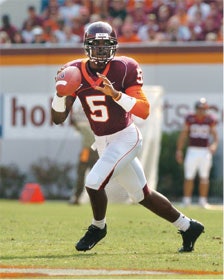 Last fall, Virginia Tech junior quarterback Marcus Vick seemed to have it all - or have it all back, anyway. Having served a semester-long university suspension that began on Aug. 3, 2004 - the same day he pleaded guilty to reckless driving and no contest to possession of marijuana, and less than three months removed from his conviction on three counts of contributing to the delinquency of a minor - Vick was back at the helm of the Hokie offense for the 2005 season. It was a season that saw Vick fall one vote short of being named the Atlantic Coast Conference's Player of the Year after leading Tech to a 10-2 record and a Jan. 2 date with Louisville in the Gator Bowl.
It was on that national stage, however, that things once again began to unravel for Vick. At the conclusion of a second-quarter running play, the quarterback appeared to purposefully step on the left knee of a prone Elvis Dumervil, Louisville's All-American defensive end. Though the act wasn't even flagged by game officials, its replay was scrutinized nationally for days. And while Dumervil's knee suffered no lasting harm, the damage to Vick's already tainted reputation appeared to be done. But the leg stomp wasn't the last straw. According to Jon Jaudon, Virginia Tech's associate athletic director for administration, the university was preparing for Vick's return to the team in 2006, albeit after an internally imposed two-game suspension. Then, Jaudon says, The Washington Post contacted university president Charles Steger on Jan. 6 and informed him that Vick's name had again appeared on a police blotter. Back on Dec. 17, Vick had been stopped for speeding in Hampton, Va., and charged with driving with a revoked or suspended license. With this revelation, Vick was promptly - and permanently - dismissed from the football program. In a final plot twist, police arrested Vick three days later on charges of brandishing a firearm in the parking lot of a Suffolk, Va., McDonald's.
As quickly as the curtain fell on this seemingly tragic saga, Vick's dismissal didn't come without ample foreshadowing. "If there is any more trouble, his Virginia Tech career is effectively ended," said Steger at the time of the 2004 suspension. "But just as important, this offers a compassionate, last-chance opportunity for Vick to get his personal life in order."
Helping student-athletes keep their lives in order has become an integral role of Division I athletic departments these days. It has become a full-time job for Kevin Glover, a former Pro Bowl offensive lineman with the Detroit Lions who returned to his alma mater, the University of Maryland, two years ago as the school's first director of character education.
In that role, Glover meets with student-athletes from the football program 40 times a year to discuss issues such as date rape, drug and alcohol use, gambling, and fatherhood and other consequences of recreational sex. Glover also proctors formal character examinations to help assess individuals' moral development over the course of the year.
The tests are then analyzed by their author, Sharon Stoll, founder of the Center for Ethics at the University of Idaho (see One on One, Jan., p. 17). Also in place at the Universities of Georgia and Alabama, Stoll's moral development curriculum is designed to be taught by the players' actual coaches, but Glover, who isn't a coach, has even allowed student-athletes to take over group sessions on occasion. "What I've found works best for us is to bring in somebody our guys can relate to," he says.
One fifth-year senior at Maryland relayed his story of playing football, graduating and preparing for marriage and the arrival of his second child, all while trying to use his exposure on television to attract the attention of a mother he never knew - a mother who, it turned out, had died seven years earlier. "I don't mind sharing that story because I asked the player if I could," Glover says. "But we otherwise make sure that whatever we talk about in that room stays there. It's very personal, and it can get emotional."
Each of the three Division I colleges using the curriculum - available at winningwithcharacter.com for a fee of $25,000 a year - have reported improvement. "We are in the business of cognitive change," says Stoll, who donates her time and expertise to the nonprofit foundation Winning With Character Inc. "If what we do works, athletes shouldn't be stomping each other during games. But cognitive change doesn't always mean behavior change."
Neither does the mere existence of rules and regulations. "If you really want to get at the root of this problem, behavior management many times won't get it done," Stoll says. "Behavior management and cognitive education have to go hand in hand. You want the individual to actually value this process of rules and regulations." Since 1997, Virginia Tech has had in place what it calls a Comprehensive Action Plan Governing Student-Athlete Behavior, "a set of clear expectations and clearly understood athletic sanctions for misbehavior," according to the document's purpose statement.
Now part of the university's student-athlete handbook, every sports participant at Tech must sign off on the document at the beginning of each academic year. "We reference it, go over the particulars of it and talk about the sanctions if one does something that is illegal," Jaudon says. Sanctions may include a warning, probation, restricted use of athletic services or facilities, suspension of play and/or practice for a stated period of time or dismissal from the team.
The document outlines a review process conducted by the athletic director to include the nature of the charge (violent or nonviolent), the student-athlete's prior behavior, whether the violation was self-disclosed, cooperation of the student-athlete during the investigation, whether the violation involved alcohol and/or drug use, and consistency with regard to the handling of other cases.
To its credit, Virginia Tech also instituted several proactive measures to assist student-athletes beginning in 1997. These included the hiring of a psychologist, who splits time between the university's counseling center and the athletic department, as well as the hiring of a director of student life. A life-skills course for freshmen was implemented, as was a mentoring program that utilizes graduate students to provide both academic and behavioral guidance to freshmen, sophomores and nonexempted upperclassmen.
"We're trying to be as forward-thinking as we can on the issues that we face today in intercollegiate athletics," Jaudon says. "And we're certainly going to explore all kinds of options to meet the needs of our athletes."
Is it possible that some student-athletes just can't be reached? Stoll chooses not to think so. "Moral reasoning has been an effective tool even in prison systems," she says. "I'm an educator, so maybe I'm a Pollyanna, but I believe all young people can be helped through an educational program that follows good theory and is presented by good role models. I'm not saying it's foolproof, and that there are not going to be problems. Remember, these are kids, and they do stupid things." Having decided to turn pro, Marcus Vick's future role models will have to come from sources outside the Virginia Tech athletic department. "We're certainly disappointed - for Marcus as an individual and for us as a football program and athletic department - that it had to come to this conclusion," Jaudon says. "We're going to move on, and we hope this turns out for the best for Marcus."