Parents help curb unruly fan behavior at Salina, Kan., youth sports events, thanks to an innovative sportsmanship program.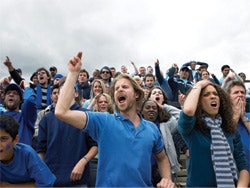 For decades, Mike Gleason managed games from the dugouts of Salina, Kan., baseball diamonds as a volunteer Babe Ruth coach. As such, Gleason was charged with not only watching over his young pupils on the playing field, but also keeping an eye on those often polite, occasionally unruly fans in the stands.
In the not-so-good old days, Gleason and other Salina youth sports coaches were forced to spread their supervisory skills too thin. Today, those coaches are counting on off-the-field assistance from some of the very fans whom coaches previously felt obligated to monitor. In fact, a central component of the Salina Area Youth Sportsmanship Initiative (SAYSI), of which Gleason is now executive director, is a parent peer-monitoring program that has parents policing each other on the sidelines and in the stands at all area youth sports events.
"It's a great feeling to have someone else helping the coaches, so that they can do their job, which is to work with and teach the kids," says Gleason. Before the start of each sports season, two parents of children on each participating team are nominated by their peers to serve as that team's sportsmanship representatives, vested with the authority to enforce upon all participants - young and old - Salina Parks and Recreation's youth sports code of ethics. Salina recreation officials, who oversee the SAYSI, also meet with all teams' sportsmanship representatives, inform them of their responsibilities and sign off on their election before the season begins.
Even though the peer-mentoring program has been in place for just three years, Gleason has noticed a softening of attitudes among parents' groups and more peaceful sidelines at games as some of the positive effects on Salina's youth sports programs. "We haven't stopped everything, don't get me wrong," he says. "But we are starting to make headway. You can see the light switch going on in parents' heads that these kids aren't going to the pros. They're just there to play and have a good time."
It's a fact often lost on today's starstruck soccer moms and dads.
The performance-training industry - virtually nonexistent a decade ago - is no longer the domain of professional and collegiate athletes seeking to improve their game. It's now common for facilities offering such services to cater to high school student-athletes, as well (see "Training Grounds," July 2003, p. 38). Perhaps contributing to the popularity of such programs is the growing number of big-league contracts awarded to athletes only a few years removed from playing Little League. (Although the first player taken in last year's NBA draft played at least one year of college basketball - the first to have done so since 2000 - a record nine high school seniors were chosen in the pro league's two-round draft.)
It's no wonder, then, that for many, youth sports have become more work and less play, as participants - with their parents' encouragement - buy into dreams of becoming the next LeBron James, Michelle Wie or Freddy Adu. For his part, Gleason questions the wisdom in youths idolizing sports figures only slightly more mature than themselves - which explains why the SAYSI has focused on the time-tested tenets of acceptable behavior for all athletes, regardless of age. "We wanted to change the culture of youth sports," says Gleason. "My definition of sportsmanship has always focused on character and respect. You can play really tough in between those sidelines. But just leave the competitiveness there. We want to get back to that idea."
To do so, Gleason and his colleagues enrolled Salina Parks and Recreation as a Parents Association for Youth Sports (PAYS) chapter. Sponsored by the National Alliance For Youth Sports, PAYS is a membership organization for parents involved in out-of-school youth sports that strives to educate, motivate and hold them accountable to a code of ethics. A combination of NAYS-provided educational materials, including videos and handbooks, enable PAYS chapters to impress upon parents the indispensable nature of good sportsmanship.
Before long, Salina's PAYS program evolved into the SAYSI, which, by natural extension, encompasses everyone involved with youth sports, not just parents. "We get feedback from all of our officials, scorekeepers and field supervisors," says Gleason, noting that everyone who participates in SAYSI, including sportsmanship representatives, is eligible to be rewarded for their efforts at an annual awards reception.
Salina Parks and Recreation is also being recognized for its accomplishments. Through a task force, the Kansas Recreation and Parks Association is currently developing a statewide sportsmanship program, modeled primarily after the SAYSI.
The potential to improve youth sports programs throughout Kansas is tremendous, says KRPA executive director Doug Vance, who intends to tie the sportsmanship initiative to another developing KRPA program called Our Promise to Kids, which follows in the footsteps of like-titled initiatives in Ohio and South Carolina. The latter state's version is based on a six-part philosophy that includes offering youth sports participants fun and safe playing environments, providing positive role models, and encouraging self-confidence and respect, among other goals. "We're really excited about it," says Vance. "We're going to circulate it through our member recreation agencies and independent youth sports organizations."
Despite his early enthusiasm, Vance is aware that neither of his association's fledgling programs will succeed without the support of those individuals with the greatest influence over youth sports participants - their parents. "It's all dependent on a group effort," he says. "Parents have to sign on - just like they did in Salina."