Q&A with Danielle Green-Byrd, a former Notre Dame basketball star who lost her left hand while serving in Iraq and is now an assistant sports coordinator for Chicago public schools.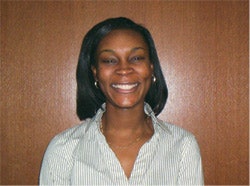 Her left hand is gone, and with it her ability to play pickup basketball. But one could argue that Danielle Green-Byrd is more whole today than 11 years ago, when she arrived on the University of Notre Dame campus as an admittedly immature recruit out of inner-city Chicago. Playing for the Irish was one of two goals in life for Green-Byrd, now 29. The other was to serve in the U.S. military. The first saw the left-handed guard score 1,106 career points while earning a degree in psychology. The second saw her lose her dominant hand to a rocket-propelled grenade attack in Baghdad, Iraq. Today, Green-Byrd is fulfilling a new dream - giving something back to the same school system that gave her a start, as an assistant sports coordinator in the Chicago Board of Education's Department of Sports Administration and Facility Management. Paul Steinbach asked Green-Byrd to reflect on her life-altering experiences.
Q: How did you develop an interest in attending Notre Dame? A: I don't come from the healthiest of families. It's a little dysfunctional. I just knew that I didn't want to continue the cycle. I wanted to be different - somehow, some way. I had watched Notre Dame football on TV and thought, "There must be something special about this place." I went on my recruiting trip and felt if I didn't commit that weekend that they would give my spot to someone else. I didn't want to have any regrets in my life about not being able to fulfill my dream.
Q: Do you have any regrets about your military service? A: It's something that I always wanted to do - to be a soldier and wear my uniform with pride. Yeah, my life is different, but I'm alive.
Q: Do you think athletes make better soldiers than non-athletes? A: I do think I was mentally tougher than a lot of the females. I think a lot of my mental toughness came from my years at Notre Dame, and it carried over to the military. Plus, I was in shape. People who rescued me were like, "The only reason you made it is because you were mentally tough and physically fit."
Q: Are there similarities between being a member of a sports team and being a member of an Army unit? A: Teamwork. I knew that to play a team sport you have to be a team player, but it's so much more the case in the military than on any basketball court I ever played on. We're talking about life or death. If my comrades didn't have my back, I would be dead right now.
Q: How do you see the rest of your life unfolding? A: I'm in grad school now. I would like to be an academic advisor for student-athletes, helping them make the transition from high school senior superstar to college freshman. And I can work with college seniors to help them make the transition to the real world. With my life experiences alone, I think I can help student-athletes. Once I get my Master's degree, I think I can pave my own road.