Milwaukee parks partner with Starbucks to generate revenue.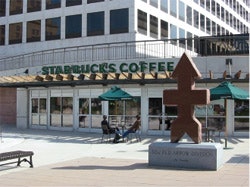 It's well known that a fresh cup of joe can awaken the senses of even the most persistent night owl. But Milwaukee County executive Scott Walker is counting on coffee's rejuvenescent (not to mention addictive) powers to help perk up the county's dormant parks, which for years have been plagued by a systemic decline in usage.
Weeks after learning of a $2.3 million parks budget deficit for fiscal year 2005, Walker proposed that the county undertake partnerships that would bring to public parks privately operated coffee shops and other similar commercial ventures. Citing successful examples from recent years - including the 2003 opening of a Starbucks in downtown Milwaukee's Red Arrow Park - Walker anticipates that such moves will drum up much-needed revenue for the perennially strapped parks department. "If it takes a coffee shop in every park to keep them open, then I'm all for it," Walker said in his annual "state of the county" address in February.
According to the Milwaukee Journal Sentinel, it was the second straight year in which Walker has made such a proposal. Last year, he suggested the county approve a privately run coffee shop as part of a plan to revitalize Juneau Park, which is adjacent to two high-rise condominium towers currently under construction and overlooks the downtown Lake Michigan waterfront. The second floor of a pavilion in another lakefront park is already home to an upscale French bistro, one of the most popular restaurants in Milwaukee.
Despite the potential upside of expanding this concept to other county parks, Walker's idea has been met with derision. Milwaukee County Supervisors Gerry Broderick and Marina Dimitrijevic both oppose such public-private ventures in parks. Dimitrijevic told the Journal Sentinel that she sees Walker's proposal as a distraction from the larger debate over finding a long-term funding source for parks. Her district includes South Shore Park, which features a popular pavilion eyed by private interests seeking exclusive food-service rights in exchange for providing repair funds. If it agreed to such a scenario, the county would in effect be "pimping off the parks system," according to Dimitrijevic.
Jim Price, president of advocacy group The Park People of Milwaukee County, would agree. "It will be a park system fueled by caffeine and croissants," wrote Price in a Feb. 12 Journal Sentinel editorial. "That might be all right in Red Arrow Park . But not every park is like that. Not every park was designed to hold a restaurant and not every park pavilion is an underutilized edifice just waiting for the right rent-paying tenant... A public-private partnership... is considered a warranted and welcome exception to the policy - and not a precedent. Privatization, on the other hand, announced boldly from the podium by the executive officer of a beleaguered county, instantly becomes the policy. In one fell swoop, nearly 100 years of sound park management policy is junked in favor of a new one in today's flavor."
Walker has vowed that future commercial ventures would not block park access nor diverge from a park's mission. That seemed to reassure County Supervisor Paul Cesarz, who believes that retail ventures, if tastefully done, will boost interest in public parks. "We're not talking about building three-story office buildings," he said, noting the declining effectiveness of traditional strategies for attracting park users. "Gone are the days when you could just put up a sign for `passive recreation' and bring a lot of people into parks."