Schools in Kentucky claim unfair athletic advantages for private schools.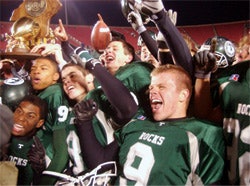 Of the 43 state high school boys' and girls' team and individual athletic championships up for grabs in Kentucky during the 2004-05 school year, 22 were won by private schools. Private, or nonpublic, schools also were off to a prosperous start in 2005-06, claiming 11 of 23 titles during the fall sports season - including championships in three of the state's four football classes.
Put into context, nonpublic schools have won 50 percent of all championships since fall 2004, even though they make up only 15 percent of the organization's membership. Yet it still surprised some observers last fall when the KHSAA found itself at the center of a movement by its own members to create split championships for public and nonpublic schools. Those in favor of separate tournaments argue that nonpublic schools boast competitive advantages, in large part because they lack enrollment boundaries.
"By and large, the general memberships of our state associations feel that splitting is not a good answer," says Bob Gardner, chief operating officer of the National Federation of State High School Associations, which does not take an official stance on the public vs. nonpublic issue. "We need to preserve that union and work together to find something that's more acceptable."
State associations in Maryland and New York bar nonpublic schools from their memberships and hence from championship competitions. But Gardner says Tennessee is the only state in which public and nonpublic schools share an athletic association but not a tournament.
In December, the Kentucky Board of Education - to which the KHSAA reports - suggested that a less-drastic solution be found in that state. KHSAA commissioner Brigid DeVries appointed a 36-member task force, headed by a retired state Supreme Court justice and including representatives from both public and nonpublic schools, to debate the issue and develop potential resolutions. A conclusion could be reached at this month's board meeting.
Meanwhile, 85 years of Kentucky high school sports tradition hangs in the balance.
"This is not about any one particular thing," DeVries says. "I'm not going to say it's totally driven by allegations of recruitment, and I'm not going to say it's all about winning. But a small public high school takes students from its feeder schools - and it may only have one feeder school. Obviously, that high school is limited in where its student population comes from."
Among the many proposals under consideration by the KHSAA task force are two that would designate middle schools from which public and nonpublic high schools could draw students. One, supported by public school administrators, would require a given student to attend a designated feeder school for grades six through eight in order to be eligible for sports upon entering grade nine. Otherwise, he or she would forfeit two years of high school sports eligibility. Nonpublic school officials have suggested barring student-athletes in violation of the proposed feeder-school rule for one year, and from participation in varsity sports only.
Kentucky isn't alone in its frustrations about the apparent athletic disparity between some public and nonpublic schools.
In Indiana, a committee of baseball, basketball and football coaches proposed a policy change that would, as early as the 2007-08 school year, count each student at a nonpublic school as 1.5 students for the purposes of enrollment figures that determine athletic class assignments. For example, a private school with 1,000 students would be classified as though it had 1,500 students - potentially forcing that school's teams to compete against opponents representing larger schools. Administrators at two private high schools in Indianapolis (Roncalli and Cathedral) have threatened legal action pending the proposal's outcome. "We don't have a vendetta, and we don't want to destroy the private schools," John Broughton, chair of the committee in Indiana, told The Indianapolis Star. "We just feel there needs to be a leveling of the playing field."
Meanwhile, a 1.65 enrollment modifier for all schools without enrollment boundaries in Illinois took effect Feb. 1 and is expected to bump up most nonpublic school football teams one or two classes for this fall's playoffs. Last fall, the Illinois High School Association applied the 1.65 multiplier only to nonpublic schools having at least 450 students. After 37 of those schools sued the IHSA, a judge ordered the multiplier dropped. The association then went back to the drawing board and developed the across-the-board multiplier, which member schools approved by a three-to-one margin.
Elsewhere, Arkansas recently raised its multiplier from 1.35 to 1.75, and Ohio is considering implementing a similar measure. In Arizona, on the other hand, a proposed bill working its way through the state's House of Representatives would prohibit schools from joining an organization like the Arizona Interscholastic Association if it used any sort of weighted classification system. The proposal came in the midst of the AIA surveying its 200-plus member schools as part of a reclassification process that could include adopting a modifier.
"This becomes a topic of interest somewhere in the country every year," Gardner says. "Do private schools have an advantage? And if so, how can things be more balanced? A number of strategies have been tried. Multipliers of varying degrees are the most common, but nobody's found a magic formula to make everything equal."
An enrollment modifier is unlikely to effectively solve the public vs. nonpublic issue in Kentucky, because only three sports in that state (football, cross country and track and field) are divided into classes. Moreover, some of the more-dominant nonpublic schools already belong to the highest class.
The question also remains about how a potential split or multiplier would impact nonpublic schools that do not excel in sports. "There are generally a few private schools that do extremely well in a given state," Gardner says, citing Louisville football powerhouses Trinity and St. Xavier. "Beyond those, there are some schools that occasionally do well, but there are also years when they aren't too competitive. So when you do something to address the few, you also affect the rest."
DeVries is unwilling to comment on the fairness factor of the task force's proposals to nonpublic schools without a winning tradition. But she is hopeful discussions won't end with a public-private split. "We're trying to do the best job we can with this issue, and I don't want to skew anything one way or the other," she says. "We're looking for a compromise for our entire membership, if at all possible. That said, there has to be some change."