As reports of team initiations mount, hazing receives a long-overdue reexamination.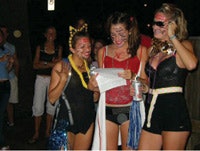 "Hazing or Harmless Fun?" That was the headline accompanying a University of Memphis student newspaper article this winter, but it's a question that has confronted collegiate athletics administrators for decades.
The Daily Helmsman also published with the article photographic evidence of a party at which freshman members of the Memphis women's cross-country team appeared with smiles on their faces, beers in their hands and labels such as "fresh meat" painted on exposed parts of their bodies. Additional photos of the September 2005 party could be found at facebook.com, a social web site claiming two-thirds of all U.S. college students as members.
Reaction to the paper's coverage of the incident was swift and, according to hazing experts, predictable. Stated one representative letter, "It was just harmless fun, and everybody knows that."
Memphis administrators, at least, weren't so sure. Eight days after the story broke, the university's athletic department suspended an undisclosed number of student-athletes from multiple cross-country meets this season. "Our athletes must understand that even if the newest members of our team are willing participants, certain activities can still fall into the category of hazing," Lady Tigers coach Brenda Cash said in a statement. "Now, perhaps the loss of competition will help drive that lesson home."
Athletics administrators, too, are being forced to learn what constitutes hazing these days - with team initiations at Limestone College in South Carolina (baseball), Tiffin College in Ohio (men's soccer), Niagara University in New York (women's lacrosse) and the University of Colorado (women's volleyball) open to widespread scrutiny within the past four months alone, largely because photos of each incident appeared on the Internet.
Hazing laws currently exist in 44 states, but finding a common definition of hazing among them is difficult. Campus policies may look different still, with various interpretations possible between different campus organizations. "We talked to someone in Greek Affairs at our school and learned that even when a fraternity makes new members study for an hour longer than old members, it's still considered hazing," says Matt Laurie, sports editor at The Helmsman.
With a growing amount of hazing intelligence now available to them, athletics officials in particular can no longer plead ignorance on the issue. "They all think it's wrong, they all think it's archaic, but it's way down on the list of things on their radar," says Mike Cleary, executive director of the National Association of Collegiate Directors of Athletics, which hosted a panel discussion on hazing at its annual convention last June - the first time the topic had been addressed in the event's 40-year history. "For whatever reason, people hold it at arm's length."
"Many coaches and directors of athletics have been hazed and have hazed others. It's integrated into the culture," says psychologist Susan Lipkins, a NACDA panelist who is currently working on a hazing documentary. Her book Preventing Hazing: How Parents, Teachers and Coaches Can Stop the Violence, Harassment and Humiliation will be available in September.
Lipkins argues that student-athletes easily fall into a predictable pattern of hazing, in which individuals morph from victims to perpetrators over the course of their college careers. "They feel like they have the right and the duty to pass on this tradition," she says.
The concept of tradition can be so strong that freshmen often ask or even demand to undergo team initiation, according to noted hazing expert Hank Nuwer, author of three books on the subject. There may even exist fear among first-year student-athletes that if they don't experience the annual ritual to its fullest, "veterans or alums might say that they're missing out on the tradition, or that they're getting off light."
The thought of being able to endure hazing - to take whatever is dished out in the interest of team unity - is a mindset that makes breaking the cycle difficult from a psychological standpoint, adds Lipkins. A logical first step is to change the mindset of those in positions of authority. "It's a psychological issue, and we need to get that through to coaches," she says.
Motivation can take more pragmatic forms, as well. "Coaches also have to realize that this is important not only because they could lose their job and the athletes could lose their season, it's going to cost the school a lot of money when it gets sued," Lipkins says. "Hazing is expensive."
Few people realize the psychological and monetary costs of hazing better than Rick Farnham, who served as athletic director at the University of Vermont during a hazing scandal that led to the cancellation of part of the Catamounts' 1999-2000 hockey season (see "Off-Season Healing," July 2000).
Now retired, Farnham makes frequent speaking appearances on the subject of hazing. He sat with Lipkins on the NACDA panel last summer, and was part of a panel at the NCAA's annual convention in January that discussed gambling, steroids and hazing. He sees value in targeting hazing at its source - student-athletes. Whether addressing athletes at a small college in New England or the entire incoming freshman class at Michigan State, Farnham's message is straightforward. "To have a successful team, you need a relationship among teammates - a relationship that must be built on trust. There's no way that you're going to trust an individual who asks you to sit down and drink shots of whiskey until you pass out," says Farnham, a former student-athlete and coach. "No coach in America is going to play you more just because you'll give in to the wants and whims of upperclassmen. It doesn't make you a better teammate, and it doesn't make you a better athlete."
In the immediate aftermath of the Vermont hockey scandal, Farnham focused specifically on the role of team captains, heaping responsibility onto the position to the point that some candidates declined. He is currently in preliminary discussions with the NCAA about creating a handbook for coaches and captains that outlines positive team-building exercises like those now in place at Vermont - from navigating ropes courses to cooking meals for the elderly. The handbook would also emphasize the importance of a no-tolerance stance on hazing among team captains. Such a guide may be incorporated into the NCAA's CHAMPS/Life Skills program or distributed directly to member schools, according to Mary Wilfert, the association's assistant director of education outreach. "We are taking another look at this issue to see what's needed," Wilfert says.
First and foremost, there exists a dire need for open dialogue, according to Elizabeth Allen, a University of Maine assistant professor who is conducting the first national study on hazing since the watershed Alfred University study, released in 1999. "Start creating a culture and climate where hazing is talked about, because one of the major problems is that there's a lot of silence and secrecy around the issue," Allen told a NACDA audience of 1,000 athletics administrators last June. "Get it out in the open and begin by clearly defining hazing, because there's so much misinformation and misconception."
Says Lipkins, "Coaches and ADs have the power to influence athletes because they are respected. The definition is very important, but it's really about buying into the definition, buying into the fact that this is something that needs to change in our culture before it gets further and further out of control."