As reports of team initiations mount, hazing receives a long-overdue reexamination.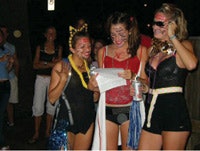 "Hazing or Harmless Fun?" That was the headline accompanying a University of Memphis student newspaper article this winter, but it's a question that has confronted collegiate athletics administrators for decades.
The Daily Helmsman also published with the article photographic evidence of a party at which freshman members of the Memphis women's cross-country team appeared with smiles on their faces, beers in their hands and labels such as "fresh meat" painted on exposed parts of their bodies. Additional photos of the September 2005 party could be found at facebook.com, a social web site claiming two-thirds of all U.S. college students as members.
Log in to view the full article