The Boston Red Sox take the lead on a baseball-themed instant-scratch lottery ticket.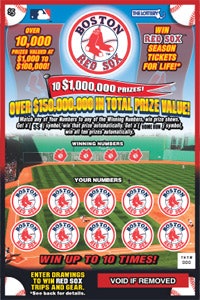 People who know Bud Selig - well, not people who actually know him, but people who have studied his public demeanor over the years - know him as a hand-wringer. Selig used to wring his hands as the owner of the Milwaukee Brewers, insisting that "small-market teams can't compete!" - the exclamation point was his - against deep-pocketed owners like the Yankees' George Steinbrenner. Since becoming the commissioner of baseball, Selig has regularly wrung his hands about issues ranging from Pete Rose's gambling to competitive balance to drugs.
But if you were wondering why Selig hasn't wrung his hands even once about a Boston Red Sox-themed instant-scratch game that the Massachusetts State Lottery unveiled this spring, it's because there's lots of money to be made. In spite of all the bluster about the dangers that gambling poses to the game, Selig earlier this spring helped sign off on a deal between Major League Baseball and a subsidiary of New York-based Scientific Games Corp. to allow team logos to be used on instant-scratch tickets. Similar ventures already are in place in some National Basketball Association and NASCAR markets, and others are now said to be in the works involving a number of MLB teams.
The Red Sox Instant Ticket - the first such lottery game to hit the national pastime - costs $5 and gives fans a shot at Red Sox cruise packages; jerseys, bases, bats and balls used in games; various single-season ticket packages; trips to spring training; Fenway Park tours; and cash prizes of up to $1 million. The top prize is Sox season tickets for life.
Under the terms of the deal, Scientific Games will pay the Red Sox an undisclosed sum for supplying the prizes, but the team will not receive royalties from lottery ticket sales. As a new vendor for selling lottery tickets, Fenway Park stands to be one of the biggest revenue producers for the state lottery.
And yes, that was Selig greedily rubbing his hands together on April 14, three days into the new promotion, when a 26-year-old mall worker named Joseph Belanger won $1 million on a $5 Red Sox scratch-and-win ticket. That heaven-sent p.r. was sure to boost sales even higher than its three-day total of $6.5 million, the most lucrative instant-scratch opener in lottery history. That was double the initial sales of the previous sales champion, a Harley-Davidson branded ticket.