A national education organization seeks answers to questions regarding the impact of athletics on academics.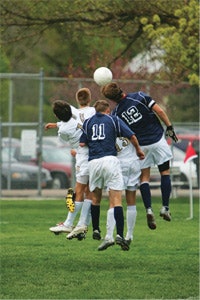 Student-athletes made history during the 2004-05 academic year, when high school sports participation broke the seven million mark. But how many of those 7,018,709 student-athletes could boast grade-point averages of 3.0 or higher? How many additional students participated in non-school sports programs, and how did their GPAs compare? And what kind of impact will proposals calling for longer school days have on overall athletics participation?
Those are the kind of questions to which the National Association of State Boards of Education wants answers. "Everyone talks about the positive influence participation in athletics can have, but there is really no concrete data out there that points to that," says David Griffith, director of governmental and public affairs for the Alexandria, Va.-based nonprofit organization, which is spearheading a new three-year project exploring how academics and athletics affect each other.
Still in its early stages, the ambitious NASBE project received an initial grant of $450,000 from USA Football and the NFL Youth Football Fund; other professional sports leagues were asked to contribute but declined, Griffith says. Meanwhile, the National Federation of State High School Associations and the National Collegiate Athletic Association are lending moral and intellectual support. The effort follows the organization's October 2004 publication of "Athletics and Achievement: The Report of the NASBE Commission on High School Athletics in an Era of Reform," which called for more extensive research, data collection and analysis of the impact athletics has on student achievement and encouraged state boards of education to take a more active role in overseeing athletics.
"Much like what's happened in the NCAA, you're getting kids in high school who aren't able to pass graduation tests and receive their diploma," Griffith says. "Yet they've been academically eligible to participate in athletics for four years. Some parents are starting to wonder how that could happen. The defense for some programs is that it's better to have kids participate in sports, because at least it brings them to school; otherwise they'd be dropping out. That may be true, but part of this project is a research component that will hopefully be able to help us say with certainty, 'Yeah, that is true' or 'No, that isn't true.' "
"I think the more information we have at our fingertips, the better," says Bob Gardner, chief operating officer of the NFHS. "The real challenge is to gather the data and make it meaningful."
Up until 2004, NASBE had spent almost 50 years allowing its members to defer to state athletic associations regarding any situation even remotely related to sports. But the recent involvement of state boards of education in the battle over public-private athletic eligibility in Kentucky (see "Public Notice," April, p. 106) and in a controversial athletic redistricting plan in Oregon has made NASBE officials sense a greater responsibility to this component of American education.
"We feel like we're entering new territory," Griffith says. "We're kind of surprised that no other national organization has taken a look at this yet, because it looms so large. You can't talk about improving the rigor of the curriculum and transforming the entire high school experience unless you take into consideration interscholastic athletics, because it has become such a central part of high school programs."
Included among various national education-reform initiatives are proposals that would either make the school day longer or postpone its start by an hour or two, citing adolescent sleep patterns that indicate teenagers might be more receptive to learning later in the day. Such moves could adversely affect after-school practice sessions and even prohibit outdoor practices in locations without lights or early-morning accessibility.
Another area of concern is the number of coaches who do not also teach school. Do volunteer coaches hold academic success in as high regard as teaching coaches, who might better understand the value of integrating academics into the collective team mind-set?
Many education observers also worry about the increasing number of students who participate in non-school sports programs overseen by elite local or regional organizations. What are the less-apparent costs of the best coaching money can buy? Some believe the answer is too many missed classes, not enough sleep and a disregard for school loyalty. In March, for example, The Washington Post published the story of Megan Keever, a Pennsylvania high school senior who earned a scholarship to play women's hockey at Boston College in large part because she traveled 250 miles round-trip from Harrisburg, Pa., to the Washington, D.C., area at least 100 times a year to practice and compete with Maryland's elite Montgomery County club hockey team.
To help NASBE move forward, the NFHS will suggest representative schools in urban, suburban and rural districts throughout the country from which to gather and extrapolate information. NASBE, meanwhile, is seeking additional grant money to make that happen, and the association eventually will publish a detailed report at the end of the planned three-year project containing hard data to be used as reference material.
That said, NASBE officials aren't kidding themselves into thinking they will solve all of the problems with interscholastic sports in this country. In fact, they acknowledge studies from the 1990s revealing that students who participate in athletics generally have higher GPAs than those who don't. But high school sports have changed dramatically since the '90s: Games regularly air on ESPN, teams travel thousands of miles to compete, prep players skip college and go directly to the pros, and the NCAA investigates the academic legitimacy of nontraditional schools that make it easy for athletes to graduate.
Griffith says NASBE simply wants to begin a dialogue in communities and get people thinking about where local high school athletics are headed. "This is a very sensitive issue," he says. "We were surprised two years ago by just how sensitive it is and how emotional people can get. We just want to get people to start asking questions. Some of their responses might be, 'You know what? We don't want to talk about this.' And that's fine. We're not going to say, 'Hey, you need to get your house in order.' We just want to get people to start asking questions."
Gardner, for one, thinks NASBE's efforts should and will be applauded, as long as the project can receive the necessary funding to see it through. "I think this is a conversation that athletic administrators would welcome," he says.