Veteran fitness-facility companies have managed to remain vital amid diverse competition and countless trends.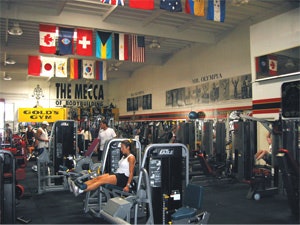 A decade ago, members of Bally Total Fitness clubs couldn't even purchase a bottle of water without leaving the facility. "All you could do was work out," says Matt Messinger, assistant vice president of communications for the 42-year-old, Chicago-based company. "You couldn't get nutrition counseling, you couldn't purchase supplements, you couldn't do anything."
Today, members of more than 400 Bally Total Fitness clubs around the world can do anything from buy water to dictate membership terms. In the midst of recapitalizing after a series of internal accounting problems, the company has rolled out a new club model within the past year to reinvent the Bally brand. "What we've tried to do is really look at the operations and change the way we focus on our business," Messinger says. "The biggest thing for us right now is that we focus on our retention and our customer service. We really needed to go back to our roots and understand that we have to make each individual feel like we're catering to him or her." Today's modern health-club business was built on that kind of grassroots enterprise. "The whole industry was born out of passion and entrepreneurism," says Katie Rollauer, senior manager of research for the Boston-based International Health, Racquet & Sportsclub Association. "That's risky. People who were getting into it didn't have the background in business but knew that they loved fitness and were determined to make a health club work."
For proof, look no further than some of today's biggest companies. Joe Gold created "the Mecca of bodybuilding" in Venice, Calif., in 1965 when he opened the first Gold's Gym, which became a destination point for international bodybuilders and Hollywood celebrities training for movie roles. Gold even provided complimentary memberships to less-affluent members in return for janitorial services. A decade later, brothers William and Norman Dabish opened Powerhouse Gym in Highland Park, Mich., as a facility where professional athletes with nicknames like "Hitman" and "The Golden Eagle" could work out. After almost another decade had passed, Mark Mastrov borrowed $15,000 from his grandmother in 1983 and opened what would become the first 24 Hour Fitness club in San Leandro, Calif. - a facility that strived to make fitness affordable and accessible to people of all abilities, work schedules and fitness levels by never closing.
All three companies, it's safe to say, helped popularize the concept of physical fitness. And all three remain healthy today, with significant brand recognition and massive purchasing power. Gold's Gym bills itself as the largest co-ed fitness chain in the world, with 620 facilities in 42 states and 26 countries. Powerhouse boasts more than 300 licensees in 39 states and 15 countries, and 24 Hour Fitness operates more than 350 clubs in 16 states and three countries.
"Whether it's a chain or an independent mom-and-pop down the street, the success of a club doesn't necessarily come down to how quickly it can adapt to the latest trends, but what's really going on inside," Rollauer says. "Fitness trends come and go, and that's what makes this business exciting and ever-changing. But if you don't have a strong infrastructure and a highly trained staff to work with members and help them meet their goals, you're not really doing anything other than running a box with treadmills and bikes."
"It's always a balancing act between maintaining your heritage and reaching out to new audiences without sterilizing the brand," adds Dave Reiseman, director of communications for Dallas-based Gold's Gym International, whose company logo still features an intimidating muscle-bound bodybuilder holding an overburdened barbell, despite a facility shift away from "gyms" and toward "fitness centers." "People used to say, `You know what? I almost feel like I have to train before I go to Gold's Gym.' There was the perception that Gold's Gym was a place only for bodybuilders, in much the same way that Harley-Davidson once was considered the motorcycle only for hardcore bikers. But now there are probably more doctors and lawyers riding around on Harleys than there are Hell's Angels. Today, the more people who come into our facilities and experience everything we have, the more ambassadors we have for the gym. That's really where success starts."
Success in any industry isn't defined solely in terms of dollars and cents. Rather, it is built on a series of business strategies that any health-club company blessed with longevity - from a one-location facility to a regional network to a national chain - must consider at some point. Here are three pieces of sage advice from some of the fitness-facility industry's biggest players.
Seek the right personnel. In many cases, the founders of today's leading chains are still active in the business. Although Gold, who went on to form World Gym in the late-1970s, died in 2004, Mastrov at 24 Hour Fitness and the Dabish family at Powerhouse remain at the helm. "Many people who are in leadership positions in health clubs have been in the industry forever," Rollauer says. "Look at other industries, especially within the past 15 or 20 years, and people are jumping around to different businesses all the time. But in the fitness industry, people are dedicated to it. That goes back to the whole passion thing. They got into it because they really love it."
At the same time, some observers contend that an influx of new health-club leaders is propelling the industry forward with unprecedented savvy and sophistication. "As much as I believe that experience and longevity have something to do with a company's success, there's still that other side with young blood coming in, taking risks and making things work," Rollauer says. "The industry, as a whole, is becoming much more educated at a younger age."
Unlike other businesses in which employees may view the final product - whether soup or newspapers - as a commodity, the final product in the business of fitness is a healthier body and a more confident person. That realization should make managers, employees, group exercise instructors, personal trainers and anyone else affiliated with a club's operation approach their job differently than they would any other. "We specialize in fitness, so we should be the best at it," contends Jim Pullman, director of licensing for Powerhouse Gym, headquartered in Farmington Hills, Mich. "We're not about recreation. We believe you have to train your body in a controlled fitness environment, and then you can go do recreation wherever you want to - and be more efficient at it. We can offer as many other amenities as we want to, but our niche is fitness."
That said, it's worth noting that the recent improvements at Bally Total Fitness were spearheaded by a roster of recently hired high-level executives from industries such as auto rentals (Budget Rent A Car), consumer electronics (RadioShack Corp.) and even fast food (McDonald's). "It's always good to get new ideas from people who have been at successful companies," Messinger says. "A lot of the changes we've made have come directly from the top."
Rebrand the brand. Those changes at Bally include the flexible "Build Your Own Membership" plan, which allows members to customize their programming options and pay dues on a month-to-month basis; a financial incentive for general managers, fitness directors and personal trainers to improve member retention; and the elimination of "salespeople" in favor of "fitness coaches," who serve as health-club guidance counselors.
"A fitness coach has been trained to be a member's point of contact from the time he or she comes into the club, to help find a personal trainer and direct that person through the journey of belonging to a health club," Messinger says. "A fitness coach does not just sell a membership and then say, `OK, you're on your own now."
Gold's Gym found other effective ways to introduce its facilities to new members by leveraging the knowledge of its employees. By making the company's pre- and post-natal fitness expert available to the national media for interviews and guest columns, Gold's opened its doors to a new demographic. "Part of what any successful facility has is knowledge," Reiseman says. "And we found that there are people out there looking for credible sources for health and fitness information - the local NBC affiliate, the city's newspaper or some other organization. Not only does that leveraging of expertise get healthy messages in the media, it also helps expand our presence."
Only about 50 Gold's Gyms are corporate owned; the rest are franchised by individuals who add local color to their facilities. "They are actually run by people who live in the community, and each one has a mom-and-pop feel to it," Reiseman says. "You can't underestimate the power of that."
Build beneficial partnerships. Often, rebranding coincides with the formation of partnerships. Gold's Gym traditionally has not catered to youths, but it is in the process of exploring more programming for kids because of its role as a national strategic partner with the American Diabetes Association. What began with sponsorship of the ADA's Tour de Cure by providing registration information in local facilities around the country has evolved into the development of co-branded fitness programs with the association.
"The ADA tells you that you need to exercise, but they don't necessarily tell you how," Reiseman says, careful not to reveal many details about new programs in the works. "That's where we come in, providing tangible solutions. And just like the ADA, we realize that we need to reach kids at a really young age and teach them healthy habits. So we're starting to look at programs that are aimed at doing just that."
Life Time Fitness, based in Eden Prairie, Minn., set out in 1992 to make its facilities inviting to young people via a variety of youth programming, helping kids appreciate fitness at a young age and in the process gaining a reputation as one of the most family-friendly chains in the business. Among Life Time's most recent initiatives is one that encourages local clubs to partner with area churches and homeschool groups to promote the "Intro to Fitness" class - a weekly physical-education program that utilizes a facility's gymnasium, pool, climbing wall and outdoor fields during mid-afternoon downtimes. Kent Wipf, public relations manager for Life Time, says 39 of the company's 49 facilities in nine states are expected to offer "Intro to Fitness" this fall. "Parents don't have to teach it or worry about the curriculum, it introduces kids to physical activities, they're in a safe environment mingling with other kids, and parents have an hour to do their own thing," he says. "It fills a need."
As the fitness-facility industry continues to expand - the number of new clubs is growing faster than the number of new members, IHRSA reports - the need to build stronger identities and perhaps even alter successful business models to stay ahead of the Curves and above the Cuts will become even more significant.
"We need to earn people's business every day," Wipf says, adding that Life Time, like Bally, doesn't offer long-term membership contracts. "If we have you tied up as a member for three years, what is our incentive to make sure you're happy tomorrow? If we are able to keep our members happy and coming back every day, that goes a long way toward connecting them with our employees. And it's amazing when members walk into a club and employees know them well enough to call them by name. This is a people business, after all, and you have to meet people's needs."