Reviews of Glow Pucks and 10-Cent Beer: The 101 Worst Ideas in Sports History; The International Bottled Water Association's Hydration Calculator; The Sporting Goods Industry: History, Practices and Products
R.I.P., XFL
Disco Demolition Night at Chicago's Comiskey Park in 1979, the Whatizit mascot of the 1996 Summer Olympics and 1968's NFL "Heidi" game are easy targets for Greg Wyshynski in his quirky book of short essays, Glow Pucks and 10-Cent Beer: The 101 Worst Ideas in Sports History (Taylor Trade, softcover, $16.95). But the author, a columnist for SportsFan Magazine, digs even deeper and mocks 7-foot-7 NBA standout Manute Bol for strapping on skates with the Central Hockey League's Indianapolis Ice in 2002, mourns the death of real organ music over the P.A. system and rues the day Major League pitcher Randy Johnson earned the nickname "Big Unit." He also takes political positions, arguing against expansion in the pros, the existence of the Bowl Championship Series and letting Pete Rose into the National Baseball Hall of Fame. Not all of Wyshynski's attempts at wit work, and a few of his facts are fuzzy, but this book is still bound to generate discussion.




Water Log
With football practice kicking off this month, the importance of hydration while exercising in high heat and humidity will no doubt get its sports media due. The International Bottled Water Association is doing its part by offering a free online hydration calculator for coaches, parents, players and other athletics, recreation and fitness participants. Available at bottledwater.org, the calculator determines - based on body weight and expected exercise intensity level and duration - how much fluid an individual should consume throughout the day. For example, a 180-pound quarterback participating in a 90-minute practice session should down approximately 144 ounces - with roughly one-third of that coming during practice, according to the calculator. Results are based largely on the findings of the National Academy of Sciences' 2004 report, "Dietary Reference Intakes (DRI) for Water, Potassium, Sodium, Chloride, and Sulfate." Other components of the free interactive service explain the role of water in the body and circumstances that may require even greater water intake.
bottledwater.org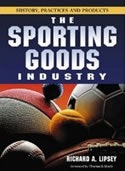 GoodS Read
Once upon a time, the term "sporting goods" referred to little more than golf clubs, basketballs, tennis racquets and other equipment. Today, profits from sports apparel and footwear manufactured by sporting goods companies often exceed equipment sales. And while only one company boasted revenues of more than $1 billion 20 years ago, nearly two dozen do so today. Richard A. Lipsey, president and chief executive officer of the Sporting Goods Research Network Inc. (dba SBRnet) chronicles the evolution of the business from the mid-19th century to today in The Sporting Goods Industry: History, Practices and Products (McFarland, softcover, $29.95). He covers the development, structure and size of the industry; manufacturers' products and market share; distribution channels; and sales trends. Lipsey also devotes entire chapters to sports medicine and product liability, sports marketing and e-commerce. Appendices provide directories of sporting goods vendors, retailers, media outlets and trade associations.