Football 101 teaches the sport to an expanding base of female fans at Nebraska and raises money for breast-cancer research at the same time.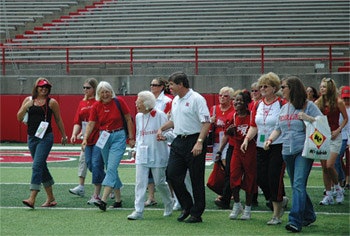 The women descended upon Lincoln, Neb., from as far away as California and New York to form a class roster more than 1,000 strong. On June 2, Football 101 was back in session under University of Nebraska coach Bill Callahan's tutelage.
In the three years that Coach Callahan Charities Inc. has hosted the event, more than 3,000 women have dined with Nebraska coaches, learned the nuances of the West Coast offense and physically hit the blocking sleds on the practice field. This year's attendees received the added benefit of touring the Huskers' new indoor training facility, the Hawks Championship Center.
Similar events, often under the same Football 101 moniker, have been welcoming women to campuses large and small for years. Usually held sometime between April and August, the single-day events have not only helped introduce an expanding fan base to the game's intricacies, but also to new coaches and coaches' wives, new administrators, and new equipment and facilities. For fees that typically range from $20 to $35, attendees often receive lunch or dinner, a commemorative T-shirt and a football rule book. Raffles are common, and some schools have even used live music and fashion shows to add luster to their events.
What has made Nebraska's event a shining star in the growing Football 101 field is its philanthropic success. With a $75 admission, women do pay a premium to attend the activities in Lincoln, and an optional evening social with coaches carries its own separate fee. But the $55,000 collected this year pushed the three-year total of Football 101 monies raised for breast cancer research (conducted by the Eppley Cancer Center in Omaha) past the $140,000 mark, according to Melissa Abele, executive director of Coach Callahan Charities. That's more than half of the $250,000 that the nonprofit organization has gathered since its founding in 2004. Additional fundraising events include an annual 5K run/walk (the third of which takes place this month) and a golf outing (which debuted this past April). Next March, a fashion show hits the runway for the first time.
At this year's Football 101 event, not surprisingly, Husker colors were the order of the day. But no garments made a greater fashion statement than the pink T-shirts worn by 70 cancer survivors in attendance. With further research support made possible through Football 101, the hope is that this annual gathering of red and white continues to make pink.