Seat-naming campaigns can serve as prime opportunities to establish or cement ties between your athletics program and its fan base.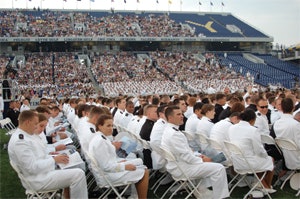 Every May, the United States Naval Academy graduates another class of midshipmen, and yet Skid Heyworth can't help but get the chills each time he witnesses the ceremony's ritual from his seat in Navy-Marine Corps Memorial Stadium.
Attendees young and old are decked in full military regalia. The field, too, is dressed for the occasion, ringed with oversized images recalling historic maritime battles. Against this backdrop, and moments before members of the graduating class are handed their commissions, the junior and senior classes each exchange three rousing cheers. Upon the final hip-hip-hooray, the graduates toss their hats in the air, eliciting thunderous applause from all those present - many of whom are Academy grads themselves, as was Heyworth with the Class of 1970.
"I'm a traditionalist, and all those hats in the air in that environment just gives me goose bumps," says Heyworth, the Naval Academy Foundation's vice president of communications and the fourth of five family members to graduate from the Academy. "We work very hard to keep our generations connected. We don't have fraternities, so each class is like a fraternity. And when we can link the generations, it's phenomenal."
What's just as phenomenal is the response that the foundation, the Naval Academy's fund-raising arm, received to its "Take a Seat" campaign, which was a part of the recent $40 million capital campaign to renovate 46-year-old Memorial Stadium - home of Navy lacrosse and football. Donors had the opportunity to purchase personalized plaques to be affixed to individual stadium seats at three price points: $1,000, $2,500 and $5,000. (Seat-naming purchases do not include the price of season tickets for a particular seat.) Of Memorial Stadium's 34,000 seats, nearly half feature nameplates. And more than half of those 16,000 seats were sold after the campaign's official conclusion in 2004.
Heyworth acknowledges that the fund-raiser made only a minor financial contribution to the stadium renovation's overall capital campaign. "The larger goal was to raise dollars for the stadium under the auspices of contributing to athletic excellence," he says. "Take a Seat was a part of that."
Yet, seat-naming campaigns can function as part of even more significant endeavors by schools, efforts that connect schools with loyal fans and enable those fans to take ownership of their favorite athletics program at relatively affordable prices.
Such has been the case at Middle Tennessee State University, which is currently raising funds for a $5 million baseball stadium expected to open by 2009. The school has set a $500,000 goal for its "Batter Up: Stepping Up to the Plate for Middle Tennessee Baseball" seat-naming campaign, which will actually represent a significant part of its overall fund-raising total. (Prices are $1,000 for regular chair-back seats and $1,500 for those at field level; a total of 850 seats were made available for purchase.) But Middle Tennessee State associate director of athletics Alan Farley is quick to note that money isn't the object of this campaign. "It's a way for us to reach out to our former players and fans," he says. "They don't have the resources to put their names on the stadium or on the press box. But it's a way for them to leave their name in the stadium."
To impress this point, Farley likes to relate a story about a fan from a rival school who insisted on sharing his seat with Middle Tennessee State's head coach. "We were getting ready to play our NCAA regional at Mississippi State and one of the fans recognized our coach, who was there scouting some of the teams that we were going to play," says Farley, giving credit to the Bulldogs for spurring the seat-naming idea at his school. "The Mississippi State fan said to our coach, 'Come here, I want you to sit right here in my seat. I helped build this place. I helped build this stadium.' It's the pride of knowing that you've done something, in knowing that John Smith played a part in making this new, wonderful stadium."
At the Naval Academy, where officials prefer to speak of "support" rather than ownership, a successful seat-naming campaign is a reflection of the alumni's tremendous dedication to their alma mater - as well as to those who now occupy its halls and will in years to come. "We're about supporting today's Naval Academy, supporting today's midshipmen," says Heyworth. "The mission of the Naval Academy is to develop midshipmen morally, physically and mentally. The physical part of the mission is very important to the Academy and our varsity sports are simply another opportunity to tell the story of the wonderful men and women who attend this Academy."
There's also something to be said for taking the opportunity to tell - or rather, hear - the stories of the men and women who have quietly admired your athletics program throughout the years.
These are the stories that have inspired Dianna Pategas, Quinnipiac University's associate vice president for development, during her school's "Stand Up and Take a Seat" fund-raiser, a key component of a $25 million campaign to construct the TD Banknorth Sports Center. Set to become the new home of Bobcat hockey and basketball in January, the facility will feature twin arenas (a 3,000-seat basketball venue and a 2,500-seat hockey arena) that share a common lobby and a club area that will house 240 seats (120 facing each arena) available for naming at $2,500 each. Premium seats can be named for $1,000.
While some donors are the usual suspects (corporate executives and Quinnipiac alumni among them), Pategas has been pleasantly surprised to meet many others who have long supported Bobcat athletics, albeit inconspicuously. "Because of the small town in which we're located, this is obviously a major town-and-gown initiative for us," she says. "People have come out of the woodwork, and I'm saying things like, 'I had no idea that she was such a rabid hockey fan.' To me, what has been most surprising are the women who have told me, 'I love hockey. My dad took me to every hockey game he went to.' It has provided some really interesting stories. And as you can imagine, it has helped us identify a lot of people who were never on our radar before."
Quinnipiac's donors have turned out in droves. From December 2004 through the end of June, when the seat-naming campaign closed, the school raised $325,000. The hockey arena's club seats had all been named, and only 30 remained on the basketball side.
Premium seats in the respective bowls have also sold well, with donors naming 173 seats on the hockey side of the facility and 128 in the basketball arena. In a move intended to give the school more flexibility, Pategas and her fund-raising staff decided not to limit the number of premium seats in either arena. Whereas in the hockey arena, the premium-seat section is located just below the corner club seats, the basketball arena's premium seats are situated along mid-court at an ideal height above the playing surface. At this time, neither section has boundaries. In fact, premium seat-naming sales may even reopen once the arena debuts if demand proves sufficient.
Thus far, the decision to exercise complete control over the inventory of those seats has expanded sales. But considering the numerous tweaks in the TD Banknorth Sport Center's design and configuration from conception to near-completion, Pategas counts herself lucky that her sales strategy didn't backfire. "Early in the process, get the details down," she says. "Know how many seats you have to sell, know where they're going to be located before you start to market the program, because it is a challenge to have to go back and re-communicate with people when the plans change. You never want to disappoint a donor."
Operating under this precept, Pategas made yet another decision that differs from other seat-naming campaigns: None of the seats feature individual plaques. "We investigated other arenas and saw the wear and tear that takes place at these facilities," she says. "We wanted to be certain that our donors really had a lifetime commemorative opportunity regarding these seats. Instead of putting individual plaques on seats, it was made clear to our donors that their preferred inscriptions will be gathered on one main plaque at the arena's entrance. So rather than saying, 'I'm going to go sit in my seat in section 4, row B, seat 3,' when they enter the arena donors will see one large cast plaque with all of the individual inscriptions on it."
Pategas isn't trying to cut costs. Rather, as she sees it, she's giving her donors the best value for their money. "We didn't want to have to deal with people putting their feet on the plaques and getting them tarnished or people trying to jimmy them off of the seats," she explains. "We felt that if we did it this way, donors would not only be able to go to one central area and find their inscription, but also know that it would truly last and not degrade over the years."
Of course, fans of some schools' athletics programs will prefer their own personalized seat. Such is the expectation of fans who in several years will inhabit the intimate confines of Middle Tennessee State's 3,000-seat baseball stadium. "In the professional ranks, you buy a PSL," says Farley, referring specifically to MLB's now-common practice of personal seat licensing. "But basically, you just get the right to purchase a ticket there. There's no nameplate, there's nothing there to show that Alan Farley purchased that seat. You just go and sit in the stands like everybody else. This is a way for everybody to feel that they have a piece. And when the stadium's built, they can look and see their name and say, 'Hey, I did this.' "