School nurses can play a vital role in preventing high school steroid abuse, plus New Jersey takes a bold step in the battle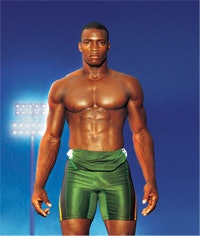 School nurses, perhaps more so than athletic directors and coaches, have a prime opportunity to stunt the growth of supplement, steroid and other performance-enhancing drug use in American high schools. That's the conclusion of two Old Dominion University professors who suggest that school nurses need to be ethically responsible in educating both students and parents about the long-term effects of steroids and over-the-counter substances, as well as providing information to parent-teacher associations and school administrators.
"There is a tremendous amount of pressure on teens to perform well, and many may feel pressure from coaches or parents," says Laurel Garzon, an associate professor of nursing at ODU, who along with nursing colleague Carolyn Rutledge recently stated her case in the Journal of School Health. "The school nurse is an outlet for information and dialogue."
Garzon and Rutledge recommend that school nurses who examine student-athletes note such physical indications of steroid use as hypertension, sudden weight increase, excessive acne, voice changes, headaches, gastrointestinal distress, muscle cramps, nausea and vomiting, decreased appetite and hair loss.
Meanwhile, in another effort to curb steroid use among student-athletes, state high school associations in Florida, Michigan, Oregon and Virginia have been awarded grants from Sports Illustrated and the Center for Health Promotion Research at Oregon Health & Science University to implement OHSU's ATLAS (Athletes Training and Learning to Avoid Steroids) and ATHENA (Athletes Targeting Healthy Exercise and Nutrition Alternatives) steroid/drug prevention programs. Each association was expected to choose a minimum of four high schools to participate in the programs during the 2006-07 academic year.
New Jersey, however, has taken the boldest step of all in the battle against teenage steroid abuse. Beginning this fall, the New Jersey State Interscholastic Athletic Association will randomly test student-athletes who participate in team and individual state tournaments. Parents must sign a consent form prior to the season, and participants with positive results will lose one year of eligibility.
NJSIAA officials expect to perform tests on 500 individuals each year - just 5 percent of the 10,000 New Jersey student-athletes who annually participate in tournaments. They are targeting football, baseball, lacrosse, swimming, track and field, and wrestling, but athletes in all sports are fair game. Each test will cost between $150 and $200, and the state and NJSIAA are each contributing $50,000 to the effort. Robert Kanaby, executive director of the National Federation of State High School Associations, says he hopes New Jersey's program will become a model for other states, but many state association officials have already gone on record citing such tests as cost-prohibitive.