Implementing several tried-and-true strategies now will help high school athletic departments boost next summer's sports-camp revenues.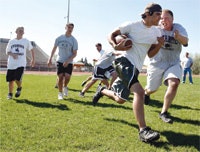 The financial outlook for most high school athletic departments, "bleak" for as long as most administrators can remember, is now officially "grim." Tremendous cuts in federal, state and local support - let's dub this year's as "even deeper cuts" to differentiate them from last year's - have left very few high schools with budgets large enough to allow their athletic directors to engage in free-spending practices.
With school districts increasingly searching for alternative sources of revenue to maintain their institutions' athletic programs, summer camps have taken on much greater importance in the overall picture. The reasons are not hard to see: school facilities are often underutilized, and school personnel underemployed, during the summer months. But there is a danger in viewing sports camps as something that just "fills space," as it is just as easy to operate them inefficiently as it is to do so profitably.
For more than a decade, I worked as an administrator, coach and director at more than 50 summer basketball camps in a variety of settings, dealing with youths (ages 7 to 13), older student-athletes (ages 14 to 18) and adults. During this time, I learned several strategies to successfully and profitably operate these camps, which I believe all high school athletic programs could utilize to increase summer revenues - assuming they begin the process of implementing them, or at least start thinking about them, now.
The foundation for making money at any camp starts with maximizing the number of campers. However, many administrators fail to realize potential enrollments, with poor scheduling a common culprit. Athletic departments are best able to generate large camp numbers by picking a date that both avoids scheduling conflicts with similar camps and materializes first on the summer camp calendar (that is, immediately following the academic school year). Additionally, avoiding national holidays as well as festivals, fairs or other important local events is preferable, since these activities often provoke the probable camp base to leave town or attend family- or friend-related activities that occur away from school grounds.
Another mistake athletic administrators commonly make is they fail to capitalize on all their available space. Often, athletic staffs view only traditional playing areas (gyms and fields) as being within their camp's boundaries - and basketball camps taking place only on available basketball courts restricts the number of campers. Administrators should therefore not limit themselves to sport-specific facilities, but rather embrace other structures located on school grounds such as parking lots, cafeterias, auditoriums, classrooms, weight rooms and other sports venues. There are many opportunities for creativity - when running a basketball camp, for example, parking lots can be outfitted with portable standards to increase the number of courts; cafeterias can serve as ball-handling areas; auditoriums and classrooms can function as video stations or instructional areas; and other building grounds can become staging areas for conditioning and agility training. For all sports, of course, the weight room can serve as the center for strength-building sessions.
Once available spaces have been maximized, filling them becomes the next priority. Undoubtedly, enlisting children from local communities and schools is the most obvious choice, but most athletic personnel neglect to actually engage these children and their parents properly before camp season starts. Frequently, coaches and athletic administrators perceive recruiting local children as unnecessary because they believe area residents will prefer to stay within district or community boundaries rather than attend camp somewhere else. The evidence suggests otherwise. Because other school districts, colleges and professional agencies are working hard to recruit local children away, administrators need to see local families as a consumer group and recruit them to participate at camps much like college or university campuses recruit student-athletes.
Recruiting children and their parents starts at school. Here, coaches, athletic directors and even players can make guest speaking appearances and distribute pamphlets in order to generate interest and answer questions. These methods provide opportunities for children to carry their excitement (and possibly, printed materials) home to their parents. Videotapes of camp and actual game footage, shown at school or available on a disc, can also serve to capture the attention of children and their parents to persuade them to attend camp. Finally, kids' days (or nights) during a team's athletic season also advances recruiting objectives because children and parents who attend games can engage with your players, institutional philosophy and sports facilities. Activities like these often breed more interest in the athletic program or sport, which helps build home and away attendance figures and also persuades more children to try a new sport.
Recruiting quality staff members is every bit as important as recruiting camp participants. Clearly, the head and assistant coaches cannot possibly manage or control camp activities without help from others, and for this reason athletic departments typically employ coaches from other local or regional institutions. The primary value gained by seeking out other coaches is that they supply administrators with a network to exchange or trade information about sporting activities so that everyone can better their programs.
You might expect other coaches to receive fair-market value for their services, but it is likely that you can maximize revenues by limiting the number of high school or college coaches you pay. Former players, alumni and local citizens are among the less-costly instructor alternatives. These people may be college students or older, successful individuals - but no matter from which end of the spectrum they hail, these are people who might consent to donate their time and energy. Frequently, they will volunteer merely because they want a change of scenery, or because they want to give back to the institution. Such coaches might strike some parents (and even administrators) as being illegitimate, but volunteers tend to regard your institution positively and thus will likely give their all to make sure your campers learn the fundamentals of a sport and enjoy the best experience possible.
Likewise, administrators should not resist bringing in current varsity players to assist with the controlling of camp. High school varsity players can inexpensively help manage the youngest age groups in the camp. Few supervisory concerns should surface, and by allowing current players to coach at camp, you provide them with great learning experiences. This opportunity places them in a leadership position, provides them with responsibility over others and requires them to learn or explain technical aspects of their sport - all of which could further advance their own understanding and performance.
Providing various types of camps - as many as the market will tolerate - also serves to increase athletic department revenues. Institutions offering multiple camps for different age groups, skill levels and positions secure more income than those that do not.
Athletic departments should seriously consider adding specialty camps to their résumé, both for the financial and social benefits. Specialty camps are attractive because they are distinctly based on skill, age and positions. Throughout my basketball playing career, I attended day, overnight, evaluation (recruiting), shooting/guard, post-man, team and parent/child camps. Each of these camps provides unique experiences and offers children and their parents the chance to choose a camp that appeals to their specific interests or needs. Parent/child and team camps are particularly lucrative because they reduce the financial costs associated with hiring coaches. Essentially, parents and team coaches act as additional camp supervisors to help reduce the need for additional staff members. Parent/child and team camps also function to satiate the social needs of families and teams. Obviously, the parent/child camp is attractive because the experience provides them with an opportunity for family interaction.
The team camp also provides a chance for groups of kids to come together in a competitive environment. However, the team benefits by building essential team skills - trust, respect, communication and responsibility - all of which are needed to produce a great experience and winning seasons. Again, successfully hosting each of these activities should assist program-building because they create interest among sons and daughters who may aspire to one day play at the varsity level. Furthermore, they create opportunities to improve the quality of your team so you can establish better future performances.
In this era of sports specialization, other specialty set-ups are potential goldmines. Position camps, such as post-man and shooting for basketball or passing and kicking for football, serve parents and their children's desire to gain an edge over peers competing for high school or college positions. Individual entrepreneurs and colleges and universities are increasingly capitalizing on these market demands because they understand people will pay to invest in their child's future. High school athletic departments are missing a golden opportunity by allowing outside organizations to use high school facilities to conduct their camps.
Your last major tactic in attempting to achieve financial success involves managing administrative set-up and the selling of available products and services. Within this realm, you must first establish an entry fee appropriate for your market. It is recommended that you set a price similar to what other schools or organizations have established for their camps and create a package - targeting families, church groups and even neighborhoods - that benefits and encourages larger groups of people to attend. This strategy leads to positive word-of-mouth and often produces a better camp atmosphere, since families, church groups and so forth are already established as large groups of friends.
Next, ask sponsors to pitch in. For example, local and national sponsors can provide lunches, drinks and other perishable items at a reduced rate or free to athletic departments so they can then be sold to campers at a profit. In exchange, you can offer these organizations signage at the camp and recognition in programs and flyers, and on T-shirts. Every athletic program should seek out specific sponsors for individual consumable items, such as a local pizza shop for lunches, a local market for snacks and a national distributor for sports drinks. All camp organizers should plan breaks into their activity schedule to accommodate participants' desire for these available goods.
The selling of sports merchandise is also a viable source of income for athletic departments offering a camp. Common products typically put up for sale include new T-shirts, shorts, headbands and wristbands, sweatshirts and sweatpants, jackets, shoes, towels and sport-specific equipment. In addition, old or used merchandise (practice and game uniforms, warm-ups, programs and equipment) can also operate as a source of income. The sale of used items is fairly common at the professional and major-college levels, but high school athletic departments can similarly benefit because many campers desire to own artifacts associated with players and particular sports. Additional items like workout books and autographed equipment also function as revenue sources for various camps throughout the country.
Finally, any high school athletic administrators who decide not to go the sports-camp route themselves should still take advantage of the summer camp season by selling the use of their various facilities and fields to independent entrepreneurs and surrounding colleges. As previously noted, those conducting specialty camps often secure high school facilities to operate their camps. Therefore, it is recommended that high school athletic departments develop policies and advertise their facilities as available for rent or lease during off times.
In today's climate of reduced funding for schools, many athletic programs are forced to cut back on personnel or eliminate sport programs altogether because of a lack of funds. In the long run, implementing the strategies outlined here will prove to be useful for retaining and attracting quality coaches, maintaining and renovating facilities, and producing winners in your community - on and off the field of play.