Schools that have experienced the death of a head coach during the past year are beginning to regroup and move on.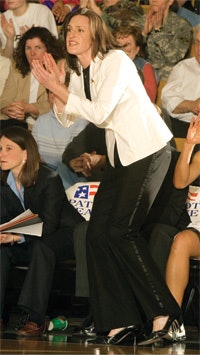 Upon returning from the NCAA Women's Final Four in April, Maggie Dixon found herself in high demand. Her own team, Army, had been routed by perennial power Tennessee three weeks earlier in the tournament's first round, but the 28-year-old rookie head coach was fast building a reputation as one of the rising stars in women's college basketball. In her debut season, Dixon garnered Patriot League Coach of the Year honors after leading the Black Knights to regular-season and league tournament championships. The NCAA bid was the first in Army basketball history.

During the day following the tournament's title game, Dixon met with Army athletic director Kevin Anderson to discuss her future. "She had several offers on the table from people trying to hire her away from us," Anderson says. "The last thing she shared with me was that she wasn't going to leave me."

Within hours, Dixon was dead - the victim of an enlarged, arrhythmic heart.

Anderson struggled to make sense of it. "I was mad for awhile," he says. "But then I figured if I was going to lose a good coach to anybody, who better than God?"

Anderson's is one of three athletic departments now dealing with the uncertain aftermath that comes with the unexpected death of a head coach. Within the past 12 months, Northwestern University head football coach Randy Walker and his counterpart at Division II Missouri Southern State University, John Ware, also died - both of heart attacks.

For Northwestern's Mark Murphy, Walker's was the third death of a head coach he has faced in his 14 years as an athletic director. But that unfortunate footnote to his administrative résumé in no way prepared him for the latest setback. "It came as a complete shock," says Murphy, who received the call June 29 while driving home from his daughter's summer league basketball game. Shortly after arriving at Walker's hospital emergency room, a response plan was put in motion. "A number of coaches were there, as well," Murphy recalls. "The coaches split up the players on the team and called them that night. We wanted them to hear from a coach rather than hear it on the news or read it in the paper."

The 50 or so players who were on campus gathered the next morning, and counselors were made available. Select senior leaders appeared at a press conference. Meanwhile, Murphy faced the unenviable task of replacing Walker, who weeks earlier had been rated the top coach in the Big Ten Conference by The Sporting News. "A month before the start of training camp, I didn't think it was practical to do a full search," Murphy says. "But my first thought was Pat Fitzgerald." At 31, Fitzgerald, an NU assistant and decorated football alum, became the youngest head football coach in Division I-A - a mere eight days removed from the 52-year-old Walker's death. "Then the question was do we hire him for an interim or a longer term?" Murphy says. "We ultimately decided it was in the best interest of the program to enter into a long-term agreement."

Anderson likewise hired from within, promoting Army assistant head coach Dave Magarity on May 2, less than a month after Dixon's death. The tragic situation at Missouri Southern, however, didn't allow for even that much deliberation. Ware, 42, was in the middle of his second season of rebuilding the MSSU program (taking a team that won one game in 2003 and leading it to five wins the following season) when he died Sept. 27 at his office desk. The 2-3 Lions' next game was in four days - a homecoming date with Ware's former school, Truman State.

Postponing the game was discussed, but only fleetingly, says MSSU athletic director Sallie Beard, adding that the considerable presence of Ware, who stood 6-foot-4 and "filled every bit" of a size 60 long jacket, was still palpable. "Everybody collectively felt that if John were here and could voice his opinion, he would have said, `Play the game.' The young men needed to move on," Beard recalls. "So here we are at our homecoming, which should have been a celebration, and instead it was a very somber weekend. Our entire campus was in shock, because we had bought into John Ware and the change that he was effecting. So we had two universities unite on a football field ... " She pauses, momentarily unable to control her emotions nearly a full year after the fact. "I'm sorry."

Prior to kickoff, the university arranged flowers to form "JW" and "1%" at field level (Ware implored his players to improve 1 percent every day). Players from both teams gathered at the 50-yard line, took a knee and prayed with Ware's widow. The Lions roared to a 47-17 victory, but it would be their last of the season. "They were emotionally spent," says Beard, who on Dec. 13 introduced Northwest Missouri State assistant Bart Tatum to replace MSSU interim head coach Keeth Matheny.

As for her own emotional well-being, Beard "relied upon the people with whom I deal on a daily basis: the other coaches, the support staff within my building, even the athletes. For quite a while, I was in a day-to-day crisis mode, just trying to keep the players on track. We were all grieving, yet we all had things that we had to accomplish. We had lost a significant public figure, and it wasn't until the end of the academic year that I felt like we were beginning to come out from under that."

Murphy anticipates that Northwestern still has an emotional road to navigate. After opening the season at Walker's former school, Miami of Ohio, the Wildcats will return home to a Ryan Field stenciled with their former coach's nickname, "Walk." And while rival Big Ten schools have already voiced their support, Murphy hopes that the tributes don't overwhelm the team's travels all season. "We need to stay positively focused on the future. We don't want to be insensitive to the family, but I think getting back to some kind of normalcy and routine is good, especially for the student-athletes," Murphy says. "If too much is done, it's going to sap the energy and emotion out of our players."

For now, at least, Anderson has tried to stay in touch with the past, taking advantage of the close proximity of Maggie Dixon's burial place on the grounds at West Point - that location representing an honor normally reserved for the academy's high-ranking officials. "You know, it's still hard to believe that she's no longer with us," Anderson says. "At least once a week I go up and visit the gravesite. We still have conversations."