New details surface about Minnesota's historic $35 million stadium naming rights.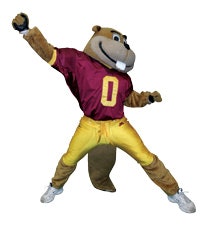 Come 2009, should the University of Minnesota choose to grace the exterior of its new football stadium with an illuminated sign that reads "Home of the Golden Gophers," any nearby sign that reads "TCF Bank Stadium" must exhibit the same quality and intensity of illumination.
That is just one of several details in the university's $35 million naming rights contract with TCF Bank that have come to light since the Minnesota Legislature voted in May to allow the stadium project to move forward (see "Political Football," July, p. 88). In addition, the bank can summon the university's head football coach, spirit squad and mascot for free appearances at TCF functions. The school also agreed to cover the bank's expenses when flying four individuals to one Gophers away game each season. Moreover, TCF will be able to market an affinity card to Minnesota's 236,300 alumni and season-ticket holders blindly, but exclusively, through a third party that holds the contact list. However, the bank will not be able to market itself as "The Official Bank of Gopher Sports," a right that could have sweetened the deal by another $150,000 per year, adjusted at 3 percent annually, according to documents obtained by the Minneapolis Star Tribune.
Such details, published by the paper July 8, did little to sway peoples' opinions on either side of the controversial deal-the largest naming rights agreement ever attached to a collegiate football venue. "I think for those who don't like the stadium deal, it sort of reinforced their suspicions," says Star Tribune reporter Mike Kaszuba. "For those who do like the deal, I think they rationalize it as the way the world works today."
In fact, while stadium naming rights agreements remain rare at the collegiate level, there are indications that Minnesota's negotiations could serve as a model for others to follow. "I've had conversations with four other institutions related to corporate naming of facilities," says assistant athletic director Phil Esten. "It's certainly the way to finance new facilities now. The benefit is that in 25 years we have the opportunity to either renegotiate this deal with TCF or find somebody else to name the stadium. It becomes a new revenue stream in 25 years."
The relationship between TCF and the university is actually detailed in seven contracts-covering such logistics as campus locations for TCF bank branches and ATMs-which combined are worth upwards of $95 million to the university at large, mostly in the form of scholarships and academic initiatives. The stadium naming contract, inked in the spring of 2005 and numbering more than 50 pages, served as the impetus for the greater relationship, according to Esten. "The level of detail in this contract is more than you'll probably find in others, but I think that's beneficial to both parties," he says. "It doesn't leave a lot of ambiguity. When I go to put up an illuminated sign, there are set expectations on both ends."