Critics call on the NCAA to delete text messages from the recruiting process.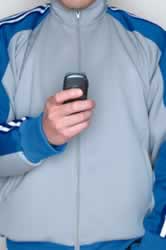 Cody Catalina, a quarterback from Central Catholic High School in Greensburg, Pa., received up to 35 text messages per day from college coaches this summer.
As one of the nation's top basketball recruits, Eric Gordon, of North Central High School in Indianapolis, received more than 60 messages a day.
For Houston Bellaire High School point guard Jai Lucas, son of NBA alum John Lucas, the number of incoming messages topped 70 - day after day, for months at a stretch.
Reports have been rampant this year regarding the use - and abuse - of text messaging in the recruiting process. Some recruits bask in the constant attention, while others find it mostly annoying - particularly those who get billed for each incoming "Have a good practice today" or "Great game last night." Monthly charges totaling several hundred dollars have become common among the most sought-after high school student-athletes.
But regardless of whether recipients find the incessant influx of messages flattering or frustrating, it's all too much if you ask Randy Edsall, head football coach at the University of Connecticut and one of a growing number of critics of current NCAA rules that place no limits on the latest craze in recruiting communications. "With text messaging, we're making the prospective student-athletes bigger than they really are," Edsall says. "Those kids should be focusing on their high school sports and their performance in the classroom. I think text messaging is a distraction."
That goes for BlackBerry-toting assistant coaches and recruiting coordinators, too. "They have their own families, and guys have lost family time just because they have to text message," says Edsall, who nonetheless confesses to text messaging UConn prospects himself. "I do it, because we're allowed to, and if you don't do it, you're going to be behind the eight ball. But I don't think it's right."
Neither does Carolyn Campbell-McGovern, senior associate director of the Ivy League, who in July submitted a proposal to the NCAA that would outlaw text messaging altogether. "We had some conversations within our office - among the Ivy League compliance people and the Ivy League Student Athlete Advisory Committee - that led us to believe it was a problem, that it was all-consuming for some prospects and that it was taking over the lives of some coaches," says Campbell-McGovern, who admits her proposal, as written, has little chance of surviving the NCAA legislative review process. "If you propose the greatest extreme, then you have a full array of legislative options available to you. Proposals can only be narrowed, they can't be expanded."
The NCAA Division I Academics/Eligibility/Compliance Cabinet has already come up with another option - allowing coaches to text message recruits only between 4 p.m. and 8 p.m. on weekdays, and between 8 a.m. and 8 p.m. on weekends. "Our goal is to try to balance the intrusion into personal lives with the opportunity to make contact with the prospective student-athlete," Petrina Long, senior associate athletics director at the University of California, Los Angeles and current chair of the AEC Cabinet's subcommittee on recruiting, said in July.
The NCAA first addressed the issue two years earlier, before text messaging became commonplace, lumping it into the same non-voice communications category with traditional postage, e-mail and fax transmissions. As it stands, coaches in most sports are allowed to make one phone call to recruits per week during their senior year of high school, but can write to them using these other means as often as they like once a prospect becomes a junior. Some coaches, however, have exploited a loophole in the current rules by text messaging prospects a request to give the coach a call back, which student-athletes are allowed to do without limit.
If the NCAA didn't see that coming, it couldn't possibly have predicted the text-messaging explosion over the past two years. According to the Cellular Telecommunications & Internet Association, Americans sent 4.3 billion more text messages in June 2005 than in June 2004. "When this proposal was originally adopted in 2004, it was to allow institutions to take advantage of technology that existed and provide greater flexibility," says NCAA spokesperson Crissy Schluep. "But now there is a definite realization that the intent and the application are two different things. As technology evolves, our membership needs to adapt and make the rules reflective of the changing technology."
One group claims to have read the T-Mobile tea leaves all along. Based on indications that girls were among the quickest to embrace the technology, the Women's Basketball Coaches Association called for the elimination of recruiting-related text messaging back in 2004. "Two years ago, I think women's basketball coaches were quite prophetic," says WBCA chief executive director Beth Bass. "Now it is definitely being abused. The popularity of this technology in the recruiting process has gotten absolutely insane, and now it has become a men's basketball issue and a football issue. So now we're trying to harness it, and it's hard to get that horse back in the barn when it's been out roaming around."
If the NCAA ultimately decides to limit or make illegal text messaging, compliance officers on individual campuses will be left holding the reins. "The onus is on the institution to track and maintain records to show compliance with the rules," says Travis Feezell, athletic director at Division III Macalester College and president of the National Association of Athletics Compliance Coordinators. "These days, it's not just logbooks kept by coaches. Many departments are starting to audit records of both institutional phones and personal cell phones used for recruiting. But with text messaging, there isn't necessarily a record. So how does the institution then take on the burden of tracking that and showing that it has institutional control?"
Atlantic Coast Conference associate commissioner Shane Lyons, who served as chair of the NCAA recruiting subcommittee until Sept. 1, says that records may be available for finite periods of time, depending on the service provider. But he concedes that obtaining such records is much more difficult than following a phone company's paper trail. He adds that in the future the recruiting subcommittee will consult with professionals in the technology field in an attempt to better track communications developments and thus be better able to anticipate their recruiting implications. "We're trying to be proactive, as opposed to reactive, with regard to situations like the one we're facing now with text messaging," Lyons says.
On Sept. 8, the Division I AEC Cabinet supported the recruiting subcommittee's time-restriction proposal, which now moves on to the Division I Management Council for consideration in January. So does the Ivy League proposal, which has the support of UConn's Edsall, but not the AEC Cabinet. Rejecting both proposals and preserving the status quo remains a third option, according to Lyons. Regardless of which option receives formal NCAA approval in the coming months, there will be plenty of interested parties monitoring its practical implementation. Says the WBCA's Bass, "I do think we need to restrict it somehow and also add some phone calls back into the process. That way, we still can have that communication with those prospective student-athletes to get to know them and see if they're going to be a good fit - and that's good for the kid, the coach and the program."