Sports consultant Dan Richie helps organizations communicate about teamwork and core values.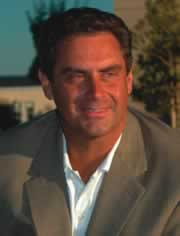 Pat Richie likes to joke that during his football playing days at Moorhead State University in the mid-1970s, he was "three times All-Mediocre." All kidding aside, the résumé ever since has been nothing short of extraordinary. While on his first job out of college, with the sports ministry Athletes in Action, Richie joined the NFL's San Francisco 49ers as an all-access consultant. That was in 1981, as the Niners were about to embark on a dynastic run of five Super Bowl championships in 14 years. Richie received a ring for each of the last three, a rare honor for a non-player. As founder of the Danville, Calif.-based consulting firm Sports Leadership Group, Richie's influence has sparked performance turnarounds for MLB's San Francisco Giants, the NHL's San Jose Sharks and a growing list of collegiate athletic departments and programs. Paul Steinbach asked Richie to explain his own rise as a professional.

Q: What exactly do you do?

A: It's all about teamwork, helping the organization work in a cohesive way. I might work with an athletic department's staff members so they can understand each other's strengths and weaknesses, create greater levels of trust, have healthy debate about what's best for the department and the university, and reach decisions to which they can hold each other accountable. It's very similar for coaches and players who want to work together at a much higher level.

Q: Isn't that what administrators and coaches are paid to do?

A: John Wooden won his first national championship in 1964. He became the head basketball coach at UCLA in 1948. When I ask coaches, "Do you think you have 16 years to allow teamwork to just happen naturally?" some guys laugh and say, "I'll be lucky to get 16 weeks." This isn't the 1950s. We have to accelerate the process of bringing a group of strong-willed, highly talented individuals together to work as a cohesive team. That's what I do.

Q: What about teams in more individualized sports?

A: I once asked two college swim coaches who found it really hard for their swimmers to work together as a team to write down their core values. One coach wrote down A, B and C, and the other coach wrote down D, E and F. They looked at each other, and it wasn't that they were bad coaches, but it was a conversation that they had never had. Shared values are important for organizations in terms of creating a profile of what to look for when drafting an athlete or recruiting one.

Q: How are core values best communicated?

A: I ask athletic directors to tell me their mission statement, and most of them can't remember it all. With the 49ers, I only needed to know two things: we were supposed to win Super Bowls, and we were supposed to do it professionally. Everybody in that organization - from the secretaries to the quarterbacks to the guys who cleaned the locker room - knew that. With that basic purpose in mind, all decisions were made, and everybody in the organization was focused on getting better.

Q: Have you seen improvement in yourself over the years?

A: Every time I go anywhere to consult with somebody, I'm learning. The great part about consulting is you're better every time you do it.