Prep football enjoys its highest-profile season ever, thanks to an expanded TV schedule.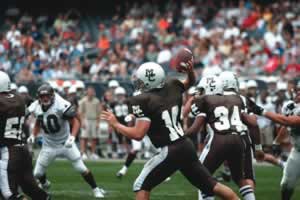 In August, just as high school football kicked off in communities around the country, MTV premiered "Two-A-Days," a reality program that followed the 2005 Hoover (Ala.) High School Buccaneers - heralded by both Sports Illustrated and USA Today as the top prep football team in the country. Cameras rolled both on the field and off as the team chased (and captured) its fourth state title in five years, struggled with personal relationships, parents and academics, and faced the pressures of demanding coaches and community expectations.

The series became an instant hit, no doubt bolstered by a nine-page feature about Hoover High in the Aug. 28 issue of Sports Illustrated. In that story, recently transferred twins Brandon and Byron Clear told writer Lars Anderson that they first heard of Hoover when ESPN aired the Bucs' 50-29 victory over Ponte Vedra, Fla.'s Nease High School in August 2005. Their father, a lieutenant colonel in the U.S. Army stationed in Montgomery, Ala., now commutes 83 miles, each way, just so his sons can play for Hoover coach Rush Propst.

ESPN has played a particularly pivotal role in the evolution of high school football this season. The network and its sister stations, ESPN2 and ESPNU, are in the midst of a schedule that includes no fewer than 13 national broadcasts of regular-season football games. By comparison, ESPN carried just three prep football contests nationally in all of 2005. Meanwhile, FSN is featuring close to 100 games in local markets.

The broadcast boom has left some observers to ponder whether the exposure has become exploitive. "I think sometimes too much of a good thing is not healthy," says Peter Roby, director of the National Center for Sport in Society at Northeastern University. "The innocence of high school sports gets worn away a bit when it starts to be so commercialized."

That erosion of innocence actually began a long time ago. "High school sports have been publicized and written about for more than 50 years," says Rashid Ghazi, a partner with Paragon Marketing Group, a Skokie, Ill.-based sports marketing consultancy that packages interscholastic football and basketball games with ESPN. "Everyone is talking about how high school sports are hot now because of 'Two-A-Days,' 'Friday Night Lights,' ESPN and FSN. But it's like everything else: Once people see something on television, it becomes bigger. We're just taking the interest that's built up over the years to the next level. Everyone's got to keep this in perspective. Most of the time, if there's a good high school game up against a good college game, the college game is still going to grab better ratings."

"We're not serving this up as if it was professional sports," Burke Magnus, ESPNU's vice president and general manager, told Florida's Palm Beach Post in late August, days before ESPN kicked off its 2006 prep coverage with a matchup between the James F. Byrnes Rebels of Duncan, S.C., and the Glades Central Raiders of Belle Glade, Fla. "We don't treat it like a life-or-death situation. Yes, recruiting is a big deal, and several of the kids are going to go on to D-I scholarships or even the NFL. But for the vast majority of these kids, this will be the biggest spotlight ever on them."

Relatively few teams see that spotlight, but for those that do, it's usually the result of the right combination of player talent, administrative support and luck. "If you asked people at Corcoran in Syracuse, N.Y., three years ago if they were going to be on national TV, they probably would have told you 'Never,' " Ghazi says about the unranked team. "But they're on, because they're playing Christian Brothers Academy in Albany, one of the best teams in the nation."

Most ESPN pairings this season were determined by the schools involved, not by the network, Ghazi says, adding that Paragon tries to strike a broadcasting balance between geographic regions, suburban and inner-city schools, and nationally ranked and unranked teams. Games are typically played in one of the schools' home stadiums before onsite crowds of 10,000 or fewer fans. "In a high school stadium, we get the band, the cheerleaders, the atmosphere and the intimacy, and those things translate well to TV," Ghazi says. "Part of what we're trying to do is showcase the sport in its best light."

The National Federation of State High School Associations tried to do that in 1989 when it partnered with Gatorade and the now-defunct SportsChannel America to introduce the "High School Game of the Week." Available in 13 million households, the live national telecasts of football, basketball and volleyball games, as well as track and wrestling meets, featured future NFL running back Robert Smith and NBA All-Star Anfernee "Penny" Hardaway and sought to expose the benefits of interscholastic athletics with onscreen player statistics that also included academic information and extracurricular involvement.

All told, 49 live events were broadcast over two years. Then Gatorade effectively pulled the plug on the concept when the company dropped its sponsorship in 1991. Nevertheless, the "High School Game of the Week" was clearly ahead of its time. "Something like that had never been done before," says NFHS assistant director John Gillis, who oversaw the program. "And here we are now, seeing ESPN and other networks doing more and more national broadcasts every year."

Now the National Federation is hoping to make the most of prep sports' maturation into a viable marketing product by teaming with T-Mobile USA Inc. The first fruits of that partnership will be seen next month at the T-Mobile Invitational - a national high school basketball tournament slated for Dec. 27-28 in Seattle.

The event, the first of its kind sponsored by the NFHS, will be held at the University of Washington's Bank of America Arena and will spotlight eight of the nation's top prep teams (four boys' and four girls'), as determined in part by USA Today's "Super 25" rankings. T-Mobile, which will cover all teams' travel expenses, was seeking a national broadcast partner as of this writing. Plans call for promotional spots advocating the value of high school sports to air during commercial breaks, similar to the NCAA's "most of us will be going pro in something other than sports" campaign. "The timing of this is excellent," Gillis says. "We definitely want to use the tournament as a vehicle to convey the positive benefits of high school sports. That's not to disparage what the other networks are doing, because from a broadcasting standpoint they do excellent work."

But the federation's three-year contract with the telecommunications provider goes beyond broadcasting. Educational activities for participants will be tied to the invitational weekend, and T-Mobile will help resurrect the short-lived annual NFHS Student Leadership Conference, which had been dormant after running low on funding.

In a way, the T-Mobile deal represents the best of both worlds for the NFHS. It allows the organization to promote its philosophy of high school sports on a major national stage while having control over how that message is delivered.

It's a message Ghazi believes in, too. He's often asked to address teams that are about to compete on national telecasts to remind players of their privileged role and stress the value of playing hard and displaying sportsmanship. "I tell them, 'You are representing high school sports tonight. You're not just representing your team or your city or your state.'"