"Clearly, we have gotten to a point where fan behavior is worse than it was 20, 10 and even five years ago."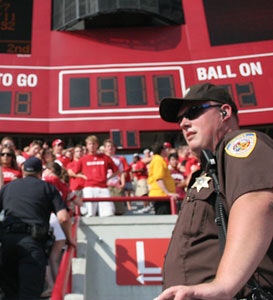 In October, the Columbus (Ohio) Dispatch published its analysis of university police reports relating to Big Ten Conference football games played in 2005. It appears that the buzz obtained by individual fans fuels more than just the roar of the crowd.
After poring over reports from all 11 conference member schools, the paper found that possession and consumption of alcohol played a role in nearly three-quarters of all fan-behavior problems at Big Ten games, and in fact was the number-one reason for ejection.
Among the other findings:
The University of Wisconsin placed fourth in Big Ten football attendance in 2005, yet easily led the league in ejections with 413 of the 924 total. A September Michigan-Wisconsin game in Madison led to 122 ejections alone.
A combined total of 863 tickets were issued and arrests made across the conference.
Late-afternoon and night games produced the majority of incidents, even though most Big Ten games kicked off before 3:30 p.m.
A visit from Ohio State often meant trouble on the field (the Buckeyes were eventual conference co-champions) and in the stands (Michigan and Penn State logged season-high single-game incident report totals - 74 and 73, respectively - while hosting OSU). Fifty citations were issued during the regular-season finale in Ann Arbor.
At home, Ohio State logged a mere 24 reports for the season, the same number as Indiana, which attracted only a third as many fans.
When Penn State traveled to Michigan in October, police entered the stands in response to 28 calls of disorderly conduct, or roughly 18 percent of the conference-wide disorderly conduct total for 2005.
The
Dispatch
also highlighted measures now in place at several schools to combat excessive intoxication at games. This season, Wisconsin began revoking for one year the season tickets of fans charged with a misdemeanor or worse, or whose tickets were held by a third party causing similar trouble. Badger fans drunk enough to be taken to a county medical facility were held there for a minimum of 12 hours and likewise stripped of their season tickets.
Following the 2005 regular season, during which fans launched urine-filled bottles at the Ohio State marching band during a visit to Penn State, university officials held a fan safety summit in State College and subsequently banned tailgating while games are in progress. At Michigan State, individuals caught possessing alcohol inside Spartan Stadium are ejected and charged with trespassing, a more serious legal consequence than the typical alcohol citation. At Purdue University, alcohol-packing spectators go directly to jail - not some back-room stadium location - for processing.
"Clearly, we have gotten to a point where fan behavior is worse than it was 20, 10 and even five years ago," Murray State University psychology professor Daniel Wann, an expert on fan behavior, told the Dispatch. "We have known for decades in psychology that alcohol facilitates aggression. And we see proof of that game after game. Many of the universities and the NCAA are taking this seriously now."