Overcrowding has forced some schools to reexamine their student ticketing procedures.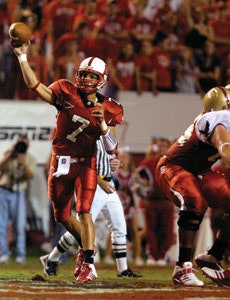 It would come to be known among North Carolina State University students as the kernel urinal - any discarded popcorn bucket suitable for relieving oneself without having to exit the most coveted seating sections within Carter-Finley Stadium. To seek relief in the football venue's designated facilities during the Atlantic Coast Conference opener Sept. 23 against Boston College would mean surrendering a seat along the sidelines, and quite likely turn a student's paper ticket into a passport to one of the end zones, or worse, the upper deck - far from friends and the field.
Call it truly desperate or merely disgusting, this practice - as reported in the Technician student newspaper - got both the N.C. State athletic department and the school's student government to stand up and take urgent notice. Within days, student leaders, ticketing and facilities management officials, campus police, and representatives from the chancellor's and student affairs offices gathered with an eye toward the Wolfpack's nationally televised Thursday night game against Florida State looming less than one week away.
At issue was abuse of the university's two-year-old online ticketing system, which allows students to print out their own bar-coded ticket for stadium access. Problems arose when students discovered they could scan their original printed ticket and electronically edit its section designation for a second at-home print run. Once the legitimate ticket got students through the turnstiles, the counterfeit ticket could be used to dupe ushers into letting an inordinate number of students sit in the best sections.
As soon as public safety personnel assigned to the Boston College game noticed an unsafe situation developing in the stands, they suspended all reentry into the overcrowded sections. But in doing so, they inadvertently discouraged students from ever leaving. Enter the kernel urinal. "They didn't tell students they couldn't go to the bathroom or couldn't go to the concessions stand, they just said they weren't going to be able to come back into this section," says Dick Christy, N.C. State's associate athletic director for external affairs. "Luckily, we had no major injuries reported, so I know that it wasn't painfully full. But at the same time, it was an unsafe situation that our public safety people identified and addressed."
North Carolina State is not the only school to address an unsafe situation regarding student ticketing this season. A week earlier, an unusually large contingent of University of Southern California students descended upon Los Angeles Memorial Coliseum hours before the Trojans' home opener against Nebraska. Trouble was, the university had reduced the number of general admission seats available to students from 12,000 to 8,000 following the 2005 season, when much of the student section remained vacant for most games, even as the general public packed every remaining corner of the Coliseum. In fact, over the past three seasons (during which USC was a perennial BCS qualifier, winning the national title in 2004), average student attendance for Trojan football fell just short of 7,000.
On this day, though, 8,800 students showed up, much to USC officials' surprise. Ultimately, most were accommodated, but not before heavy congestion outside the gates and inside stadium concourses caused some students to suffer minor injuries. Wrote vice president of student affairs Michael Jackson in an open letter to the USC community Sept. 26, "We did not plan well; we did not communicate well; we did not seek student advice to the degree that we needed to. But we have learned some important lessons that will be put to good use in the immediate future."
USC promptly announced that it would free up blocks of reserved tickets and bump up student seating to 8,600 for subsequent 2006 home games, then raised the number to 9,200. In addition, standing-room-only options were discussed with the fire marshal and Coliseum management. Student access to the stadium was further eased by measures that rerouted waiting lines and opened gates earlier before games. By next season, the school hopes to have in place a reserved-seating plan that will avail half-priced season tickets to all of USC's 16,400 undergraduates.
Other schools claim they don't have that luxury. Penn State University, for example, earmarks roughly half as many seats in Beaver Stadium as there are undergraduates on the State College campus. Even as the stadium has been expanded in recent years to a capacity of 107,282 seats, students have consistently had access to only 21,000 of them. "That becomes a major fiscal issue, because we do not receive any financial support from the state or the university," says PSU manager of ticket operations Bud Meredith, speaking for the athletic department at large. Coming off a 2005 season that saw the Nittany Lions ranked third in the nation, Penn State sold out its student season tickets (priced at $166) within days, turning away thousands of prospective buyers in the process.
While falling well short of meeting demand with its limited supply, Penn State nonetheless is credited with a model seat-assignment system that helps mitigate overcrowding on game days. Students receive a coupon that is redeemed for a paper-ticket seat assignment at the gate, allowing students flexibility in determining with whom they wish to sit on any given Saturday. Seats are assigned in serpentine fashion - down one row and back the next until the 100-row student sections are fully loaded from bottom to top. It's a vast improvement from a dozen years ago, when festival seating ruled Beaver Stadium's student sections. "Festival seating got very ugly at Penn State," Meredith says. "We had to come up with a new system. We're constantly in a sellout mode, and with festival seating you can't always find those empty holes when the last kids are coming to the game. Now, we know where they belong - we can get them off the ramps, get them off the aisles and get them in their seats."
North Carolina State's solution - for this season, at least - involved stamping the hands of students with their section designation as they entered Carter-Finley Stadium. The first 2,600 students through the turnstiles received a "7/8" stamp, and were thus guaranteed a seat somewhere in the adjoining sideline Sections 7 and 8. The south end zone, north end zone and upper deck sections were then filled in order. Says Christy, "It was not considered an end-all plan, but at least it did not blow up the entire system that we had in place. We did have to increase our staffing, but something had to be done to allow for a safer environment on game day. The safety of the students comes first."
While forgery and overcrowding were effectively curtailed, some students missed the complete randomness of the existing online lottery system, which gave all students a fair crack at a sideline seat, as well as a guarantee (in theory) that such a seat would be there even for late-arriving students. "Now those students are guaranteed to sit in the top section," concedes student body president Will Quick. "But I personally feel, and I think the overwhelming majority of students agree, that if you're willing to stand in line and be among the most dedicated fans, you deserve to have seats closest to the team."
Quick made a point to pass through the line when gates first opened for the Florida State game, then again 45 minutes later, and finally 10 minutes after kickoff. The initial push through the hand-stamping process took the most time, he reports, adding that he intended to meet with athletics officials after the season and lobby them to open more stadium gates to students, and open them earlier. On balance, though, Quick submits a favorable critique of this year's ticketing tweaks, and for no shortage of reasons. "The hand-stamping allowed students to enter and leave their section with no trouble and no worries," he says. "We filled the bottom sections quickly, and that's good for the team to see. Plus, it's a lot harder system to cheat, so we're not getting the overcrowding that we were getting before, and we're not seeing students doing improper things in the stands."