A fight club death in a California park spurs a Michigan community's timely local response.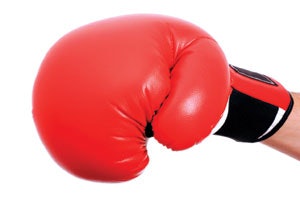 Jefferson Pitner wasn't known as a troublemaker. Rather, the 16-year-old was a model student at Palm Desert (Calif.) High School. The 11th-grader took honors classes and played in the jazz band. His principal described Pitner as a "nice boy" with many friends.
Thus, all the more shocking came the revelation that Pitner's death Oct. 1 was the result of his participation in an underground fight club. According to police reports, with 12 fellow club members surrounding him, Pitner collapsed at Palm Desert's Civic Center Park after sustaining a serious head injury. He had endured at least three mid-afternoon bouts, each lasting one to three rounds.
No one was more surprised than Janis Steele to learn that this quiet, out-of-the-way town of 41,000 residents had its very own fight club - and one operating in public parks, no less. "These guys are good kids, but I'm not sure they even realized the seriousness of what they were doing," says Steele, Palm Desert's parks and recreation services manager. "My guess is that they were probably pretty well versed at hiding it."
The teens were so adept at disguising their violent activities that they fooled park patrollers passing through Civic Center Park mere minutes before Pitner was dealt his fatal blows. "Our park patrol had actually seen three or four kids with gloves just working out, doing some shadow boxing. No big deal," says Steele. "The park ambassadors stood there for three or four minutes, just to make sure everything was on the up and up. The kids weren't out of control or anything. But when they came back an hour later, there was a guy down."
Few people in Palm Desert believe that Pitner's peers intended to cause their friend any lasting harm, let alone kill him. "There was no malice ... It was simply a tragedy," Riverside County undersheriff Neil Lingle told The Desert Sun on Oct. 17, when he announced his department's decision not to file criminal charges against the fight club members. "These are kids. These are boys being boys."
Perhaps, but public officials in other states aren't letting fight club participants off the hook simply because of their raging teenage hormones. Cases of consensual fighting between teens have been uncovered - and prosecuted - this year in at least four states. The Tarrant County, Texas, district attorney's office, for example, indicted four adults on charges of aggravated assault and engaging in organized crime. Two juveniles were also arrested. The fights in question, which took place primarily in the city of Arlington, were held during broad daylight on school grounds and in parking lots.
Meanwhile, officials with the Detroit suburb of Warren - who in September learned of fight club activity taking place within their public parks - don't have the patience for the tedium of a jury trial. And they certainly aren't prepared to deal with the aftermath of a fight club participant's death within city limits. Rather, Warren's leaders are hoping to send a preemptive message to the young people of their community. At an Oct. 10 meeting, the Warren City Council voted 8-1 in favor of a new ordinance that makes it a civil infraction to hold fights at municipal parks and facilities. Violating the ordinance carries a fine of up to $1,000.
"Kids don't really have good judgment on these things," says Warren communications director Joe Munem. "I suppose we could've gone after them for disturbing the peace. But quite frankly, we can put higher fines on a civil infraction than we can on a 90-day misdemeanor. Under Michigan law, criminal infractions are only allowed fines of up to $500. So we figured, 'Let's not give them a criminal record. Let's hit them where it hurts.' If they're found responsible for this stuff, these kids are going to have to mow a lot of lawns."
As unfortunate as it was, Pitner's death 2,300 miles away provided Warren mayor Mark Steenbergh the political muscle he needed to push the ordinance through council chambers. According to Munem, Steenbergh had spent most of September lobbying for such a law after police working as school liaison officers were tipped off to the existence of the South Warren Knockouts - a fight club made up of students from two high schools who recorded their bouts in private backyards and public parks, and then posted the videos on MySpace.com.
As for the Warren teens' very public display of aggression, Munem says, "These kids obviously hadn't seen the movie Fight Club, because they don't know that 'the first rule of Fight Club is you do not talk about Fight Club.' "
Internet postings of fight clubs on sites like MySpace.com and YouTube.com have in large part been responsible for informing local authorities of the illegal activities often taking place right under their noses. The park at which the South Warren Knockouts fought, for example, was easily identified by the city's recreation director after he was shown a video posted on the group's MySpace.com page.
Warren's new ordinance has drawn some criticism from community members concerned that the law compounds the fight club problem. Munem can sympathize with such reasoning - to a degree. "This ordinance does not preclude kids from fighting in their backyards," he says. "In fact, someone pointed out to me that all we did is drive this activity further underground. Well, fine. But if something goes wrong and someone gets hurt at home, God forbid, at least the taxpayers of this community aren't going to be on the hook for it."
Still others, mainly youths, have complained that the city is lashing out against contact sports enthusiasts - a critique with which Munem takes issue. "The mayor was a high school state wrestling champion at the very school these kids attend. He also went to college on a football scholarship," he says. "The mayor is hardly averse to contact sports. Nor is he averse to boxing. But you box in a ring with trainers and adult supervision, with headgear and mouthguards. These kids were having a free-for-all in a park, and that can't happen. The mayor is not going to condone gladiatorial games in our parks."