Jennifer Carter, director of sports psychology at Ohio State University, discusses the role of sports psychologists on college campuses.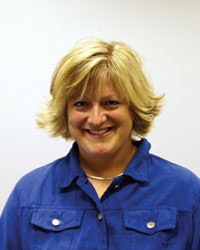 Jennifer Carter joined the Kenyon College women's swim program in the midst of its streak of 17 straight NCAA Division III national championships. She understands pressure, and how to handle it. In fact, coming out of a junior-year "emotional funk" that she views in hindsight as mild depression, Carter garnered the 1994 Honda Award as the Division III Athlete of the Year. Today, Carter, a masters swimmer and triathlete, is in her eighth year as director of sports psychology at Ohio State University, one of only four schools in the country whose athletic departments employ at least one licensed sports psychologist full time (OSU, with its 900 student-athletes and 300 athletics staff members, has two). Paul Steinbach asked Carter to analyze her current role with the Buckeyes.
Q: What exactly does your job entail? A: There are two different activities that we do within the athletic department. One is mental skills training with teams and individuals - working on improving the performance of student-athletes by teaching them relaxation techniques and imagery skills, for example. The other has more to do with counseling those with such mental-health issues as disordered eating, substance abuse and depression.
Q: Are today's student-athletes willing participants? A: With the mental skills training, it's really up to individual coaches to decide whether or not they would like us to come in and meet with their team. With the counseling, athletes from all teams are welcome. We have found, however, that athletes on teams that we've met as a group are much more likely to access our services individually. Athletes who get to know us in a performance context realize that we're not these weird shrinks - we care about them, we know what they're going through and we understand their pressures.
Q: What can a student-athlete expect during an initial face-to-face with you? A: It's pretty informal. I ask them why they're coming in and what they hope to gain. I talk to them about confidentiality, that what we discuss will not be shared with others without their permission. Some athletes have never been in counseling before. Some have never been asked, "How do you feel?" It's a very collaborative relationship in that I'm not giving advice but rather trying to help them find out through conversation how they feel and what they think about their situation.
Q: Why are sports psychologists so rare on college campuses? A: There has been a lot of skepticism about psychology in the world of sports. It really requires a lot of trust on the part of coaches that what we do is going to help them, and it requires them to give up some control. It's a challenge. Sports creates a culture of "do it yourself, don't let anybody see you be vulnerable, be tough." For athletes to admit they have mental health problems, or ask for help, goes against that culture.
Q: Does sports psychology still factor into your own competitive career? A: As opposed to my college days, I'm now participating in sports purely for the social benefits and the physical and mental health benefits. The competitive fire isn't there every day. However, the performance skills that I teach best are those that have worked for me, because I can really relate.