Partnerships with hospitals are reshaping how high schools operate their athletic programs.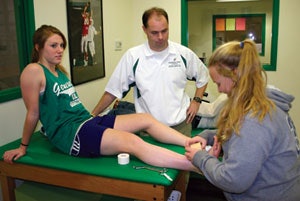 Geneseo High isn't the only school in northwestern Illinois struggling with fluctuating enrollments, courtesy of a thinning population base. But an evolving partnership between Geneseo Community School District #228 and nearby Hammond-Henry Hospital has effectively turned the 42-year-old, 950-student school into a destination point.
The center of attention is the 40,000-square-foot Geneseo Foundation Activity Center - originally designed to simply allow multiple high school athletic teams to practice simultaneously. Today, two-and-a-half years after it opened, the $2.1 million building houses hospital-supported certified athletic trainer (ATC) services, specialized performance-enhancement programs and wellness instruction, plus local Little League practices and non-sporting community events. A small rehabilitation clinic for both students and athletes was expected to open by the end of 2006, and a corporate wellness program for all school employees is in the works.
"Even though our enrollment figures have dropped, the number of participants in athletics has increased," says Geneseo athletic director Travis Mackey. "And we are getting people to look more closely at us when they relocate. We recently had a family with five boys move into the area from Virginia, and they picked our school - in large part because of that facility. We're hoping that we can continue to attract families, not only from an academic standpoint but also because of what we offer outside of the academic framework."
Hammond-Henry Hospital - located three blocks down the street from Geneseo High - reaps significant benefits from the partnership, too. All injured student-athletes are referred to the 105-year-old facility, and the ATC presence fosters strong community ties.
"We're the two largest employers in town, so it's always a good idea to know what's going on with each other," hospital chief executive officer Brad Solberg says, recalling the initial conversations he had with district superintendent Scott Kuffel regarding a potential partnership. "I don't think either one of us was responsible for putting something in writing and saying, 'This is what we can do for you.' It was just a matter of saying, 'Hey, do you think we can do this?' or 'What do you think about that?' And it just kind of blossomed from there."
Three years ago, Hammond-Henry began offering individual performance-enhancement training to student-athletes in an off-site storage garage. But after the Geneseo Foundation Activity Center opened in 2004 with three basketball courts, a four-lane track, batting cages and a 6,500-square-foot weight room, the hospital contracted with the school to provide ATCs at a variety of sporting events and practices, as well as offer free injury screenings.
Last summer, the district and the school took their relationship to the next level by bringing the performance-enhancement sessions under the activity center's roof and bolstering existing middle and high school wellness classes with advanced programs overseen by a hospital-employed strength and conditioning specialist.
All told, three hospital staff members spend the majority of their days (and some of their nights) at the school, working in an office adjacent to the Activity Center's weight room - now downsized to 5,000 square feet. The new rehab clinic will likely keep them at the school even more. "We will be able to provide rehab services at the athletic facility, just like we would at the hospital," Solberg says.
Officials at O. Perry Walker High, a charter school in New Orleans, had the same idea when they opened a school-based health center last March. In addition to providing licensed pediatricians, a social worker, a nurse, a health-care educator and a dentist, the clinic treats sports injuries and has conducted physicals for athletic teams. The Louisiana Department of Education, which is working with both the state Department of Health and Hospitals and the Orleans Parish School Board, hopes to have 20 such clinics operating inside New Orleans' public schools by 2009.
During the first six months the Walker clinic was open, 1,200 students from that school and nearby Fischer Elementary and Karr High returned forms signed by their parents or guardians, allowing them to be treated at the facility. In August, clinic director Clint Ball proclaimed the clinics-in-schools concept as "revolutionary" in the city's Times-Picayune newspaper, telling reporter Melinda Morris, "I've got so many things I hope we can eventually do."
That's the feeling back in Illinois, too, where Hammond-Henry also now provides ATC services and injury reporting at four smaller area high schools. At Geneseo, lead ATC Todd Ehlert has even developed a student trainers program, which teaches students how to tape athletes, perform CPR and accomplish other basic tasks. Eight students participated in trainer activities during the fall sports season. "I have kids who do it because they are looking at physical therapy, athletic training or nursing as a career," Ehlert says, adding that he's in talks with area colleges to help student trainers earn credit for their experiences. "These kids are looking at their future and want to help their school at the same time."
Clearly, a role exists for hospitals within high school athletic departments. But Hammond-Henry officials say they don't want to spread themselves so thin that the partnerships with Geneseo and other schools become ineffective. "We're not looking at expanding our radius or anything like that," Solberg says. "We just want to make sure that we can continue to provide services that are needed in those schools. Right now, all we're doing at a couple of those schools is athletic training, and there is so much more that can be done - just like we've done at Geneseo."
Ehlert, who also created a student trainers program at La Vista High School in Papillion, Neb., before arriving at Hammond-Henry and Geneseo High, wouldn't be surprised if more schools and hospitals strike deals to provide a higher standard of care for student-athletes. "It's one of those trickle-down things," he says. "Most colleges have something like this, and high schools want to be like colleges. It's just going to take time, and every community is different. You're going to have some administrators who believe in it and others who don't. We just have a very unique situation in Geneseo, where the hospital and the high school get along really well."