Athletic departments reflect on the need for public prayer rooms in sports venues.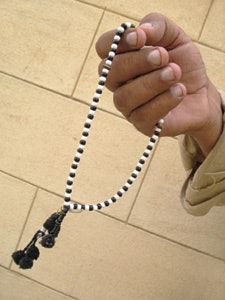 It must have been an unusual sight for the unsuspecting football fan in line only to purchase a soft pretzel. There on the soiled concourse floor at Ryan Field was Northwestern University junior Ashar Wasi and other Muslim students kneeling in prayer. They had little choice, they say. "We had to pray in front of the concessions stand, in front of all the people," Wasi told The Daily Northwestern student newspaper after the 2006 season.
Added senior Amir Siddiqui, president of the university's Muslim-cultural Students Association, "Oftentimes while students are at sporting events, the prayer time falls during the game. If there was a space to pray, or even an opportunity for students to leave and re-enter, things would be better. Right now, it can be difficult."
Between 20,000 and 48,000 fans attended each of Northwestern's six home football games last year - among them, at least 20 Muslim students, according to Siddiqui, who has repeatedly called on the NU athletic department to designate space within adjacent Welsh-Ryan Arena for spectator prayer - a five-times-daily commitment for Muslims - during Wildcat football and basketball games.
While controversial (one participant in an Internet discussion of the NU situation called the McSA request "soft jihad"), the concept of public prayer rooms in sports venues is not unprecedented. In 2005, during an NFL game attended by George H.W. Bush, a group of Muslim men seen praying in close proximity to the main air intake duct at Giants Stadium subsequently faced 30 minutes of FBI questioning. That incident prompted the New Jersey Sports and Exposition Authority to create 20-by-20-foot spaces it calls "nondenominational quiet rooms" both in the stadium and in nearby Continental Airlines Arena. And just this past November, the Bolton Wanderers Football Club laid claim to being the first professional sports organization in the United Kingdom to offer fans a "purpose-built quiet room for prayer and contemplation" when it debuted such a space on the lower concourse of Reebok Stadium. According to the Wanderers' web site, "After successfully launching their 'Unity and Diversity' initiative at the recent Wigan Athletic home match, the Wanderers were keen to act quickly on recommendations that a quiet room facility would be advantageous to attract new supporters from the religious and culturally diverse communities of the town."
For now, at least, the Northwestern athletic department isn't prepared to make the same leap of faith. As reported by the Northwestern News Network, a statement issued by associate athletic director for external affairs John Mack offered the following explanation for NU's inaction: "We simply don't have the space at our football and basketball facilities to accommodate the request from the Muslim-cultural Students Association. We took the issue very seriously and discussed it at length, but ultimately there are no areas that we feel are appropriate for this request."