In a real-life Christmas story, members and staff give time and money to save their beloved health club.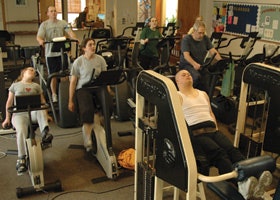 City Health Club is a different sort of club in a different sort of community: The 24-year-old business, founded along once-unsavory Green Street in Ithaca, N.Y., is described with a laugh by Frank Henry, its office manager, as "a for-profit that for a number of years has operated like a nonprofit, believe me." Nonetheless, when owner Toni Lieb announced on Dec. 10 that the club would close its doors the Saturday before Christmas, the reason was money - or rather, a lack of it. With memberships having dwindled from a peak of 1,200 down to about 600, it was "not economically feasible for us to remain open," she said at the time.
Although what followed - the death of a club and its immediate resurrection - sounds like the basis for an Easter sermon, it's really more of a Christmas story, since generosity from every quarter kept the lights on past the holidays and into the new year. Members came forward to offer their help, financial or otherwise. What was left of the staff worked without pay and held meetings to form a plan for taking the club's reins and keeping it running. And Lieb said, basically, You want it? It's yours.
Log in to view the full article