Robert Cavazos discusses his mission of encouraging more University of Texas students to attend non-revenue sporting events.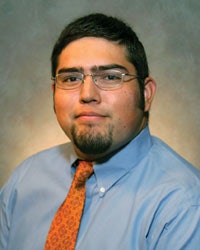 When Texas Tech broke up a no-hit bid by University of Texas softball star Cat Osterman during the fifth inning of a game last April, Robert Cavazos was among the 657 fans in attendance. It was a friend of Cavazos' who legged out the Red Raiders' lone single, but then there are few non-revenue sports participants at Tech who aren't familiar with the junior business marketing major. As founder of Tech Small Sports, an informal fan club that nonetheless has been formally recognized by the university as an official student organization, Cavazos more often than not is there in person to support his school's underappreciated athletic teams. Paul Steinbach asked him to explain how attending such events with his band of 10 or so core followers became a passion.
Q: Whose big idea was Tech Small Sports? A: In my residence hall during freshman year, I got to meet the entire women's soccer team. We went to our first women's soccer game because the soccer stadium isn't that far from the dorm. Once we checked it out, we were like, "Hey, we should form a group." We were just joking around in the stands, but the other guys dared me to go ahead and make it official. I got all the paperwork from the Center for Campus Life, filled it out, turned it in and selected an advisor. That was the starting point.
Log in to view the full article