Fitness is becoming more engrained in the character of law-enforcement agencies.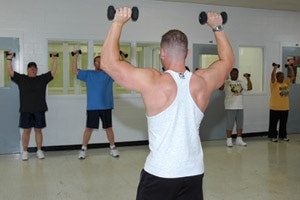 Taking a cue from the popular reality-television series "The Biggest Loser," Grant Homa hopes to help 30 Department of Corrections employees with the Palm Beach County (Fla.) Sheriff's Office shed a collective 360 pounds by mid-June. The department's own "Biggest Loser" participants - who each paid a $10 entry fee - are nearing the end of four months of weekly fitness challenges and weigh-ins. But they've remained upbeat, a factor Homa attributes to the $1,000 cash incentive that will be awarded to the person who drops the most weight.
"People here are really big on competition," says Homa, a former Gold's Gym personal trainer hired in December to oversee a series of new fitness and wellness initiatives for the sheriff's office's 3,000 or so employees (plus their spouses). "We've noticed that cash is always a good incentive. Sixteen weeks is a long time for these people, especially if they've never had a fitness routine."
Homa spends one day a week at the county jail, creating exercise programs and offering nutrition advice, overseeing weigh-ins and workouts, and teaching a 60-minute body-sculpting class that includes walking, jogging and aerobic and isometric activities. He eventually hopes to develop similar "Biggest Loser" programs at the organization's seven other fitness centers.
The Palm Beach County Sheriff's Office has been at the forefront of law-enforcement fitness for years with its Health and Fitness Unit, going well beyond the once-standard practice of simply offering employees discounted memberships to local health clubs or hosting voluntary fitness classes (see "A Call to Arms," March 2003, p. 67). "We're trying to make everybody here healthier," Homa says. "The sheriff's office is comprised of more non-sworn employees than sworn officers. But everyone backs up the sworn officers, and we can't have 911 dispatchers and other support people absent from their jobs because they're sick."
Improving the physical and psychological health of the nation's law-enforcement personnel has become a greater priority in recent years, to the point where Department of Homeland Security grants are funding fitness programs at police and fire departments around the country. A department spokesman says that President Bush would prefer grant money be spent on "terrorism fighting and not fitness equipment," but admitted to the Sun-Sentinel of Fort Lauderdale, Fla., that communities are justified in using the funds to equip workout facilities, because police officers and firefighters are the first responders to domestic terrorist attacks.
That said, efforts to incorporate fitness more fully into law-enforcement employees' workdays often stop short of mandatory fitness tests. In Florida, various unions have balked at plans to do just that by both the Palm Beach County Sheriff's Office and the state's Department of Corrections. But they haven't stopped Homa and fitness specialist Sgt. Stan Bullard from doing everything else they can to ensure the long-term health and wellness of the force.
In addition to the organization's "Biggest Loser" program, Homa has spearheaded employee exercise programming for beginners at department headquarters' 5,000-square-foot, 24-hour fitness center, smaller substation facilities and Eagle Academy (a first-of-its-kind residential facility for at-risk boys between the ages of 13 and 16). A request for $500,000 worth of new equipment at those facilities was pending as of this writing. And later this month, the department will resurrect its popular Olympic Games-style competition, which had been canceled the past few years because of hurricanes and other setbacks. Nearly 200 employees are expected to compete in events as diverse as arm wrestling, bench press, bowling, swimming, running and pistol shooting. Says Homa, "They keep giving me more and more things to do, but I can handle it."
The question now is, can everyone else?