Compliance primers adorn the restroom walls of some university athletic facilities.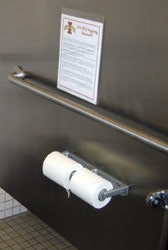 An increasing number of University of Colorado fans are flush with compliance knowledge these days - particularly if they've visited the restroom during a Buffaloes football or basketball game. CU's "Tips from the Toilet," short reminders of what representatives of the university's athletics interests (boosters and ticket holders) can and can't do within NCAA rules, are laminated and taped to the walls above urinals or on the backs of stall doors. "I know that women are going to stand in front of the mirror a little longer than the men," says CU assistant athletic director for compliance Julie Manning, "so I put them up there, as well."
The first postings appeared two years ago in the Dal Ward Athletic Center, an administrative building, and targeted primarily student-athletes and staff. To reach more boosters, the program has since branched out into spectator venues. Face-to-face and Facebook communication with prospective recruits is covered, among other hot topics. "We probably have 40 different messages that we put up throughout the course of the year," says Manning, adding that messages change weekly in the administrative building, before every home football game at Folsom Field and after the men's and women's basketball teams have played successive home games at the Coors Events Center. "They can change based on what we see as national issues, as well. If we see something happen with a booster and employment, for example, and feel like we haven't hit our boosters, student-athletes and staff often enough about it, then we'll go ahead and pop something up there again."
Tape may give way to permanent wall-mounted holders, as some postings haven't survived football Saturdays. That's how compliance briefs are displayed at Manning's alma mater, Iowa State University, which inspired Tips from the Toilet. ISU has posted tips in the restrooms of certain suites and club seating areas of Jack Trice Stadium, as well as its adjacent Jacobson Athletic Building, since the fall of 2006. Associate athletic director for compliance Josh Snyder says he's looking to expand the program into the Hilton Coliseum, with 120 to 150 new holders to be purchased from Staples at roughly $7 apiece. Content is provided by compliance assistant Dustin Gray, who came up with the restroom tips concept, and may range in form from crossword puzzles to straight news blurbs - or as Snyder describes them, "warning-shot write-ups to give our people a head's up that these are the kinds of things that can get them into trouble."
CU compliance officers haven't washed their collective hands of pregame public-address announcements or brochures mailed to season-ticket holders, which have become Division I delivery standards. But when asked if she can trace a decline in fans' compliance-related inquiries to the restroom primers, Manning says, "Actually, it's just the reverse. People are calling or they're using the posted e-mail account. We've heightened awareness of a lot of these issues, and we're getting people to talk about them. I hear that buzz, and I know it's having an impact."
Snyder personally vouches for numerous conversations resulting from ISU's restroom tutorials. "I was standing in the atrium of our building and one of our coaches came up and asked me a question. Another coach standing there said, 'Hey, I just saw that in the restroom,' " Snyder says. "He actually answered the question for me."