National Underclassmen Combine's David Schuman explains the importance of involving young football players in the college recruiting process.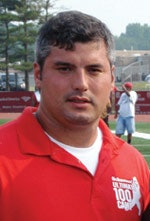 In 2005, when David Schuman launched the National Underclassmen Combine in an armory in Teaneck, N.J., he expected 70 or so high school freshmen and sophomores to show up and test their football skills. He got twice as many. In 2008, the 34-year-old Schuman, an MBA who majored in finance as a starting linebacker at the University of Connecticut, attracted nearly 10,000 aspiring collegians to more than 60 events nationwide - including Ultimate 100 camps, at which Schuman and his staff rank the nation's elite talent in each class. Beginning next year, the combines will expand to allow eighth-graders to shop their wares among college coaches. Paul Steinbach asked Schuman, who also runs performance training facilities, to describe his veritable fountain of football youth.
Q: Why did you focus on underclassmen in the first place? A: I was a high school coach with a couple of outstanding freshman who I wanted to see get some exposure. From that general idea, we researched it to see if there was anything like this out there. There really wasn't, so we said, "Well, let's run an event for these guys and see how it goes."
Q: Beyond the soaring participation numbers, how have you measured success? A: Out of that first combine, where a lot of high-end kids showed up, more than 20 of them went on to receive Division I scholarships. The current quarterback at Virginia Tech, Tyrod Taylor, came here when he was a sophomore. The starting cornerback for Florida, Joe Haden, was here as a sophomore and will probably go on to the NFL. Of the kids we've been able to follow up with, 70 percent of them have gone on to play college ball, and 20 percent of them have gotten some level of scholarship. It's becoming hard to track, because now there are so many kids moving on. But that was the goal, to provide that avenue.
Q: Do you wish you had had this avenue when you were entering high school in the late 1980s? A: Absolutely. The process back then was you submitted your video after your junior season. Active recruiting started the summer before your senior year, and how you played during that senior season dictated what you got. When we started our combine in 2005, it was fortunate timing in that college coaches were just starting to recruit earlier and offer kids scholarships in the spring of their junior year.
Q: Is eighth grade the new front in the recruiting wars? A: Honestly, I have no idea. But I have heard from [NUC sponsor] Rivals.com that they've had inquiries from college coaches about some kids that have done amazing things in eighth grade. It does seem a little wild, but my thought process on it is this: They have the option to go to the combine and have their results not mean anything, which allows them to place on it whatever importance level they feel is right. Many kids have not developed yet at that point, but they want the experience. On the other hand, if you are a stud eighth-grader and want it to mean something, I will ship out your results with everybody else's.