Gold's Gym in Green Brook, N.J. offers free month-long memberships to unemployed area residents.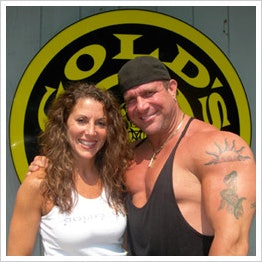 Photo courtesy of Gold's Gym Green Brook
With the unemployment rate in New Jersey pushing 7 percent as of late last year, the owners of Gold's Gym in Green Brook decided to introduce what they call the club's "Healthcare Stimulus Package." Throughout January, area residents who've lost their jobs can sign up for a free month-long membership valued at $69 (plus two complimentary training-orientation sessions), entitling them to use of the entire facility and all classes every weekday between 8 a.m. and 3 p.m.
"We constantly hear tales of woe," says Rob Zampetti, who has owned the 20,000-square-foot facility with his wife, Mary, for seven years. "People are scared to spend money. It's pretty grim."
The Zampettis (pictured) hope to make the situation a little less grim by helping unemployed members of the community (including former workers at failed investment firms Lehman Brothers and Bear Stearns) understand how the benefits of exercise can help carry them through tough times.
"When you finish working out, there's no other time of the day when you feel as good," Zampetti says. "The endorphins are flowing and the stress is gone. If you're not working out - if you're just sitting at home, stressing out and eating garbage - it's hard to get motivated to go look for a job. But when you're feeling good about yourself, the confidence is there, and I think that translates into getting a job. The worst thing to do is go into a job interview feeling lousy."
But what happens if - when the free memberships expire sometime in February - individuals now hooked on exercise and feeling good about themselves still don't have jobs? "I guess we'll cross that bridge when we come to it," Zampetti says.