Dartmouth College rewards students for attending home athletic contests.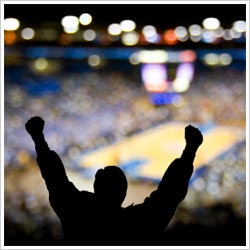 Want more students attending your school's sporting events? Give them free stuff.

Last year, Dartmouth College launched the Mean Green program, which rewards students with various giveaways depending on how many home athletic contests they have attended. At the University of West Florida, student organizations vie for a cash prize in the Argonaut Spirit Challenge, which aims to boost season-long attendance at UWF basketball games.

Dartmouth students choose from more than 20 designated events and sign in upon their arrival at each football, soccer, basketball or hockey game. A six-game showing is good for a Dartmouth winter hat, 10 games earns a travel mug, and 16 games garners a school hoodie. Students who rank among the 20 most-frequent attendees by year's end will each receive a pair of Boston Red Sox tickets. If that weren't enough incentive, students who attended at least eight events during the fall term earned physical education credit.

More than 700 students signed up for the program, including more than 100 who received PE credit in the fall. One member of the latter group, freshman Melissa Bearden, told the Daily Dartmouth student newspaper in January that she loves attending Big Green games anyway, but that the freebies add something extra to the experience. "I have a hat and a mug, and I can't wait to get the hoodie," Bearden said.

The student organization that consistently shows the most spirit and cheers the loudest over the course of the UWF basketball season will receive $500, but each game brings the chance to win a $50 food-and-beverage gift certificate, according to Argonaut Spirit Challenge chairman Ian Waldren. In addition, certain games carry specific themes, such as "White Out," during which student groups are encouraged to wear white. Participating UWF groups include student associations, Greek organizations and other sports teams.

"Attendance numbers have been up, the atmosphere is different and people have been going crazy at the games," Waldren told The Voyager student newspaper in January. "It's not bribing. We want to give the organizations something so that they can benefit, as well."