Many teams in cold-weather states will travel south this month for a week of intense training, competition and bonding.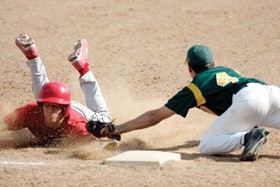 AWAY FROM HOME
Many baseball, softball and other spring-sports teams from northern states will spend their week off this month training in warmer climes.
L
ast March, 39 players from Chaska (Minn.) High School's baseball program spent their spring break in California, practicing at Palm Desert High School in the mornings and scrimmaging against area teams in the afternoons. Then the Hawks flew back home, played their varsity season and made it to the state tournament for the first time since 1997.
"We were going there to get better," says head coach Eric Welter, who eventually led Chaska to the state consolation championship, finishing fifth overall. "We almost called it a business trip, in the sense that we were there to try to compete later on for a berth in the state tournament." Making similar spring break arrangements is as easy as calling schools in warm-weather destinations and offering to provide a scrimmage opponent in exchange for field time, he adds.
S
pring sports teams at countless northern high schools will be making weeklong Spring Break pilgrimages this month to points south and west, rather than practicing in space-constraining gymnasiums or on still-frozen playing fields. "Many coaches see the value in getting away from their area in order to accomplish a week of serious and productive training," says George "Beau" Mongold III, director of programs for Clemson University's R.M. Cooper 4-H Leadership Center, which offers spring training for high school crew teams. "Our motto is 'Eat. Sleep. Row.' We are very secluded, which provides a great opportunity to train with few distractions."
In fact, the greatest distraction might be how to pay for such excursions. Some Chaska players covered the more than $1,250 cost of their 2008 trip by fundraising throughout the school year, including selling at least fifty $25 raffle tickets each for a new car donated by a local dealership; others opted not to sell by covering their own expenses. "A lot of kids were paying to go on trips with family or friends anyway," Welter says. "That money just went to the baseball trip instead."
The high school softball team at The Pingry School, a private K-12 institute in Short Hills, N.J., doesn't fundraise at all for its annual spring training trip, relying on players to pay their own way - about $1,400 per person this year. Pingry has been to Disney's Wide World of Sports in Orlando, Fla., every year since the expansive facility began offering spring training in 1998, and 20 players are set to depart once again on March 20.
"There's nothing like taking a groundball in the dirt, and here in New Jersey, we could still have snow on the ground in March," Pingry varsity softball coach Leslie Miller says. "But this is also a huge bonding experience for the girls. It's a ritual, and I never think about stopping it, because the girls look forward to it."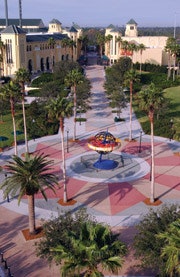 MAGIC KINGDOM
Disney's Wide World of Sports in Orlando, Fla., often is credited with creating the template for all-inclusive spring training programs.
It's difficult to gauge just how many teams travel to spring training destinations each year. Some of Pingry's other sports teams train out of state (even out of the States) and many of Chaska's regular-season baseball opponents head south during the preseason. The Hawks are staying home this year, however, because the district's spring break falls early, before baseball teams are allowed by the Minnesota State High School League to begin practices.
One thing is clear, though, according to Mike Millay, director of sports events at the Disney facility, which is often credited with creating the template for today's all-inclusive high school spring training programs. "Parents are committing more dollars to safe experiences for their young athletes," he says. "But it's not like we're totally resilient to a recession. There are teams that I think are going to come every other year, not every year, until the economy gets better."
A
t Wide World of Sports alone, an estimated 13,000 athletes representing 700 teams are practicing and competing between February and April. Whether teams opt for a package such as Disney's, in which most logistics and scheduling issues are taken care of by the facility, or follow Chaska's grassroots lead by finding scrimmage opponents on their own and staying at inexpensive hotels, a spring break trip can impact a team in significant ways both on and off the field.
Pingry's softball team played .500 ball last season and is far from a perennial powerhouse, but the experiences players took home with them ­- including team-organized dinners, scavenger hunts, and evening visits to The Magic Kingdom and other Disney theme parks - will last far beyond the softball season. "Obviously, it's softball first, and then fun," Miller says. "But some of the girls live far away from each other and don't hang out together on the weekends. It's good for them to see each other out of the school environment."
Some teams seize the opportunity to take player bonding to another, more charitable level. "We know athletics can be a great teacher for life lessons, depending on how coaches use spring training trips," Millay says, adding that Wide World of Sports offers teams the option of participating in community service projects that include visiting homeless shelters, serving food at a battered-women's shelter and playing with severely ill children. "You're affording kids opportunities to learn core values before they go off to college."
Regardless of their players' off-field itineraries, coaches unnerved by the prospect of caring for dozens of teenagers during a solid week on the road should take note. Several Chaska parents traveled with their sons' teammates and coaches last year and were in charge of supervising the players (they also shagged fly balls and threw batting practice). Meanwhile, all four varsity and junior varsity coaches will serve as chaperones of Pingry's softball players in Orlando this month. Neither Welter nor Miller has sent a player home for violating the school's code of conduct. After hours of practicing, playing games and evening team activities, players usually are too tired to think about causing mischief, the coaches say. "Plus, they know that this is a privilege," Miller adds, "and they don't want to mess it up."
Welter says he will discuss with returning players and parents a spring training trip for 2010, when the school district's calendar is likely to be more accommodating. Planning the 2008 trip took months, with Chaska coaches starting the fundraising process in the fall, before arrangements with Palm Desert High were even finalized. "You need to sit down and ask everybody involved if this is something they want to do," he says. "If you don't have buy-in from everybody, all of a sudden you're only taking half your team, and you don't want to do that."
Right now, though, there is baseball to be practiced and another state-tourney run to be made. At least two of Chaska's early-season opponents will have recently returned from their own spring training trips, but Welter's not worried. On March 16, the Hawks begin their own localized spring training in Chaska High's three-court gymnasium, equipped with two full-length batting tunnels. If the snow melts early, players might even be able to get outside and practice on the synthetic turf football field.
"It's not a must-go type of thing," Welter says of spring training trips and staying competitive. "We're going to work hard in the gym and just take advantage of the opportunities we have."