The owner of Total Planning Sports Services explains the art of insuring collegiate players who are on the cusp of turning pro.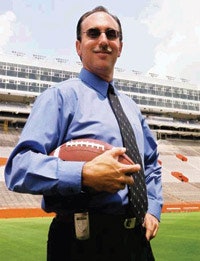 When the 2009 NFL draft takes place later this month, Keith Lerner expects two of his clients to be among the top five players selected. Lerner, owner of Total Planning Sports Services, has since 1988 secured Lloyd's of London insurance policies for college athletes on the threshold of huge professional paydays - providing sufficient tax-free coverage to compensate for a lost signing bonus in the event a senior-season injury keeps them from ever playing professionally. He gained notoriety for negotiating an unprecedented $2.5 million policy for University of Miami sophomore running back Willis McGahee on the eve of the 2003 Fiesta Bowl, the presumed final collegiate game for the projected top-five draft choice and one in which he suffered multiple ligament tears in his left knee. Paul Steinbach asked Lerner how this niche industry has changed over the years.

Q: In 2003, you estimated that 50 to 75 percent of projected first-round NFL picks purchase insurance before playing their last college season. What's the number today?
A: I would now say 100 percent of the first-rounders have insurance, and I'd say probably 100 percent of the second- and third-rounders do, too. It's become very popular.

Q: How much homework do you do?
A: A lot. I have some direct contact with coaches. I have some direct contact with NFL scouts, and I also use several different scouting services to crosscheck and confirm that a player is going to be a pretty substantial pick. That's really one of the most important things - determining where a player is going to be drafted - because that determines how much insurance that player is going to get.

Q: Because policies cover an athlete on and off the field, do you scrutinize outside interests and behaviors?
A: We ask some questions with regard to riding a motorcycle, snowmobiling, snow skiing, rock climbing. There's a list of 10 to 15 off-the-field activities that we're going to want to find out if they're participating in, and that may end up in an exclusion for a player if that player gets hurt doing any one of those things

Q: What about a player's concussion history?
A: That's another area where we really want to delve in and find out a lot more information. In the past, we would just put down that the player had a concussion and recovered. Well, now we want to know up front the grade of the concussion, whether the player was knocked out and for how long, because past concussion problems can definitely lead to a claim. If the player has had multiple concussions, there's a possibility that we might exclude that in the policy.

Q: Have advances in sports medicine influenced how you structure policies?
A: Oh, absolutely. It used to be that when somebody had major knee repair, there would be great concern that the knee was going to potentially cause a claim a year or two down the road. Now, with modern medical science, including the use of hardware such as dissolvable screws that doctors don't have to go in a second time and take out, knees can be perfectly healthy afterward. In the past, we might have said, "We're not going to ever cover your right knee." Now, we want to see that player come back and recover, but once that player plays in maybe four or six games, we're going to say, "Fine. We're going to cover your knee."